Shopping in Metairie Terrace
---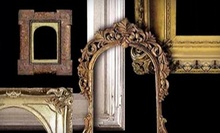 Custom frames enhance and protect photos, posters, and artwork
---
Recommended Shopping by Groupon Customers
---
Since 1964, Maple Street Book Shops have fueled local imaginations with novels and nonfiction works by classic, contemporary, and local writers. Originally "five rooms of paperbacks," the store now has four locations, including two charming, side-by-side establishments on the shop's titular residential street. Here, a purple and green cottage houses a collection of 9,000 used tomes, and next door, the pink house sells the sweet perfume wrung from glossy new paperbacks. In addition to browsing the crowded shelves and chatting with the knowledgeable staff of one-time teachers, writers, and printmakers, visitors can chat with authors at sociable events.
7529 Maple St.
New Orleans
Louisiana
Bath Junkie's Metairie branch welcomes crafty visitors who aim to create their own customized bath products without welding together bathtubs or sewing shower curtains into tuxedo capes. Amid a vibrant and colorful atmosphere, the helpful staff assists customers in selecting non-tinted and unscented products such as salt scrubs, bath crystals, lotions, body washes, shampoos, conditioners, oils, perfumes, and magical elf ointments that instill tree-talking abilities. Next, around 200 scents are available to be fused into each product before a final tint application transforms skin-soothing concoctions into aesthetically striking bathroom accessories. Surprise your mom with a hydrating body mist ($8.75, 2 oz.) that matches her bedroom décor or pick up any bottled product ($11.75, 4 oz.) such as a conditioner, body wash, or bubble bath. Add pizzazz to bath time with fragrant bath crystals ($24.50) and an exfoliating salt scrub ($30). The fun, hands-on process provides all the childlike excitement of spontaneous soda-fountain chemistry while avoiding sugar-induced headaches and upset stomachs. Every product is suitable for sensitive skin and almost all are paraben- and SLS-free.
3313 Severn Ave
Metairie
Louisiana
At Dirty Coast, visitors can acquire a bevy of fetching T-shirts, apparel, and merchandise that showcase a proud New Orleans swagger. Featuring designs illustrated by local and international artists, Dirty Coast's products aim to spark conversation and the occasional thumb-wrestling match with city-wise graphics and topical opinion-expressers. Peruse a variety of shirts with a head-turning graphic reminder of all the things you'll need for NOLA's never-ending festival season ($15), or a charming hot-sauce-doused Dirty Coast design ($20). Cruise sidewalks and spaceship command decks in style with merchandise such as the environmentally friendly shopping bag ($20), or surf the web and lava rivers with a water meter mouse pad ($9). Customers can purchase multiple Groupons as gifts, allowing them to help update Uncle Bob's dated wardrobe, which consists of steel chain mail and cargo shorts.
5704 Magazine St.
New Orleans
Louisiana
Catherine and Scott McKearn leave no corner of the world unsearched in their quest to discover artisan furniture builders. The couple frequents faraway destinations in India, Indonesia, China, and Morocco to unearth beautiful solid-wood furniture to import directly to their three shops. In order to save their customers money, they buy pieces wholesale and ship them in 40-foot containers, bypassing both middlemen and price-gun-wielding pirates. Their furniture ranges in style from industrial to French country, and the eclectic selection rotates every few weeks to accommodate new shipments.
318 N Rampart St.
New Orleans
Louisiana
---