Things to Do in Metairie Terrace
---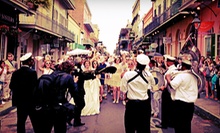 Guides lead groups to historic landmarks during a two-hour walking tour
---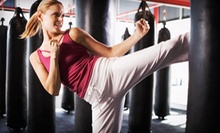 Professional fighters lead boxing, kickboxing, and cross-training workouts that burn up to 1,000 calories in one hour
---
Recommended Things to Do by Groupon Customers
---
You're probably thinking, "That sounds great, but I've never bought a car or a computer without first reading the Wikipedia definitions for car and computer—I'm not about to buy a Groupon either without a briefing." Well, neither would we, and since this is everyone's first Groupon, allow us to briefly explain how it works.
Toulouse St. & Mississippi River
New Orleans
Louisiana
Whether your tire-turning extremities are located at home, at a hotel, or in a docked zeppelin cabin over the river, Big Easy Bike Tours will deliver the bicycle(s) to you and up to four of your cycling teammates almost anywhere in the city. All tours begin back in 1718 with sightseeing and narrated soundseeing throughout the French Quarter. From there, there is a spork in the road where you can choose between three touring fates. The first, Neighborhoods and Lower 9th Ward, takes a path past green homes built by Global Green after Hurricane Katrina, visits the levee and explains what led to its failure, and passes through St. Roch and Treme. The second journey lands you on the Esplanade Avenue of the Creoles, exploring Bayou St. John and the history of New Orleans cemeteries, European settlers, and early New Orleanians' struggles to colonize the undomesticated flavors of crawfish étouffée within its wild habitat. After pedaling through City Park and observing the Museum of Art and Botanical Gardens, you finish cruising through Mid-City. The final option, a tour of the American Sector and the Garden District, details some of the architecture, universities, and finest fine arts found in New Orleans.
3017 Chartres St.
New Orleans
Louisiana
Paddle the river in style on the luxurious Creole Queen, aquatically equipped with heat and air conditioning, modern restrooms, and wheelchair accessibility and replete with old-time accents such as Victorian-style draperies, gaslight-inspired period lighting, friendly ghosts, wooden parquet dance floors, and Louisiana cypress bars and brass railings. Disembark and change out of pedestrian threads and into something more heroic during the 2.5-hour Chalmette Battlefield tour, which includes informative narration on noteworthy landmarks, local river lore, and crock-pot recipes and a visit to the historic battlefield. On the jazz tour, passengers embark on a two-hour cruise filled with peppy live jazz, cocktails, a Creole buffet, and starlit views of the city's skyline. Dinner (though not included with this Groupon) can be purchased on board for $24 per person.
1 Poydras St., Suite 39
New Orleans
Louisiana
---