Things to Do in Mexico
---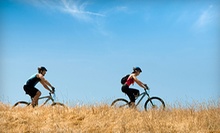 Riders pedal a sturdy hybrid mountain bike through lush, mountainside forests of Katy Trail, one of the longest in the country
Use Today 8:00am - 5:00pm
---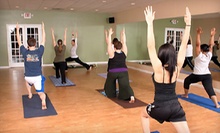 Beginners and advanced yogis stretch together in a serene, noncompetitive practice space
Use Today 6:00am - 9:00am
---
Recommended Things to Do by Groupon Customers
---
Knights, cowpokes, jousters, and dedicated patriots all find good reason to journey to Boster Castle, a permanent Renaissance village that also functions as a film studio and year-round festival space. The castle hosts elaborately staged annual festivals, transporting visitors to eras of the distant past. Patrons may find themselves in the midst of a Wild West frontier town—where costumed cowboys play games of Texas hold'em and banjo players entertain ears with the Top 40 hits of the Gold Rush era—or in a storybook Renaissance town populated by archery tournaments, turkey legs, crooning minstrels, and live comedy shows. At each fair, attendees peruse vendors boasting authentic weaponry, period costumes, and the latest in chain-mail formalwear. The castle also hosts monthly themed socials in which revelers can sit for entertainment and fare surrounding mythical cultures, fantasy worlds, or storied periods in history.
4274 County Rd.
Kingdom City
Missouri
When it was originally built as the Riviera in 1927, The Rose Theater played host to vaudeville skits, stage acts, and feature films in opulent surroundings of murals, oriental rugs, and a ceiling decorated with electric stars and clouds. However, the stock-market crash of 1929 forced the theater's sale, bouncing it from owner to owner until Rose Blumkin and her family saved it from a giant wielding a wrecking ball as a mace. Renovated to its former glory, the theater is now a place where professional stage productions and drama courses give children the chance to enjoy and participate in the arts of the stage.
1020 East Walnut
Columbia
Missouri
US
573-442-9645
As cool breezes cut summer heat and the leaves fade into sunset hues, Pin Oak Farms celebrates autumn with pumpkin picking, bonfires, and other activities. Tractors full of hay bales and visitors rumble out toward vegetable fields, happy shouts spiraling back toward areas for face painting and petting farm animals. A 5-acre corn maze or smaller straw-bale maze test one's sense of direction or ability to crack open a compass and eat the good parts. Kids plop themselves down in a giant tub of corn, clamber around in bounce houses, or putt games of pumpkin-themed mini golf. At dusk, bonfires warm hands and bring to life dancing shadows behind groups and scout troops.
2431 Hwy East
New Haven
Missouri
US
314-974-3198
The Bouldering Garden presents a thriving, indoor oasis of climbing apparatuses, including a pair of copious caves, a 45-degree wall, and a large stalactite. Designed primarily for bouldering, the facility brims with training opportunities for advanced climbers, as well as learning opportunities for students of the sport. Professional instructors consistently roam the grounds to maintain a safe environment, and soft landing pads strewn across the floors absorb falls in a cushy manner that justifies their annual spot atop the Christmas lists of crash-test dummies. In addition to its rocky endeavors, The Bouldering Garden also leads zip-lining adventures, and its onsite shop stocks visitors with the latest in climbing gear.
5400 St. Charles Rd.
Columbia
Missouri
573-474-4997
Artisans fashion their handcrafted wares before visitors' eyes, strolling minstrels entertain passersby with song, and knights suit up for their next jousting match. Such sights are commonplace in the wooded 16th-century village of Petit Lyon, where the award-winning Renaissance St. Louis hosts its annual St. Louis Renaissance Faire. Renaissance St. Louis opts not to set its festivities in England or atop a napping dragon like so many fairs before, but rather in 16th-century France as homage to the city's French-exploration roots. At Petit Lyon, volunteers costumed as villagers, noble courtiers, and peasants chat with guests, while nearby swordfighters and jugglers entertain visitors with their standup routines. Meanwhile, the town's king and queen host special audiences with youngsters, who can greet critters in the petting zoo or explore the Viking camp's longboat display. Along with the St. Louis Renaissance Faire, Renaissance St. Louis continues educating the public with its St. Louis Pirate Festival, regional events, and travelling exhibits.
W Meyer Rd. & Lions Ln.
Wentzville
Missouri
636-928-4141
Access Arts, a community-focused nonprofit, welcomes children and adults of all ages, abilities, and backgrounds to discover the joy of artistic creation with 200 annual classes, earning attention from the Missourian for its work with students with special needs. During six-week sessions, experienced, compassionate instructors guide learning hands through pottery building, weaving, writing stories, and drawing, and help budding Michelangelos discover if their muses call out to them via telephone or semaphore. Classes for pupils with special needs support both children and adults with extra assistance as they knead clay or dabble in mixed media, and Access Arts' fee waivers and scholarships enable learners from all income levels to tap into inspiration. Founded in 1971 to widen opportunities for the disabled, Access Arts is now in its fifth decade of enriching the Columbia area with classes and outreach programs that remind people that paintbrushes can be used for more than coloring dead plants a lively shade of green at the end of housesitting stints.
1728 McAlester St.
Columbia
Missouri
573-875-0275
---