Miami Beach Gyms and Fitness
---
Gym, Exercise, Weightloss Deals
---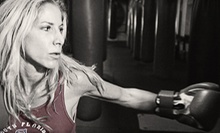 Use Saturday 8:15am - 10:30am
---
Recommended Gym, Exercise, Weightloss by Groupon Customers
---
The courses take advantage of all the epic challenges a professional sports stadium has to offer, including thigh-searing stairs, sprint-worthy turf, and more push-up spots than you can fathom. Basic Training's experienced, motivating instructors won't make you march in step, salute them, or shave your head, but they will push you hard. They're athletes themselves who know how to help you meet your goals for a 10K, marathon, or pinewood derby. Plus, they'll teach you proper body mechanics and why and how each exercise works.
1 Washington Ave
Miami Beach
Florida
US
Miami Life Center's cadre of patient practitioners coach students through intensive Ashtanga classes with attention to detail that earned the studio recognition as Miami New Times' Best Yoga Studio in 2008. Amid frosted windows and gleaming hardwood floors, pupils fortify spinal alignments and hone concentration with methodical breathing and gentle postures in basic Ashtanga classes. Gentle Therapeutics yoga methodically strengthen sinews with the aid of bolsters, resistance straps, and chairs to refresh fatigued muscles and boost balance. Additionally, expectant mothers may ease into therapeutic poses including sun salutations and celebratory stork high-fives with relaxing prenatal yoga sessions. The studio's flexible lineup of classes includes weekend and late-night class times to accommodate pupils with busy schedules or raccoons who need a peaceful retreat from unruly graveyard block parties.
736 6th St
Miami Beach
Florida
US
305-534-8988
Novelty shirts airbrushed with bikini-clad bodies provide the convincing, if temporary, illusion of fitness. Find a more permanent fitness solution with today's Groupon. For $45, you get five group circuit classes at Nomi Pilates, a $175 value. Your Groupon also gets you 50% off a $100 private session should you choose to partake (you can purchase it when you go to the studio). This North Miami boutique studio offers a range of classes aiming to reform the shape of your body, mind, and shadow.
2124 NE 123rd St.
North Miami
Florida
US
Achieve a rock-solid body without feeling like Rocky with today's eye-of-the-tiger side deal: for $90, you get five Gravity Power Pilates classes at Pilates One in Coconut Grove, a $200 value. These classes are structured in a group setting and led by certified and dedicated instructors.
3100 S Dixie Hwy., Suite 401
Coconut Grove
Florida
Bikram Yoga is a series of 26 postures performed in a room heated to 105 degrees Fahrenheit. Through this sequence of moves, students stretch out muscles, strengthen their cores, and improve blood circulation. At Bikram Hot Yoga Miami, the staff seeks to share these benefits with anyone who is interested, whether a beginner or an advanced student. After getting acquainted, first-time students receive a mat and towel, set up their spot inside the carpeted studio, and lie down in svasana before class starts. The vigorous class then inspires serious sweating, dispelling the toxins built up from eating too many lava lamps.
2500 Southwest 28 Lane
Miami
Florida
305-856-9922
This deal includes the 24/7-access key card, so you don't have to let The Man tell you when you can avail yourself of Snap's top-of-the-line cardio and strength equipment. Arrive at Snap super late and pretend you're working out in an Edward Hopper painting, or pound the treadmill at four in the morning and get pumped to host a morning shock-jock radio show. Even if you exercise during conventional hours, Snap's friendly, unintimidating atmosphere will provide a refreshing change of pace from any meat-market gym or tough elementary schoolyard you've experienced.
14740 Biscayne Blvd.
North Miami Beach
Florida
---