Miami Beach, FL Indoor Activities
---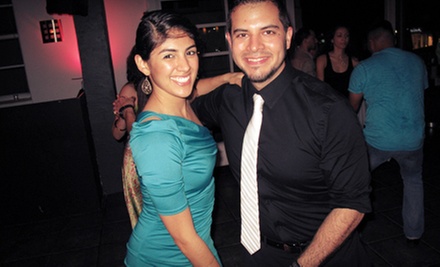 ---
Recommended Indoor Activities by Groupon Customers
---
Her predictions are certainties, her present is the future, her sight is foresight, and for unrelated reasons, her Sprite is Dr. Pepper. Today's Groupon is your trans-dimensional ticket to a reading from Mrs. Fifi, in the future. For $19, you get one-on-one access to her abilities in an ESP psychic reading, an intangible $60 value. She'll peer deep into your mind and the space-time continuum, bringing her 30 years of experience along for the ride. Your Groupon is only good for in-person readings, so astronauts wondering if they'll make it home okay, hang in there and don't let the hyper monkey get at the controls.
3112 Commodore Plaza
Miami
Florida
US
Miami Life Center's cadre of patient practitioners coach students through intensive Ashtanga classes with attention to detail that earned the studio recognition as Miami New Times' Best Yoga Studio in 2008. Amid frosted windows and gleaming hardwood floors, pupils fortify spinal alignments and hone concentration with methodical breathing and gentle postures in basic Ashtanga classes. Gentle Therapeutics yoga methodically strengthen sinews with the aid of bolsters, resistance straps, and chairs to refresh fatigued muscles and boost balance. Additionally, expectant mothers may ease into therapeutic poses including sun salutations and celebratory stork high-fives with relaxing prenatal yoga sessions. The studio's flexible lineup of classes includes weekend and late-night class times to accommodate pupils with busy schedules or raccoons who need a peaceful retreat from unruly graveyard block parties.
736 6th St
Miami Beach
Florida
US
305-534-8988
Novelty shirts airbrushed with bikini-clad bodies provide the convincing, if temporary, illusion of fitness. Find a more permanent fitness solution with today's Groupon. For $45, you get five group circuit classes at Nomi Pilates, a $175 value. Your Groupon also gets you 50% off a $100 private session should you choose to partake (you can purchase it when you go to the studio). This North Miami boutique studio offers a range of classes aiming to reform the shape of your body, mind, and shadow.
2124 NE 123rd St.
North Miami
Florida
US
Ever since football became too rambunctious for the limited confines of mess halls, it has been performed in stadiums. During this year's Pro Bowl weekend, celebrate the only sport legally allowed in football stadiums with today's Groupon. For $7, you get a single-day entry to the South Florida FanFest at the Miami Beach Convention Center—tickets normally cost $15 at the door. The exhibition, a 200,000-square-foot sports-memorabilia and card show, is the largest of its kind in Florida and is open from 10 a.m. to 8 p.m. on January 29–31. There is no purchase limit, so pick up a few to attend all three days. Gift a few to your old high-school football teammates to relive the glory days of the Bash Brothers.
1901 Convention Center Dr.
Miami Beach
Florida
US
Achieve a rock-solid body without feeling like Rocky with today's eye-of-the-tiger side deal: for $90, you get five Gravity Power Pilates classes at Pilates One in Coconut Grove, a $200 value. These classes are structured in a group setting and led by certified and dedicated instructors.
3100 S Dixie Hwy., Suite 401
Coconut Grove
Florida
---