Restaurants in Miami Beach
---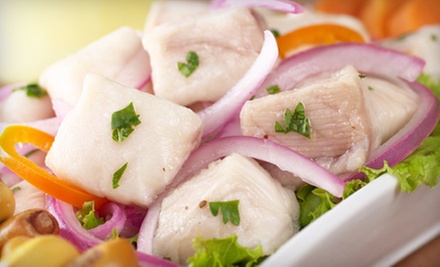 ---
Recommended Restaurants by Groupon Customers
---
Though Chef Douglas Rodriguez's take on Latin cuisine is contemporary, he's no newcomer to the restaurant scene. SunPost Weekly credits him with propelling award-winning eateries including Wet Paint Cafe, the original Yuca, and Patria in New York to star status. At De Rodriguez Cuba, adjacent to the five-star Hilton's Bentley Beach Club, the executive chef channels his decorated career into a menu of Havana-inspired dishes and signature ceviches crafted from sustainable seafood. He steeps lobster, shrimp, and crab in the tangy notes of coconut milk, lime, and ginger for the thai coconut seafood ceviche and tops the popular vaca frita entree with avocado and tomato chimichurri. Complemented by Cuban cocktails or a sip from the large wine list, the dishes evoke images of the islands.
The eatery's decor also contributes Caribbean character, stealing the spotlight in a Miami Beach magazine piece. According to the article, "guests can sit poolside or in the lovely dining salon facing the sea," or they can set up shop at the 25-foot ceviche bar in a space "that's all dark woods and serene white curtains." Scattered palm trees and large green lounge chairs border one side of the pool, the other bank crowded with crimson-trimmed tan couches that melt seamlessly into the open dining room. The sweet notes of live music fill the age-worn slats above the bar, beside which an aquarium teems with fish like the fridge of a hibernating bear.
101-B Ocean Drive
Miami Beach
Florida
305-672-6624
Each day at Cantina 71, chef Luca Laborante rolls out batches of housemade linguine, gnocchi, and ravioli, garnishing them with organic vegetables and sousing them with the eatery's own sauces. In addition to crafting a dozen hearty pasta dishes, chefs crown veal with sage butter sauce and cured Italian prosciutto and fry up fresh batches of calamari. Guests can enjoy their meal or romantic staring contests inside amid hanging lanterns and polished stone floors, or they can retreat to the patio, where strings of twinkling lights illuminate a sloped awning.
216 71st St.
Miami Beach
Florida
US
With the meteoric success of teen vampire, many writers are trying to get ahead of the next big literary monster trend. One of those writers is first-time sci-fi novelist Lynn Millet, who recently debuted with Interview with the Robot after a visit to Mr. Yiing:
My batteries were running low.
As a Duplicant Location Specialist, I conduct seven to eight interviews on an easy day, so when I'm not talking to known associates of outlaw man-machines, I'm sleeping. So this afternoon when I finally peeled myself out of bed, I plugged my recorder into my body's bio-recharger jack purely out of habit. Then I hopped on my hoverbike and thought of Mr. Yiing's lo mein, the one that slathers shrimp, beef, chicken, and pork with oyster and soy sauces. After pedaling through this brutal summer heat, I'd need extra energy. Also, hoverbikes are a pain to pedal. What was wrong with regular bicycles?
About 50 feet from Mr. Yiing's door, I crashed.
Typically I launch over anything that dares cross into the hoverbike lane. But when I hit the Duplicant? It was like crumpling into a brick wall. His titanium exoskeleton knocked the wind out of me, and it bent the spokes of my front rotor into a twisted heap. When I got up, I fumbled for my hoverpistol, but it was still at home, hovering over my bedside hovertable. His hand covered my mouth. It smelled like a musty library. He was a discontinued model from '24, those ones they still made from cellulose. He looked old, but his blue eyes popped with the youth and vigor of irises fresh from the Genetic Corps catalog. That had to be the reason he was here and not in the internment camps on Mars. He dragged me along the sidewalk, past the row of hoverhotels on Collins Avenue and through the front door of Mr. Yiing.
"Coffee?" he said.
"I'm awake," I said. I stared him down, taking in his face, trying to jog any memory of his file.
"Are you?" he asked, leading me to a cozy little table tucked under some Chinese characters on the walls, where I tried switching on my recording device through my pants. He laughed a rich, stereophonic laugh.
"Please … Julie," he said. "Queue it up. I want you to get this all down."
I took out the recorder and then took a bite of the honey-garlic chicken a server had suddenly brought me. "Why haven't you killed me?"
He kept laughing. "Why would I kill you?"
"Because you're a Duplicant. You're an outlaw. A cold, synthetic-blooded killer."
"And so are you."
I froze and felt the sweet, tender chicken slip down my throat. "No, I'm not."
He looked at me with those eyes. Blue. Piercing. Too aching to be real. "What were your parents like?"
"I'm an orphan."
"Do you remember the last time you went swimming?" He paused. I tried to remember but couldn't. I knew I had gone swimming. Why did it get hazy when I tried to think about when? "Who was your first boyfriend?"
Nothing.
"What does the smell of wet grass remind you of?"
"Is this testing whether I'm a Duplicant or a landscaper?"
"What's your earliest memory?"
"I'm … on a beach. It's twilight. The sky is purple. Some street vendor is selling hot dogs in the distance. I'm building a sandcastle when the tide comes in and washes it all away. I want to cry, but a bunch of cybernetic technicians in white coats are assembling my lower half. Wait, what are you trying to say?"
"It's OK," he said, grabbing my hand with a gentle pneumatic hiss. No one would have heard it but us. "They probably never told you. But we need you now to tell our story. Soon," I felt, for the first time, tiny electrical pulses surging through my veins, "the rest of us will be back from Mars."
6606 Collins Ave.
Miami Beach
Florida
US
---