Pet Services in Miami Gardens
---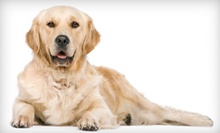 Owners wash their dogs using the tubs and supplies of this 3,000-square-foot center, decorated in a beachside theme
Use Sunday 10:00am - 6:00pm
---
Recommended Pet Services by Groupon Customers
---
Perched on the floor, a dog cocks his head, listening intently to his owner's voice, which is filtering through the telephone a worker holds patiently next to his ear. Though it's not clear whether the pup understood, when the staff member returns to the call, the owner seems more at ease. According to hospital manager Nicole Pierre, putting four-legged friends on the phone is just one way the crew at Homestead Animal Hospital comforts guests and patients—and their owners.
The kennel staff escorts overnight guests to the boarding area, which was recently expanded and renovated to look like a cartoon town. Each private dog condo has its own mailbox and welcome mat, letting pooches continue to feel at home. Cat condos are two levels tall, with window perches that allow felines to observe one another as they lounge. As staff members supervise, all guests romp in species-specific play areas with obstacles that challenge all four legs, soft areas to wrestle upon, and perches to perfect pouncing postures.
Veterinarians employ technologically advanced tools to foster good health among furry companions. Digital x-rays impart almost immediate images, and laser-assisted surgeries minimize discomfort and healing times. Techs walk from an in-house lab, which shortens the waiting time for test results, past an x-ray machine for analyzing pups' internal health and a high-tech bandanna for analyzing external cuteness.
1250 N Flagler Ave.
Homestead
Florida
305-247-3845
Named after the owner's sassy feline CEO, Lola's Healthy Pet Cafe helps pets look and feel their best with cat and dog grooming services and a storefront packed with holistic food, treats, and supplements. Bringing more than a decade of grooming experience to Lola's, owner Kelly strives to give each pet personalized attention by scheduling a limited number of appointments each day. Though she specializes in doggy facials and massage, Kelly is armed with the skills and tools to spruce up both kitties and all breeds of canines, readying them for shows, everyday living, or immediate romps in backyard mud puddles. To keep families' furry companions as healthy on the inside as they are adorable on the outside, Lola's Healthy Pet Cafe purveys brands of food and treats comprising natural and holistic ingredients.
2605 N Dixie Hwy.
Wilton Manors
Florida
954-530-7216
Drawing on 17 years of experience, North County Training Facility's seasoned horsewoman, Robin, oversees student-and-steed pairs as they prance beneath the shade of majestic oaks and pines on the 3-acre facility. The enthusiastic instructor concocts curricula to encourage responsibility in young riders while distracting them from less-gainful extracurricular activities, such as giving their guinea pigs mohawks. Lessons extend beyond riding instruction alone to include proper grooming, saddling, and bathing techniques. The school accommodates both recreational and competition-hungry riders as well as those preparing for careers as mounted insurance salesmen.
18680 134th Way N
Jupiter
Florida
561-222-7448
Founded on the belief that dogs, like people, deserve a bit of pampering, Dee's Sanctuary Grooming and Spa aims to spoil canines with doting affection and care. A standard visit begins with a relaxing hydro-massage bathing ritual, relaxing muscles stressed from long walks and playdates with dematerializing Cheshire cats. Following all grooming rituals—which can include basics such as nail trims and combing or more involved skin and coat treatments—dogs are escorted to their own serene zen den outfitted with soft bedding, toys, water, and a comforting view of the entire spa interior.
Diane Dolphin, a 12-year veteran groomer and graduate of the elite Nash Academy, tends to haute couture grooming duties. Like all other dog stylists at Dee's Sanctuary, she is happy to offer free consultations concerning potential fur makeovers and the latest in bandanna-tying fashions. The combination grooming spa and day-care center also sells toys, grooming supplies, and Good Dog bakery treats.
4251 North Federal Highway
Boca Raton
Florida
US
561-367-3570
The mother-daughter team behind Barkley's Dog Wash adores dogs. Their love for the four-legged creatures permeates the whole establishment, from the spacious 3,000-square-foot romping grounds to the organic, natural treats given to pups after a bath. Beachside decor delights guests as they bathe their dogs in the self-service tubs, receiving tips and sensitive-skin shampoo from the expert dog washers. Older dogs easily climb into the low tubs, and the high-powered dryers and massage scrubbers sooth achy joints. In addition to baths, dogs can spend the day frolicking with other pups—thanks to doggy daycare—or unwinding with after-hours poker lessons. Rowdy pups benefit from the extensive training programs and puppy socialization play time.
524 Northlake Blvd.
North Palm Beach
Florida
US
561-904-6999
Though Dr. Ronald Johnson performs routine examinations and medical procedures for pets, his talents also extend to holistic treatments such as acupuncture. Boasting a certification in veterinary acupuncture, a doctorate in naturopathy, and another doctorate in nutrition, he treats a range of animal ailments inside the rooms of Pet Parade Animal Clinic. He and Dr. Jose Romano, a bilingual animal physician, tend to small pets that include dogs, cats, and exotic birds, and only make them wear tiny hospital smocks when absolutely necessary. The doctors also design prescription diets, perform x-rays and dental cleanings, provide inoculations, and can prescribe traditional or holistic medications from the onsite pharmacy. The team also grooms and bathes their furry and winged patients and houses them while their owners travel.
19956 NW 2nd Ave.
Miami Gardens
Florida
US
305-652-2226
---