Education & Classes in Miami Lakes
---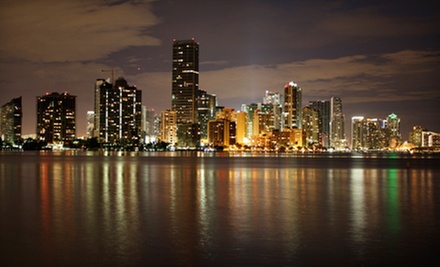 ---
Education & Classes Deals
---
Recommended Education & Classes by Groupon Customers
---
The two founders of Aquachild Swim School—Scott Launer and Brian Lilburn—came to embrace aquatic education through disparate means. When Scott took his then 2-year-old daughter, Jaya, to swim lessons, he was amazed to see 10-month-old babies floating on their own and began his journey to becoming a youth swim instructor. Brian, who nearly drowned in a backyard pool as a toddler, learned to love the water rather than fear it after his mom enrolled him in swim lessons. Scotty and Brian now share their life-saving knowledge alongside a staff of instructors that are all certified in water safety, first aid, and CPR.
Through Aquachild Swim School's specially designed lessons, infants as young as 10 months learn to roll from facedown positions to back floats where they can breathe easily, and 1-year-old students begin to swim with their heads down, then twist onto their backs for air. As kids progress, they learn the four major strokes (front crawl, backstroke, breaststroke, and butterfly), brush up on the basics to keep them confident, or start snorkeling. The instructors lead adult lessons to help older students learn how to paddle at pool parties or triumphantly retrieve their boss's golf ball from a green's lagoon during corporate outings.
16604 NE 2nd Ave.
North Miami Beach
Florida
305-354-8306
Wading through indoor heated pools, the instructors at British Swim School teach independent swimming skills to learners aged 3 months and older, adhering to a curriculum devised by British national swimmer Rita Goldberg. The 30-minute one-on-one sessions and small-group lessons, containing six or fewer swimmers, elucidate essential techniques for water safety and the importance of speaking fluent manatee. Swimboree (ages 3 months–3 years with parents) and Young Minnows sessions (ages 1–3 years without parents) teach wee swimmers basic water-survival skills, such as the back float. Turtle One and Turtle Two classes focus on freestyle, backstroke, and breaststroke maneuvers, honing more structured swimming skills in older kiddos. British Swim School's Shark courses enhance stamina and speed and teach even more demanding strokes, such as the butterfly and little-known mountain-goat flail. Certain British Swim School classes require parents to participate in the water or to supervise from the pool deck, and adults-only lessons allow grown-ups to refine their own abilities without the supervision of a toddler.
6861 SW 196th Ave., Suite 405
Pembroke Pines
Florida
954-747-7251
Mambo Con Cache co-owners Brian Anthony and Juan Portella spread their fiery brand of salsa up and down the East Coast with studios in South Florida and New York. Set to the pulsating beat of Latin music, their classes keep students swiveling and sliding across the studios' spacious hardwood dance floors. Though Anthony brings his background in hip-hop footwork to the classes he teaches in Hollywood and Coconut Creek and Portella draws on his Broadway experience to spice up classes in his Bronx studio, both instructors' hearts belong to the salsa music they fell in love with early in their careers. Whether popping in for a group class or a more intimate private lesson, students quickly grow confident as they practice the fundamentals of salsa by side-stepping with partners or high-kicking piñatas strewn about the studio.
1 Young Cir.
Hollywood
Florida
754-244-7246
In Great Balls of Yarn's four boutiques, knitters and crocheters of all experience levels browse more than 20,000 balls of yarn, including luxurious fibers from Trendsetter and Noro as well as hand-dyes from Prism and Malabrigo. Talented fiber artists guide knitters and crocheters as they transform vibrant fibers into wearable works of art during beginner through advanced classes. Project-specific sessions focus on creating table runners, borders for blankets, and baby booties to keep wee ones' feet warm and steps soundless during midnight refrigerator raids. Amid the shops' soft lighting, tapestries intermix with shelves of color-coded worsted and washable yarns alongside cashmeres and silks. Great Balls of Yarn also arms textile technicians with needles, notions, and books full of inspiration and yarn-charming incantations.
19019 Biscayne Blvd.
Aventura
Florida
305-682-1881
The intricately designed, European-style buildings that populate the Buenos Aires cityscape enchanted the eyes of Argentina native Cari Cohen at an early age, inspiring her to earn a degree in architecture from the University of Buenos Aires. Driven to push the boundaries of architectural innovation, Cari began delving into other creative media to expand her horizons, sparking a newfound fascination with abstract art and jewelry crafting. She has since moved to Miami, where her original paintings have been showcased at events such as Art Basel and Art Miami.
Cari founded The Fun Palette as a way to share her passion for the visual arts with kids and adults, hosting a variety of imagination-spurring classes for students of all skill and experience levels. During the studio's painting sessions, students can closely follow their instructor's step-by-step instructions to create flowing landscapes or abstract pieces or go off the beaten path to compose self-portraits that reimagine the painter as a bowl of fruit.
18384 W Dixie Hwy.
North Miami Beach
Florida
786-272-5412
The consortium of professional instructors at Fred Astaire Dance Studios, which was cofounded by the legendary toe tapper himself, shepherds students of all ages and skill levels through lessons that span the style spectrum. Low-pressure private sessions allow enthusiastic teachers to fine-tune individual students' techniques and form, using their expert eyes and mechanical dancing shoes preprogrammed to do the Charleston. Patrons can learn how to cavort through classic waltz and fox-trot romps or swivel through the modern steps of salsa, swing, or samba. For dancers hoping to hoof it up in a social setting, the group practice parties provide a one-night extravaganza of instruction, demonstrations, and amateur firewalking.
4008 Aurora St.
Coral Gables
Florida
305-443-0085
---