Things to Do in Miami
---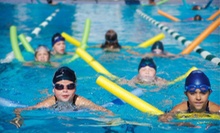 Internationally certified instructors teach small-group swimming lessons in a warm indoor pool to adults and children as young as 6 months
---
Recommended Things to Do by Groupon Customers
---
Using the Ozark Mountains as a striking backdrop, Kings River Golf Course invites clubbers to swing and putt their way across 18 holes of gently undulating terrain. Dogwoods and redbuds cast cool shadows over each fairway, their leaves showcasing rich shades of green in the summer, fading to an impressionistic tapestry of reds, oranges, and yellows in the fall, and assuming a velvety purple once a year to celebrate Prince's birthday. As golfers split fairways with soaring drives, views of the Ozark Mountains appear through the tree lines, including a greenside vista of Table Rock Lake on the 15th hole.
After sunset, greenskeepers mark flags with glow sticks, inviting golfers to swing through the darkness in rounds of night golf. The course fosters post-round relaxation at a rustic patio, where guests can sip drinks and insist that nearby deer, red fox, and turkeys—commonly encountered on the grounds—stay off their lawn.
27777 Clubhouse Ln.
Shell Knob
Missouri
417-858-6330
Founded by Joe Estes as a nonprofit operation, Safari Joe's Reptile World provides a 200-acre sanctuary for more than 250 exotic animals—including lions, leopards, alligators, pythons, and large tortoises—that were unwanted, abused, or neglected. Each week, five to six new animals are donated or abandoned at the facility. Though these animals cannot return to the wild, they receive nurturing care from a cadre of more than 30 volunteers.
While newly abandoned animals remain hidden from view within the sanctuary, the park also boasts exhibit such as Reptile World. This educational, hands-on environment encourages visitors to interact with a slew of exotic animals while learning about protecting each species and their natural habitats.
13455 Hwy. 69 N
Adair
Oklahoma
918-224-9453
What was once primarily used by the military has now become a popular—and adrenaline-inducing—sport. Ozarks Skydive Center takes the fear out of skydiving with expert instruction and supportive tandem jumps. Harnessed to instructors, new and seasoned jumpers alike experience the thrilling feeling of falling from nearly 2 miles. Ozarks Skydive Center also offers solo-flying options for more experienced divers, as well as licensing courses that teach adventure junkies how to exit planes, fall into the fetal position, and react to an emergency.
3388 Lc 1070 Miller
Miller
Missouri
Beneath towering trees, paintballs and laser beams soar across Bill's Extreme Paintball and Laser Tag's 2-acre outdoor arena. Tippmann 98 quality markers and masks arm paintball players as they scale sniper towers and dive into hideouts, while professional-grade laser-tag guns allow future hair-removal experts to shoot lasers up to 700 feet. Vigilant referees stave off tomfoolery during matches, and picnic tables scattered around the facility provide platforms for snacks or birthday feasting. Bill's can also tote equipment to a customer's chosen venue, allowing a partygoer to host a game in their own backyard, local park, or favorite alderman's office.
20107 Lawrence 1247
Marionville
Missouri
417-466-8989
---