Things to Do in Miami Shores
---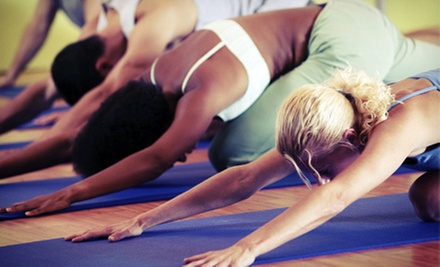 Harbour Isles of Fort Lauderdale
---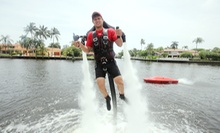 JetLev jetpack blasts hundreds of gallons of water to elevate pilots over lakes or seas
---
Recommended Things to Do by Groupon Customers
---
Your night starts at 9 p.m. at the renowned D. Rodriguez Cuba restaurant, where your Cuban cuisine and vodka drinks will be prepaid for pre-partying. Each person gets to choose two tapas or one appetizer plus one entree from the special menu while enjoying a two-hour open bar for vodka drinks (such as martinis and cosmopolitans)—which is ample time to form a liquid nucleolus that will anchor the rest of the evening in a wave-like orbital whose position and momentum can never be simultaneously known. While you sip, pad your stomach with a delicious lining. Start with your two tasty tapas or appetizer, such as plaintain-crusted mahi mahi, ham croquetas, or a crunchy Cuban salad. For the main course, pick one of three entrees: arroz con pollo (chicken thighs with yellow rice and veggies topped with chicken breast), chuleta empanada (breaded pork), or mahi mahi fricassee. Tax and gratuity are already included for the cost of dinner, so you can skip the calculations and get straight into phase two of your evening.
956 Washington Ave.
Miami Beach
Florida
When the University of Miami's Lowe Art Museum began in 1952, the school could comfortably display its entire collection in three unused classrooms. Those days are long past. Today, the museum stands as Miami's most comprehensive collection of western and non-western art. The permanent collections feature pieces drawn from across human history, with notable works including Claude Monet's Waterloo Bridge and a recently acquired face mask from the Dan people of Côte d'Ivoire and Liberia, forged from wood, cloth, and fur. A sizable trove of Native American artifacts includes pieces from the Southeast such as a beautifully embroidered bead shoulder bag. Other exhibits include paintings, sculpture, drawings, prints, and photographs from the Middle Ages through the present, including the Samuel H. Kress Collection of Renaissance and Baroque art, as well as pottery, sculpture, and metalwork from ancient Greece and the Roman Empire, dating from the first millennium BCE through the 4th century CE.
A few miles away, the tower of the 1939 Old Police and Fire Station rises above the street, gazing down on an unusual blend of sleek, depression-era modernism and Mediterranean revival ornateness. Founded in 2003, the Coral Gables Museum Corp. completely renovated the old municipal building. Spanish touches were added—the new Fewell wing and a 5,000-square-foot plaza—and the space was opened in 2011 as a museum dedicated to the civic arts of architecture, urban design, historic and environmental preservation, and sustainable development. Today, it holds regular art and design exhibitions, educational events, and concerts.
1301 Stanford Dr.
Coral Gables
Florida
Miami BeachSports shoots thrill-seekers into the wild blue yonder with adrenaline-filled trips at the stern of Yamaha WaveRunners. Aquatic cowboys wrangle the sea-slapping crafts, churning up wake and waking up the Krakens that live along the oceanfront boardwalk. Guests take in seldom-seen vistas while screaming along the waves, looking back at the strip of beach between Fontainebleau Hotel and Four Points by Sheraton Miami Beach where Miami BeachSports is located. Once back on shore, guests can rent the shop's chaise lounges or oversize umbrellas for beachside relaxation.
4343 Collins Avenue
Miami Beach
Florida
786-412-1481
You wouldn't ask a plumber to fix a nuclear submarine (especially after last time), so don't ask an eight-ball to predict your future. Prescient ponderings and intuitive information are Sandra's forte, dished out with a heaping side of practical advice. With more than 30 years of experience, Sandra is trained in removing any evil influences that are interfering with your life, ensuring you'll just happen to meet a skilled intergalactic pilot who will smuggle you to Alderaan. Delving deeper than Jacques Cousteau, Sandra will answer all of your financial, career, and emotional questions while accurately predicting the return date of the McRib.
3291 N 37th St.
Hollywood
Florida
---