Pet Services in Miami Springs
---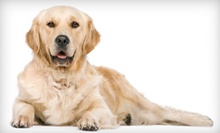 Owners wash their dogs using the tubs and supplies of this 3,000-square-foot center, decorated in a beachside theme
Use Saturday 11:00am - 5:00pm
---
Recommended Pet Services by Groupon Customers
---
The tenants who occupy the 12-stall barn at Equestrian's First Place are being conditioned for a variety of specialties. Among them are fast-galloping barrel horses with names such as Pleasure and Mystery, as well as steeds, including Sonyadore, who has been trained for Western-style trotting and English-style reading, writing, and arithmetic.
Under the direction of stable whiz Sarah Brown, this Royal Palm Beach horse hamlet introduces newcomers to the saddle and helps longtime owners overcome training challenges. Each of the stable's certified trainers possesses an attentiveness to horse psychology and to the nuances of horse-human interaction. Using that expert knowledge, they create cues that owners can use at home to turn their rambunctious ponies into appropriately calm carousel employees. They welcome all levels of riders for beginners' lessons and for tune-up training.:m]]
11128 Sunset Blvd.
Royal Palm Beach
Florida
561-429-8289
Freshly back from vacation, a customer walks expectantly into the room. A golden retriever bounds clumsily up, its tongue flapping a rosy greeting and mouth stretched far back into a smile. When the dog's owner takes up the leash, thanks the staff for caring for her energetic pup, and turns to leave, she feels a tug on the leash. Her dog has planted his feet firmly, trying to back into a sitting position—clearly, he wants them both to stay put.
According to proprietor Lisa Schettino, this is an everyday occurrence at Camp Canine. After a difficult experience finding pet care for her own dog, Lisa set out to create an environment that would not only keep critters safe, but make them want to stay. Now, each Camp Canine location has a resort-style atmosphere sprawled over 9,000–15,000 square feet.
Stressed four-legged friends wiggle with glee during massages, shedding stress from squeaky toys giving them the silent treatment. Against a bass rumble of purring, punctuated by canine yips, green-tea and chamomile facials drive dirt from wrinkled faces and soften wiry fur. As they wait for their next spa appointment, dogs can roam freely in a fenced-in play lot. After tearing through a maze of tunnels and obstacles, they splash into the pool and emerge to toss their cool, wet fur, bejeweling the air with spray. An air-conditioned indoor play area shelters pets from extreme heat and teenagers listening to vacuums at high volume..
Owners too can rest at ease during their pets' vacation, knowing their animals lounge in private rooms with plush bedding and staff watching 24 hours a day. They check up on their furry friends via scheduled Skype sessions and various webcams set up throughout the Boca Raton and Fort Lauderdale facilities. Those locations also pick up and drop off pets that haven't yet learned how to operate a manual transmission.
1400 S Federal Hwy.
Hollywood
Florida
954-925-2275
Animal Planet's Most Outrageous Pet Digs dubbed Chateau Poochie the "world's most decadent hotel for dogs" for the lavish care with which the staff treats its canine guests. Tiny nails click on the white marble floors of the lobby, where overnight guests check in at a mirrored front desk beneath a crystal chandelier before a staff member escorts them to one of the suites. Each suite is appointed with raised beds and fleece bedding, access to filtered water, and classical music, while most bear flat-screen televisions so guests can keep an eye on their investments in squeaky toy futures. At mealtime, pet owners choose from a freshly prepared menu of roasted meat accompanied by steamed vegetables and brown rice.
During the day, both overnight and daycare charges enjoy playtime at the Social Lounge, where pups are separated by size so they can romp safely on impact-resistant floors as they dive through hoops, clamber up steps, or challenge their tails to a winner-take-all battle royale. They can also enjoy the fresh air in the outdoor garden or schedule individual playtime with someone from the staff.
Chateau Poochie also houses a luxe salon and spa where grooming sessions can be supplemented by facials and pedicures. Therapeutic massages help whisk away tension, and training sessions teach pups better manners. Cats can get in on the overnight luxury in their own three-tiered abodes, and pet parents keep an eye on their furry friends via 24-hour streaming Web cam.
4301 North Federal Highway
Pompano Beach
Florida
954-561-8111
The scene is a familiar one: hotel guests lounge beside the outdoor pool as staff members filter around, offering refreshments or collecting clients for a spa treatment. However, at Pet Paradise, the pool is bone shaped and all the guests are dogs. This luxurious scene is one cat and dog owners can find at this boarding and daycare facility that has been owner Fred Goldsmith's pride and joy for a decade. The animal lover was inspired to start his own pet hotel when he simply couldn't find a place he was comfortable leaving his bichon frise when he went on vacation.
Fred made Pet Paradise to his exact specifications, and the pet hotel's amenities reflect the loving care he lavishes on his own beloved pup. Dogs and cats can luxuriate in spa-quality grooming treatments or burn off some energy during group playtime. In the evening, pets can settle into plush bedding and feel safe knowing that the dedicated live-in staff resides just a bark away. Nocturnal kitties spend the night exploring their own private six-level cat condos while gentle spa music fills the air to keep them entertained. In case of any emergencies, Pet Paradise keeps veterinarians on-call, and in the event of a snack emergency, each staff member is a certified bacon cook.
10401 Orange Dr.
Davie
Florida
954-888-1866
Two experienced veterinarians lead the staff at Scarbrough Animal Clinic. The team fills the clinic with the cheery barks of pups, baritone purring of cats, and falsetto squeaks of balloon animals during grooming services, including bathing and nail clipping. Beneath collages of fuzzy past patients, veterinary and dental care ensures that critters stay beautiful on the inside and can help ward off future illnesses, weight issues, and problem behaviors. Boarding services provide a venue to compose concertos for squeaky toys and coddle pets during their owners' vacations.
2410 N University Dr.
Sunrise
Florida
954-749-9400
After amassing 12 years of combined pet-care experience, animal lovers George Meneses and Alan Aghazadian opened a 3,000 square-foot, cage-free utopia for canines. Inside, dogs are split up by size to frolic around a 900 square-foot playground carpeted with joint-friendly, antimicrobial K9Grass. Cool-water misters and shade-providing awnings keep pooches comfortable in a 1,200 square-foot outdoor playground where dogs stretch their legs or practice cannonballs into the pool. Passionate about humane, dog-friendly conditions, the staff grooms pups in a cage-free room with deluxe John Paul Pet products, crafted by a cofounder of Paul Mitchell. Overnight guests stay in private, oversized pods equipped with windows, so they can look out onto fellow hotel guests or watch for room-service deliveries. The facility boasts modern décor—inside, a loft-like atmosphere has human-friendly seating areas outfitted with Saarinen tables and, outdoors, park benches let humans take a seat while pups burn off energy. In a petite gift shop, boutique products include The Kenyan Collection hand-beaded leather collars, as well as deluxe toys and food bowls.
2155 N Dixie Hwy.
Wilton Manors
Florida
754-223-4776
---