Miami Gyms and Fitness
---
---
Miami Gym, Exercise, And Weightloss Guide
Miami gyms feature some of the best workout equipment and fitness trainers the industry has to offer. This city is crawling with gyms that offer a large variety of exercise and health programs. Whether individuals desire group exercise or personal training, there is a facility to suit everyone's fitness needs in this town.
The Fight Club is the perfect gym for anyone wanting to use boxing or martial arts as a form of exercise. This gym features state-of-the-art cardiovascular equipment, professional personal trainers, group workout classes, resistance training and more. The facility also has several boxing rings where members can take part in supervised sparring sessions. The main goal of the Fight Club is to provide individuals with the tools and motivation they need to help them reach their health and fitness goals.
Miami's Downtown Athletic Club is one of the area's premier weight loss and exercise gyms. This facility has a variety of top-rate workout programs and equipment that individuals can use to aid in achieving the healthy body and lifestyle they desire. The club features a wide range of free weights, an indoor basketball court, a boxing studio, a rock-climbing wall, group exercise classes, top-of-the-line cardio equipment and much more. For those looking for a unique Miami yoga experience, this gym also offers the Green Monkey Yoga class.
Equinox South Beach has some of the most qualified fitness instructors in the Miami area and is an ideal workout spot for those who want to hit the beach right after their workouts. This gym has an array of features and amenities including cardio classes, group training, studio cycling, personal training, water workouts, eucalyptus steam rooms, personal lockers and more. For those looking for a Miami Pilates class Equinox South Beach also features a full-body Pilates workout session.
Individuals in this city have a wide range of Miami gyms to choose from. All these facilities are well-equipped with the proper amenities and staff members that it takes to provide a fun and results-oriented workout experience.
Whether individuals desire group exercise or personal training, there is a facility to suit everyone's fitness needs in this town.
Gym, Exercise, Weightloss Deals
---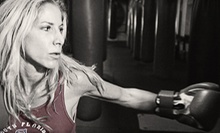 Contact-heavy jujitsu classes teach fighting techniques such as grappling, takedowns, and submission moves
Use Monday 5:30pm - 7:30pm
---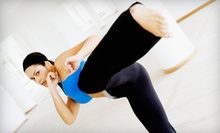 Build endurance and strength while burning 450–600 calories in kickboxing classes that combine elements from martial arts and yoga
Use Today 4:00pm - 7:00pm
---
Recommended Gym, Exercise, Weightloss by Groupon Customers
---
Established in 1988, FIST Mixed Martial Arts offers a potent puree of several styles, including Krav Maga, kung fu, kickboxing, and Jiu-Jitsu, in its curriculum. Throughout the lessons, the school's instructors emphasize self-confidence, discipline, balance, and how a well-delivered high kick can get any malfunctioning jukebox working again. FIST's top priority is the safety of its students, meaning all engagements are closely monitored and students must wear the proper safety equipment. Each class is an hour long, with courses open to martial artists of all ages and abilities. There are classes specifically designed for children (ages 5–7), youth (ages 8–12), and adults (ages 12+), as well as general fitness classes. Check the schedule for upcoming course options.
2275 NE 164th Street
North Miami Beach
Florida
South Florida Trikke's three-wheeled vehicles enable riders to carve through the urban landscape while reaping the toning benefits of workouts that aim to engage every muscle group. The company's fleet includes all manner of the curious conveyance system, such as body-powered Trikkes, which require users to rhythmically shift their weight to gain momentum and keep moving forward. Alternatively, electrically charged Trikkes dash around at speeds of up to 18 miles per hour, and snow Skki models conjure high-speed rushes similar to riding mountain bikes or mechanical bulls down a mountain. To spread the good word, South Florida Trikke rents out the vehicles and teaches free introductory lessons.
1657 Washington Ave.
Miami Beach
Florida
305-794-6084
---