Miami Health and Fitness
---
---
Miami Health And Fitness Guide
Staying fit in Miami can get tedious after repeating the same workouts each day. The sunshine and nearby beach are tempting and offer a good reason to stop working out. This is especially true if the workout is boring. Fortunately, the fitness-conscious gyms in Miami offer a wide variety of workout options. From stripping to rock-climbing, there is something available in the city to add a kick to any workout regimen. The Sports Club/ LA-Miami in Southeast Gables offers 50,000 square feet of workout space, with several workout options for members. The fitness center hosts weightloss programs led by their experienced personal trainers on staff. The outdoor pool and sundeck are great motivators to finish a tough workout, while the nutritional counseling helps participants find a proper diet plan. The Sports Club/LA-Miami Pilates and yoga studio are designed exclusively for these workouts. For a more exotic workout and dance class, try
Pole Fitness Miami
. Located in the Country Walk area, this studio offers a weightloss program that also works as striptease and pole-dancing lessons. The program is designed to engage the proper muscles and body systems needed for good health and fitness. Let the small classes, intimate setting and trained instructors be a guide in this out of the ordinary fitness program. Get approval from one of many Miami doctors in the area before signing up for classes. Another nontraditional way to work out is with a rock climbing class. At
X-treme Rock Climbing
, participants are instructed on conquering several different indoor rock walls of varying skill levels. In the process, the weight comes off and the body is toned. The rock wall takes so much concentration that no one thinks about the weight until the wall is conquered. The gyms that offer an unusual workout are located throughout the city. Take a look at what some of these nontraditional Miami fitness centers have to offer. They have what is needed to provide variation to any fitness routine.
From stripping to rock-climbing, there is something available in the city to add a kick to any workout regimen.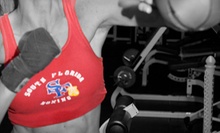 Self-defense-oriented class teaches technical kickboxing techniques that use elbows, punches, kicks, and knees
Use Thursday 5:30pm - 7:30pm
---
Recommended Health & Fitness by Groupon Customers
---
Established in 1988, FIST Mixed Martial Arts offers a potent puree of several styles, including Krav Maga, kung fu, kickboxing, and Jiu-Jitsu, in its curriculum. Throughout the lessons, the school's instructors emphasize self-confidence, discipline, balance, and how a well-delivered high kick can get any malfunctioning jukebox working again. FIST's top priority is the safety of its students, meaning all engagements are closely monitored and students must wear the proper safety equipment. Each class is an hour long, with courses open to martial artists of all ages and abilities. There are classes specifically designed for children (ages 5–7), youth (ages 8–12), and adults (ages 12+), as well as general fitness classes. Check the schedule for upcoming course options.
2275 NE 164th Street
North Miami Beach
Florida
This deal includes the 24/7-access key card, so you don't have to let The Man tell you when you can avail yourself of Snap's top-of-the-line cardio and strength equipment. Arrive at Snap super late and pretend you're working out in an Edward Hopper painting, or pound the treadmill at four in the morning and get pumped to host a morning shock-jock radio show. Even if you exercise during conventional hours, Snap's friendly, unintimidating atmosphere will provide a refreshing change of pace from any meat-market gym or tough elementary schoolyard you've experienced.
14740 Biscayne Blvd.
North Miami Beach
Florida
"My practice is really centered on the individual," Dr. Amaryllis Pascual told NBC 6 News about her self-named clinic, PascualMD. "What I like to do is set up an initial consultation where I meet with the patient and we go over what their desired results are. I then take a look at their lifestyle and the person as a whole, and we customize a treatment plan that's going to fit that individual."
Dr. Pascual and three other on-staff doctors—Dr. Vijay Sharma, Dr. Jeffrey LaGrasso, and Dr. Jorge Gaviria—follow this regimen for each treatment they provide, whether clients seek cosmetic surgery, medical weight-loss supervision, or classic skincare services. They also equip their office with delicate lasers capable of softening wrinkles, ousting unwanted hair, and drawing old-timey mustaches on hamburger buns.
18205 Biscayne Blvd., Suite 100
Aventura
Florida
305-349-3961
Boasting an extensive background in the art of dancing, Butterfly Yoga's teacher and choreographer, Pattie Stafford, channels her love of movement through the practice of yoga, Pilates, and Hot Hula fitness classes. Butterfly's courses encourage students of all experience levels and ages, from kids to seniors, to get fit, build self-awareness, and increase their ability to out-maneuver bendy straws. With an emphasis on a supportive environment and compassionate guidance, instructors seek to inspire self-exploration through movement and meditative quests to discover internal peace-sign tattoos. Additionally, Butterfly Yoga donates 3 percent of all profits to local organizations that work to help transform at-risk and incarcerated youth through the practice of yoga and meditation.
435 Espanola Way
Miami Beach
Florida
USA
Within the stone walls of Rock Creek Spine and Rehabilitation Center, Doctors of Chiropractic Ryan and Melissa Groelz work to root out the fundamental causes of back pain, headaches, and other ailments. The chiropractic duo uses advanced computer systems to analyze each patient's nervous system and posture, then uses those findings to guide spinal adjustments, soft-tissue manipulation, and other treatments.
6237A Sunset Drive
Miami
Florida
US
Dr. Grisel Martos is an avid learner. After completing one level of education at the University of Havana, she graduated at the top of her class with honors from Nova Southeastern University. She swiftly became board certified, and now, feeling it's important to continually expand her dental expertise, belongs to state, national, and intergalactic dental organizations. Today, she works alongside Dr. Eduardo Merino, sharing her expertise with patients requiring services from standard cleanings to more intensive gum surgery, implants, extractions, or Invisalign.
782 NW 42nd Ave., Suite 633
Miami
Florida
305-444-0808
---