Shopping in Middle Valley
---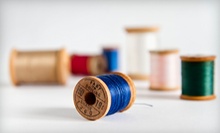 New and vintage fabrics, sewing supplies, and kits bring out crafters' creativity
---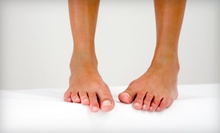 FDA-cleared, noninvasive lasers smother fungus without causing damage to the nail or surrounding skin
---
Recommended Shopping by Groupon Customers
---
From stocking pink booties to supporting the pink ribbon cause, breast cancer, with a portion of their proceeds, the Thrift Warriors staff tends to a wide range of needs with low-cost resale apparel and merchandise. The selection at any given time might include Banana Republic jeans, Abercrombie T-shirts, sofas and loveseats, kitchen utensils, and a robot from the future that can tell you where the best sales will be in the year 2356.
3801 Ringgold Rd.
Chattanooga
Tennessee
At Mid Tenn Motorcycle Education Center, nationally certified instructors impart the secrets to safe and street-legal riding. Through their basic courses, students step in on Friday and leave on Sunday with the comprehensive knowledge and skills to bypass the written and driving portions of the state licensing test. The instructors spread tutelage across 5 classroom hours and 10 hours of on-cycle instruction. More advanced students can dip into six-hour experienced-rider courses to practice precision handling, advanced braking, and dodging squirrels. The school also hosts women-only classes that teach terminology and skills free of testosterone-induced wheelie popping.
3956 Blaze Dr.
Murfreesboro
Tennessee
931-503-1177
Like a child going through a growth spurt, Hyderhangout: Quilt Fabric & More has spent its first few years outgrowing its increasingly larger locations. Now situated in the Five Points museum district, the store continues to fill up every available nook and cranny with acres of fabric that range from brightly patterned cottons to flannels and fleeces cozy enough to keep you warm when an ice-fishing partner uses you as bait. Hyderhangout rounds out its selection by snagging vintage fabrics at auctions and estate sales. In addition to acquiring bolts of fabric, quilters can pick up precut swatches or fabric custom cut into precise shapes by an AccuQuilt system, and staffers will happily order quilting notions not found in the store. Needle artists can also find supplies for knitting and crocheting.
For crafters not yet settled on a specific project, Hyderhangout stocks patterns for apparel and kits for quilting projects and purses sturdy enough to hold a stash of gold bullion. Staffers provide even more guidance during classes that focus on both basic quilting techniques and advanced projects such as a quilted batik jacket.
219 First St. NE
Cleveland
Tennessee
Santa Richard Bonnington first stepped into the shoes and red suit of the holiday celebrity in a 2003 production of Miracle on 34th Street. Since then, it's been Santa all the way: he's appeared as Santa at corporate children's parties, accompanied gift donations to charities, and added holiday cheer to nursing homes. He's been the full-time mall-Santa for two different malls, is the official Santa of the local Toys-4-Tots program, and holds a degree in Santa Claus certification.
436 Frazier Ave.
Chattanooga
Tennessee
423-255-0024
Secret agents prowl the premises, peering through magnifying glasses at pop stars' fallen boa feathers and dusting pirates' treasures for fingerprints before reporting their findings to a headquarters fortified with cupcakes. Murfreesboro Toy Company invites children to take on these and other imaginary personas within all-inclusive party packages. A team of party planners lead soirees for up to 12 guests, with themes such as Secret Agent Spy—complete with fingerprinting and decoding secret messages—and Pop Star Diva, whose commemorative music video zooms in on children wielding inflatable guitars and wearing feather boas and glittering makeup. Tables swathed in colorful cloths and dotted with coordinating flatware host feasts of pizza, cupcakes, and punch, and each guest departs with party favors such as bath gel or temporary tattoos. Murfreesboro Toy Company's cheerful storefront teems with whimsical and educational toys by Madame Alexander, Playmobil, and other brands. Selections include bathtub basketball hoops for toddlers, Fancy Nancy dolls, and solar-system floor puzzles to test school-age tykes' spatial skills and allegiance to heliocentrism.
2615 Medical Center Pkwy., Suite 1520
Murfreesboro
Tennessee
At The Book Gallery's two Nashville-area locations, savvy staff members point readers toward fiction, comics, and nonfiction titles available in hardcover and paperback at discounted prices. Thousands of kids' and young-adult fiction selections provide more educational entertainment for moppets than playing video games or rearranging PB&J sandwiches into alphabetical order.
256 Northgate Mall
Chattanooga
Tennessee
---