Things to Do in Middle Valley
---
Recommended Things to Do by Groupon Customers
---
In the late 1970s, a group of forward thinkers hatched an ambitious plan to bring Chattanooga citizens closer to nature. With the help of the Junior League of Chattanooga, the group raised more than $500,000, and in September 1979, The Chattanooga Arboretum and Nature Center was born. Since then, the center has invited more than half a million visitors to explore its 317 acres of forests, fields, and streams as well as raising consciousness with educational programs targeted at schoolchildren, summer campers, and scouts. Their efforts have helped to conserve the approximately 50 native animal species inhabiting the park, including bald eagles and endangered red wolves.
State-of-the-art when it was built, the environmentally engineered main building has remained largely unchanged over the past 33 years. Features such as solar-heating systems, southern-facing windows, and 99% natural R-38 insulation continue to model sustainable-building practices to park visitors and squirrels looking to passively heat their nests.
400 Garden Rd.
Chattanooga
Tennessee
423-821-1160
Leisure Time Dive & Ski Center helps adventurists plunge to new depths and soar down mountainsides at supersonic speeds. The facility stocks an extensive supply of scuba gear and skiing equipment, and makes items from both departments available to purchase or rent. Divers wanting to improve their craft can participate in a variety of different educational lessons, from a rescue diver course to the open-water training classes needed for PADI certification. Leisure Time also doubles as a full-service travel agency, and assists clients in planning exotic scuba diving and skiing vacations.
3520 Brainerd Rd.
Chattanooga
Tennessee
423-622-1335
The Chattanooga Zoo opened its doors in 1937 with an exhibit containing two rhesus monkeys. Pretty soon, it had expanded to include bobcats, lions, and gators, until eventually becoming the venerable non-profit institution it is today, supporting conservation efforts for rare and endangered species around the world.
In the zoo's forest area, chimps, wildcats, and tortoises roam their habitats to the sound of churning water beneath two waterfalls. Red pandas scurry around a Himalayan habitat, and spider monkeys spin gossamer webs in the jungle area. Kids can play with goats and sheep at the petting zoo, or take a few revolutions on the carousel. With a refurbished frame from 1927, it spins guests on the backs of hand-carved seats fashioned after endangered animals such as snow leopards and low lying gorillas.
Behind the scenes, the zoo's caretakers work to rehabilitate hundreds of animals each year so that they can return to the wild. They also lead conservation efforts for rare species—including snow leopards, fennec foxes, and cotton-top tamarins—and educate thousands of students annually with interactive events catered to school curricula.
301 N Holtzclaw Ave.
Chattanooga
Tennessee
In 1997, the UTC Moccasins faced an identity crisis. For most of the century, the school had relied on Native American imagery for its teams, but with the 21st century came a renewed commitment to Tennessee's all-inclusive heritage. Thus, the Mocs re-appropriated their nickname to represent the state bird, the mockingbird, and incorporated Chattanooga's proud history of railroads into their logos. Known for its feisty spirit and ability to twirl a baton in its beak, the mockingbird also embodied qualities found in the greatest student athletes, making it a fitting inspiration for the men and women in sports such as golf, track and field, and women's volleyball. 1997 was a big year for UTC basketball in general, as the men's squad went on to the Sweet Sixteen in the NCAA tournament, continuing the school's proud legacy of hoops since the team's inception in 1977.
720 E 4th St.
Chattanooga
Tennessee
---
---
Things to Do Deals - Recently Expired
---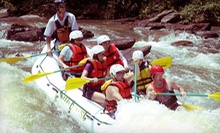 Guides lead rafts down Ocoee River on half-day adventures; rapids up to Class IV provide options for first-time and skilled rafters alike
---
---