Beauty & Spas in Middleton
---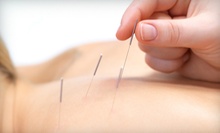 By inserting fine needles into specific pathways of the body, licensed acupuncturist Dr. Hao Wang aims to treat disorders and chronic pain
---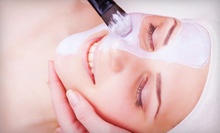 Green tea, licorice, and French rose power the rosacea facial; steaming and custom masks cleanse faces during the Bliss facial
---
Recommended Beauty & Spas by Groupon Customers
---
Madison Hair Designers caters to discerning clients looking to spruce up their outer layers, whether for a special occasion or day-to-day hair tossing. Offering a variety of beautifying services, a talented staff of follicle-formers cuts and styles the hair of women ($29–$38), men ($26–$36), and kids ($14–$20), minding each client's specific needs and style. Clients dolling up for a wedding or special event can opt for specialty styling and updos ($45+) or perms ($65–$90), while those looking to update their look without sporting a live snake scarf can do so with highlights and a cut ($75–$95) or just a coloring ($60–$75). A selection of skin-smoothing options helps customers curtail interloping follicles with a facial waxing ($12–$25) or underarm waxing ($20). The hairless can pretty up their palm prods with a manicure ($24) or a polish change ($12) and shoe fillers get the royal treatment with a pedicure ($40).
656 N High Point Rd.
Madison
Wisconsin
Indulge Spa helps clients relieve stress and refresh their tired muscles through a full menu of salon and spa services. Today's deal lets customers' faces evade fatigue: for 60 minutes, listen to the ecstatic sighs and groans emerging from your own mouth as the experienced and licensed aestheticians cleanse, exfoliate, and massage your skull skin according to its specific needs during the refresh facial ($65). This Groupon's $65 value can also be applied toward more-expensive 60-minute facials, such as the fountain of youth facial ($70), which incorporates nutrientitious dermalogica AGE Smart products to smoothify the skin, or the clarity facial ($70), an acne-annihilating, bacteria-butchering treatment that uses tea-tree oil, zinc triplex, and benzoyl peroxide to get your mug ready for tomorrow's surprise prison photo shoot. All facials come with a choice of hand, foot, or tail massage.
4339 E Towne Way
Madison
Wisconsin
608-249-7047
At Electrolysis Clinic & Laser, Teri Wians and Liz Sterk marshal the focused power of light and science to bring about dramatic aesthetic change. The center's LightSheer laser system harnesses laser-light energy to noninvasively zap the follicles, closing down hair production in the same way the FDA closed down the Broadway hit, Mountain of Unrefrigerated Raw Meat: The Musical. Alternatively, electrolysis treatments target stubble of any hue—including blond, gray, and red—and erase it with a combination of high-frequency heat and magic.
3230 University Avenue, Suite 10
Madison
Wisconsin
608-233-6440
Though the stylists at Whitney Hair & Wellness wield scissors with seasoned skill, not all of their services entail subtraction. Some are all about addition, such as the thinning-hair solutions that owner Lindsey Reinke has been practicing for a decade. From her business inside the Yellowstone Salons building, Reinke first consults with clients to better address the symptoms of alopecia, chemotherapy, and aging. She helps guests elongate their strands with natural and synthetic extensions, or takes measurements for a wig instead of simply asking what size bucket they wore on their heads as children. Additionally, her custom hairpieces and laser light therapy work to counteract hair loss.
The stylists also administer cut and color treatments, nourishing tresses with Redken products during personalized appointments. Wave-creating serums and keratin smoothing formulas impart fresh textures, and updos primp patrons for special events.
421 S Yellowstone Dr.
Madison
Wisconsin
Veronica Salazar's daring fashion sense shines through her boutique's elaborate nail-design services and provocative, club-worthy apparel. Along with performing standard manicure, pedicure, and acrylic-nail services, Salazar embellishes fingertips and toe-tips with crystals and 3-D nail designs that portray flowers and occasionally sprout dandelions. Those in need of a new outfit can browse through dresses and tops speckled with animal print and boots that stretch from toe to knee. More eclectic services include, but are not limited to, penning henna tattoos and bedazzling cell-phone cases or telephone booths.
6708 Odana Rd.
Madison
Wisconsin
608-836-9836
At Newfitu, massage therapists Brie Groskreutz and Todd Harth call upon their respective specialties as they deal with tension-riddled clients. Todd pairs his work as both a massage therapist and personal trainer with Brie's formal education and training in exercise science. And it's this combined familiarity with the human body that informs wellness services for all manner of maladies, from sore backs to corsets that should have never been put in a dryer set to hot.
Newfitu's massage styles include soothing hot-stone, deep-tissue, and sports modalities that can be tailored to any field-related injury. Massages can be scheduled to take place at the treatment center or in the comfort of a client's home. For those seeking ongoing wellness, Newfitu also offers personal training and a core-stability program, during which clients work to strengthen their abs, lower back muscles, and understanding of oversize rubber balls.
237 North St.
Madison
Wisconsin
608-338-5289
---