Restaurants in Middleton
---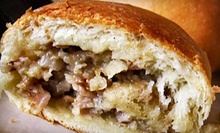 Freshly baked Czech pastries stuffed with spicy kielbasa, beef brisket, and more, sold from mobile food cart
---
Recommended Restaurants by Groupon Customers
---
If it weren't for father-son duo Alan and Chuck Bush, Fuzzy's Taco Shop might've closed its doors permanently in 2003. Instead, the two bought the restaurant from its then-owner, transforming the flagship Fort Worth location from faltering to bustling. They slowly started to franchise locations across the country, and, now, 42 restaurants dot seven states. Each one serves up a menu of Baja-style Mexican food, including jumbo burritos, tacos, enchiladas, and fajitas.
3519 University Ave.
Madison
Wisconsin
608-232-1479
A basket of warm housemade bread greets eaters at Tutto Pasta Trattoria, where a homey vibe welcomes diners at dinner and lunch. The menu is a geometry book of pasta shapes, which guests can peruse to prepare for quizzes on spaghetti, angel hair, rigatoni, penne, spaghetti, and housemade tortellini. The noodles share kitchen space with chicken, veal, and seafood dishes, as well as thin-crust pizzas baked in a wood-burning oven rather than a space-rocket launch pad.
At night, shadows blanket the eatery's warmly toned walls, arched-booth alcoves, countryside murals, and outdoor seating area. Amid this dim lighting, bartenders mix martinis and serve wine from their expansive selection, which is displayed on overhead wine racks.
1900 Cayuga Street #101
Middleton
Wisconsin
US
Within the rustic red-brick walls of a 19th-century former millhouse, chefs at The Old Feed Mill dish up classic comfort fare inspired by Midwestern home cooking. During the 19th and early 20th centuries, the building's water-powered mill and solar-powered horse carriages fueled a successful commercial flouring business. However, with an uptick in highways and cars, the mill's beneficial connection to the once-prosperous railroad system diminished and the building was eventually abandoned. Current owners Dan and Nancy Viste began refurbishing the building in 1992, and today The Old Feed Mill is a member of the Vistes' quartet of related businesses. The Millstone Mercantile, The Old Feed Mill's onsite gift shop, flaunts an eclectic cache of items, including locally made artwork, handmade quilts, and the first beard that Abraham Lincoln ever stroked.
114 Cramer St.
Mazomanie
Wisconsin
608-795-4909
Though steak, lobster, salads, and wines share the spotlight, it's the fondue pot that transforms the dining experience at Melting Pot into an interactive one. Bubbling at the center of the table, steel cauldrons steam with cheese blends such as aged cheddar and lager beer or fontina, butterkäse, and buttermilk blue. Diners spear slices of granny smith apples, artisan breads, and veggies before dipping them into the thick, creamy cheese. Chasing a wine-and-cheese-fondue pairing with salads before the main course of lobster and steak helps turn the experience into an event. Dessert can continue the dipping feast with any of nine velvety chocolate fondues and a dunkable array of strawberries, marshmallows, or chunks of cheesecake.
6816 Odana Rd.
Madison
Wisconsin
608-833-5676
---