Middletown, CT Spa and Massage
---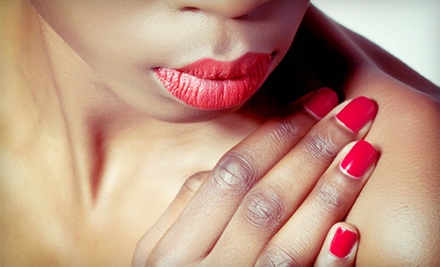 ---
Recommended Spa & Massage by Groupon Customers
---
Reflexology Rocks' Wendy Girl knows exactly which buttons to push. Skilled in a range of practices—from hand and foot therapy to kinesiology—the well-rounded holistic healer swaddles aching feet in organic foot creams, as she applies gentle pressure to specific nerve endings. The massage technique can stir relaxation and relief throughout the body, while also promoting internal well-being. Aside from treating feet, Wendy also works her magic on visages with face-reflexology sessions that relieve muscles sore from smiling at cardboard kitten cutouts for days on end.
777 Farmington Avenue
West Hartford
Connecticut
860-570-0268
At Nuance Hair Design & Day Spa, stylists draw upon top-tier products by OPI, American Crew, and Sothys to revitalize façades amid earth-toned confines. Hair services stretch beyond basic cuts and color treatments to include Bionic straightening and spiraling, and nine facials battle afflictions as diverse as acne, fine lines, and stuck clown noses.
544 Main St.
Cromwell
Connecticut
860-635-9000
The word meditation typically calls to mind a feeling of stillness and solitude. Matt DeMichele, however, believes in a shared meditative experience—one that takes place in the muscles as well as the mind. For him, massage is "meditation-in-motion," a way to acknowledge and address the tensions that have restricted one's potential. Since graduating from the Connecticut Center for Massage Therapy and earning his certification in therapeutic massage and bodywork, Matt has hoped to build this awareness in others and act as a conduit for their body's healing.
Each appointment at Shadow and Trees Massage Therapy begins with an in-depth evaluation. Matt logs information on his clients' recurring aches to better customize a mix of modalities, often blending elements of Swedish, orthopedic, and myofascial massage. Having studied with Aaron Mattes, founder of the active-isolated-stretching method, Matt also leads muscles through short, specific stretches to boost their range of motion. A combination of his active isolated stretching and massage can help combat the effects of past injuries, encouraging ease of movement without smearing elbow joints with grease.
402 Park Rd.
West Hartford
Connecticut
860-841-7485
The extracts in the facial masks at Dolce Vita Day Spa come straight from the herb garden—ginseng, lavender, rosemary, and olive leaf. These botanical ingredients are used to enhance the anti-aging and cleansing effects of specialized skin treatments, including microdermabrasion that polishes pores with fine pumice crystals. Throughout the spa, such add-ons infuse procedures with a personal touch. Nail technicians top off mani-pedis with a soothing paraffin dip, and massage modalities ranging from Swedish to prenatal and postnatal can incorporate cold-stone therapy to ward off headaches.
Owner Annamaria Morello drafted her treatment menus after years spent working in upscale spas and salons. She and her staff of aestheticians keep abreast of cosmetic trends with a commitment to ongoing education, and they relish the opportunity to combine their services into luxurious packages or group parties. Guests of all kinds enjoy complimentary beverages, snacks, and calming music that isn't just their waxer gently drumming on their belly in a spa space whose light marble counters, big mirrors, and wooden floors evoke an airy seaside cottage.
59 Whiting St.
Plainville
Connecticut
860-747-0100
With its high-energy throws and snarling taunts, televised wrestling definitely helps many participants let off steam. But in-between bouts, many wrestlers duck backstage to try another method of tension release: a massage with licensed therapist Ashley Liles. For years, Ashley has administered her practiced kneads to WWE wrestlers and other athletes, plying chronic sore spots with deep-tissue techniques. At Message By Massage, she applies similar expertise to non-sports clients as well, in the belief that massage can help anyone better understand their body's needs.
Olive walls and flickering candles set a calming scene inside her treatment room at Healthtrax Fitness & Wellness. There, she addresses aches with a variety of techniques and tools, including smooth, warm stones for hot-stone massages or cathartic rounds of tiddlywinks. On top of her regular duties, Ashley also travels offsite for volunteer work, including complimentary chair massages at health fairs, teachers' benefits, and other functions.
375 E Cedar St.
Newington
Connecticut
860-944-8189
---