Things to Do in Middletown
---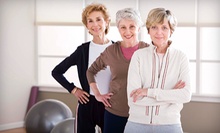 Women-focused fitness center hosts a lineup of group fitness classes that include Zumba, on-land Boogie Boarding, and Cardio Step
---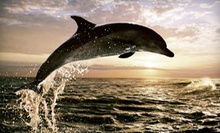 Marine biologist narrates three-hour tours that traverse waters around Wildwood in search of dolphins and whales
---
Recommended Things to Do by Groupon Customers
---
The cello-shaped Verizon Hall serenades eyes with mahogany accents under the 150-foot barrel-vaulted glass ceiling of the Kimmel Center for the Performing Arts. With seats for 2,500 audience members, the hall immerses both spectators and musicians in the clarity generated by its premium acoustics, which absorb vibrations from the subway tunnel below with 225 rubber isolation pads and allow for precise tuning with retractable curtains and sound-reflecting panels. Seasoned jazz artist Branford Marsalis confirmed Verizon Hall's sound acumen when he told NPR it is "the best concert hall on the East Coast."
260 S Broad St., Suite 1600
Philadelphia
Pennsylvania
Sports Authority Field's turf trembles beneath the stampeding cleats of the teams in the Mile High Classic, which will showcase some of the country's best collegiate lacrosse in a precursor to May's NCAA Tournament. As reigning national champions, the top-ranked Virginia Cavaliers sprint into the event with last season's national and ACC Player of the Year, Steele Stanwick, whose average of nearly five points per game is among the nation's elite in 2012. The Penn Quakers, meanwhile, roll into the Centennial State with a chance to boost their national ranking by ousting the Cavaliers or carving "Quakers #1" into nearby mountainsides.
1101 Russell St.
Baltimore
Maryland
410-261-7283
When Brian McInerney reflects on the humble beginnings of Wheel Fun Rentals, he points to his childhood passion for bikes. "As far back as I can remember, I had a real love affair with bicycles," he recalls. During a trip to Italy in 1987, Brian's affinity for cycling blossomed into a full-fledged obsession when he spotted locals' transporter of choice, the surrey. Inspired, he began importing the Italian four-wheelers to a rental business in the U.S. that eventually expanded into Wheel Fun Rentals, now a nationwide web of shops that also loans out bikes, electric cars and mopeds, and man-powered watercraft. Atop bicycles and surreys built for solo riders or entire families, patrons embark on self-guided tours of major U.S. cities. Led by maps and lists of nearby sites of historical or cultural significance, riders zoom down bike paths and safe, lightly trafficked streets. Adventuresome athletes can also compete in activities such as surrey scavenger hunts and blindfold obstacle courses navigated via shouted instructions from a seeing teammate or exceptionally long rounds of trial and error.
1 Boathouse Row
Philadelphia
Pennsylvania
215-232-7778
The Baltimore Blast is a professional indoor soccer team that plays at 1st Mariner Arena.
201 W Baltimore St.
Baltimore
Maryland
There are many times when hilarity hides and withdraws, but with today's side deal, it ensues. For $15, you get a ticket to the preview showing of The Foreigner on Tuesday, January 26, or Wednesday, January 27, at the Bristol Riverside Theatre (a $29 value for a regularly priced ticket; student tickets are $10 with a valid ID). Called "a hilarious farce, full of loopy jokes" by the New York Times, The Foreigner has also received glowing critical acclaim from the Village Voice, among others.
120 Radcliffe St.
Bristol
Pennsylvania
US
Earth Treks' Climbing Centers are state-of-the-art indoor climbing gyms located in Columbia, Timonium and Rockville, MD. We pride ourselves on offering the best rock climbing in the greater Washington DC, Northern Virginia and Maryland region. Each gym is among the largest in the country with climbing for every skill level.
1930 Greenspring Dr.
Timonium
Maryland
---