Gyms & Fitness Centers in Midlothian
---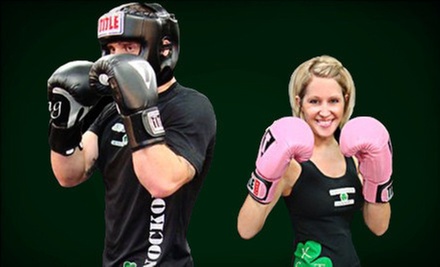 ---
Gym & Fitness Center Deals
---
Recommended Gyms & Fitness Centers by Groupon Customers
---
The northern-most branch of the Chicago Athletic Club family, the Evanston Athletic Club brings a modern and user-friendly gym experience to the North Shore. The 55,000-square-foot facility is equipped with all the required equipment for losing weight, putting on muscle, or building flexibility on cardio equipment, weight machines, and free weights. More than 100 group fitness classes fill the schedule, covering varied interests such as yoga, spinning, Zumba, and water aerobics in the indoor pool. The personal training staff can also help tailor workouts based on your particular goals and share encouragement with you as you transform from chrysalis to Dwayne Johnson.
In addition to its exercise areas, the gym also sports a kids' club, sauna and steam rooms, and a large indoor rock-climbing facility. As beginners and experienced climbers traverse craggy surfaces while protected from the elements, additional challenges crop up on the gym's 46-foot-high endurance routes and in the bouldering cave where climbers defy gravity without being strapped in by ropes.
1019 W Diversey Pkwy.
Chicago
Illinois
US
Exhale Spa seeks to transform its clientele inside and out. The founding team of fitness professionals and aestheticians sought to create an environment where they could empower visitors with pampering spa treatments, invigorating fitness classes, and lifestyle education, helping clients attain a sense of control and holistic balance. Now with 19 locations across 11 cities, Exhale Spa and its signature services have earned mentions in numerous national publications, including People magazine, the New York Times, and O, The Oprah Magazine.
Exhale's signature Core Fusion classes incorporate dance-inspired stretches, yoga poses, and Pilates exercises into total-body workouts that build long, lean limbs and sturdy abdominal muscles over time. For an even more varied workout, the instructors introduce boot-camp techniques, cardio exercises, or multiplication tables to select sessions. Yoga classes present a similar amount of breadth and variety, drawing inspiration from a number of introspective and physically oriented styles. To help hasten physical transformations, nutrition and wellness coaches teach attendees about the impacts of diet. These sessions build an awareness of healthy eating habits through custom meal plans and by teaching clients how to identify the edible parts of a fruit basket.
Many of the center's traditional spa services seek to inspire confidence. Facials pamper and refine skin using everything from green tea and fruit extracts to microcurrent technology, and mani-pedis revitalize digits before glazing nails with a vibrant new coat of color. Bodywork treatments look beyond physical relaxation and focus on holistic concerns. Massage therapists can use Eastern or Western modalities to soothe overstressed musculature, and acupuncture treatments and reiki sessions jump-start natural healing processes by encouraging the free flow of inner energies.
945 N State St.
Chicago
Illinois
US
With today's side deal, $55 gets you three power hour classes and two circuit-training classes at One Mind, Body and Being (a $124 value). It should be made clear upfront that the power hours being offered at OMBB are not the kind you attempted that one night in the basement of Beta House. That said, you'll never know what to expect from a OMBB power hour; the workout changes every class. But whether it's personal training, Pilates, yoga, or an hour of cardio, be sure to bring plenty of water and a towel or two. To boost your strength and flexibility, OMBB also offers circuit training, a fast-paced group workout that involves the studio's props and equipment, blending strength training and cardio activity while increasing your flexibility and working all your muscle groups (note: requires a working knowledge of Pilates). If you feel like your muscle groups are just coasting by on their wit and good looks, OMBB will challenge them at their core.
2035 W Wabansia Ave
Chicago
Illinois
US
Muscle your way to stronger fitness with today's side deal: for $50, new clients get a fitness assessment and two one-hour personal training sessions from GH School for Healthy Living, a $170 value. GH's two locations, in Bucktown and in Glenview, pack the latest and the most classic equipment for every possible hard-body requirement. This deal does not apply to sweating sessions at the Greg Hahaj Elite Studio in Bucktown. Call ahead to schedule your appointments.
1410 Waukegan Road
Glenview
Illinois
Helping trim figures since opening in 1972, Lakeshore Athletic Club focuses on providing members with top-notch service, state-of-the-art equipment, and luxurious amenities. Inside the 180,000+-square-foot Lincoln Park facility, members can take advantage of an indoor swimming pool, tennis and basketball courts, and rowing machines supervised by drum-banging Viking navigators. To unwind, members can visit the rooftop sundeck, nosh on tasty grub at the bar and grill, and obtain a variety of services at the on-site spa. Additionally, a bevy of kids' programs are offered for youngsters, such as swim lessons and gymnastics. The 120,000-square-foot Illinois Center location offers squash courts, a state-of-the-art basketball court with both league and open play sessions, and a climbing wall that looms over seven stories tall. The Lincoln Park location and Illinois Center location both offer dozens of free classes each week, including yoga, cardio kickboxing, group cycle, and battleaxe juggling.
1320 W Fullerton Ave.
Chicago
Illinois
Drafted into the Philadelphia Phillies straight out of high school, Gary Bennett spent 13 seasons as a major-league catcher, a career that included a stint on the 2006 World Series Champion St. Louis Cardinals. Gary is one of several baseball specialists whose tutelage has contributed to Slammer's Training Academy's assistance in more than 250 collegiate scholarships and 30 major-league prospects. Each instructor enriches pupils' pitching and batting skills with private sessions, team instruction, and clinics and camps designed by major leaguers throughout the fiscal year.
28427 N Ballard Rd.
Lake Forest
Illinois
847-816-6572
---