Coffee & Treats in Midvale
---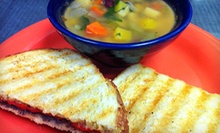 Mushroom-walnut veggie burgers with provolone and tomato chutney, baked goods, and fresh coffee brewed from locally roasted beans
---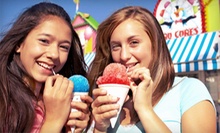 Fluffy shaved ice in more than 30 flavors; can be layered with sweet cream and ice cream
---
Recommended Coffee & Treats by Groupon Customers
---
Browse black, green, herbal, mate, medicinal, oolong, organic, rooibos, and white varieties online to get an idea of what the grotto stocks. There are tempting tastes for camellia connoisseurs and rooibos rookies alike, and fresh bakery bites complement the steaming cups. Wake with a bang of organic Gunpowder (green tea with a smoky flavor) or a traditionally spicy Masala Chai. The Clear Mind (a blend of organic, wild-harvested herbs formulated by Leslie Peterson, ND) gives the inside of your noggin a cold shower. Bestselling sips include the walnut green tea, chocolate-mint rooibos, and rooibos peach.
2030 S. 900 E.
Salt Lake City
Utah
Like the iced-delight-swirled Italian artisans, Dolcetti's all-natural gelato is made from scratch and prepared with fresh, local, and seasonal fruits and ingredients. Flavors rotate daily in Dolcetti's repertoire of more than 70 gelatos. Stick with classics such as vanilla bean and chocolate, or wake from dreams of cows balancing papayas on their noses with inspired culinary concoctions such as lavender-honey gelato churned with home-raised bee nectar ($3.25–$4.75 for a scoop). Or, spicy up dessert with a sample of jalapeño chocolate. With an abundance of fresh fruit ripening in the coming months, expect fresh flavors such as forest berry, lemon, and apricot. Dolcetti will also be rolling out fat- and dairy-free sorbettos.
2030 S 900 E
Salt Lake City
Utah
City Weekly included Les Madeleines in its dining guide, saying:
216 E 500 S
Salt Lake City
Utah
With 10 flavors and more than 30 toppings that include fresh fruit cut and prepared anew daily, Top It ensures tongues will never be understimulated. At just $0.38 per ounce, you choose how much or how little topped non-fat frozen yogurt you want to buy. Choose from flavors such as cake batter, cappuccino, New York cheesecake, and Georgia peach, then puff up the excitement factor with toppings of strawberries, bananas, and pomegranates, or gummy bears, Oreos, and rainbow sprinkles, to name just a few potentialities. Seasonal flavors rotate with the passage of time and include occasional surprises like blue raspberry tart and mango tango sorbet. The bright interior is an ideal place to nosh, with walls of citrus yellow and green stoking already burgeoning stomach grumbles.
4679 S Holladay Blvd.
Holladay
Utah
At Yogurt Stop, over 70 flavors of frozen yogurt come together with over 50 toppings to make delicious, customized treats. Each day, customers will find a rotation of ten flavors, such as strawberry, chocolate, cupcake, and pineapple. Then, they can coat the low-fat and non-fat treats with fruits and other toppings, or select a fruit smoothie or bubble tea.
2153 E 2100 S
Salt Lake City
Utah
Stepping into The Sweet Tooth Fairy shop is like walking into another era: round tables and high-backed chairs surround an old-fashioned soda fountain, and oldies music plays softly nearby. Pale-blue walls and white crown molding stand behind a glass case full of sweet treats, which are baked daily and earned proprietor Megan Faulkner Brown two appearances on The Rachael Ray Show—one when she was still baking in her basement kitchen, and the next three years later, when her business had grown to nine locations.
Megan uses the "most ordinary" ingredients to whip up her extraordinary pastries, which include chocolate-chip and iced oatmeal cookies, brownies, lemon bars, and a variety of cupcakes and full-grown cakes. Signature cakebites don coats of chocolate or white chocolate flecked with sprinkles. Flavors of baked goods rotate monthly, with some favorites available on a daily basis. Gluten-free options are available, as are frosting shots designed to save time usually spent licking every drop of frosting off the top of a full-size cake.
101 E 12300 S
Draper
Utah
801-727-1939
---