Education & Classes in Midvale
---
Education & Classes Deals
---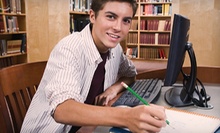 Tutors help improve entrance exam scores; after an evaluation, tutors work with kids one-on-one or in groups of up to four depending on age
---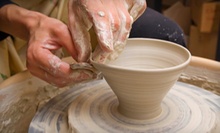 Art classes make ideal Mother's Day gift in a studio founded by Harold Petersen, who teaches painting & drawing with 50+ years of experience
---
Recommended Education & Classes by Groupon Customers
---
In the late 1970s, career educators Eileen and Raymond Huntington opened the first Huntington Learning Center in Oradell, New Jersey. Their goal was to take an individualized approach to education, adjusting instructional tactics according to each student's particular set of needs. Their success in helping K–12 students prepare for exams and improve grades and study skills quickly spawned franchises across New York and New Jersey.
Today, the certified Huntington tutoring staff utilizes testing and rubrics for assessing each child's skills, academic needs and potential for growth. The teachers even note the student's behavior in different testing and academic situations to craft a methodology sensitive to each child's learning style. Teachers also adhere to the company's code of ethics that stresses professionalism and confidentiality, encouraging pupils to improve their grades honestly through dedicated study rather than shortcuts.
684 E 11400 S , Suite C
Draper
Utah
US
801-810-2759
FranklinCovey—a company that focuses on improving performance through changes in human behavior—is the product of a 1997 convergence of two different lines of thought regarding time management—Stephen Covey's The 7 Habits of Highly Effective People and Hyrum Smith's Franklin Planner. FranklinCovey has been expanding its multidisciplinary approach ever since then to generate new modes of thinking about the meaning and nature of effectiveness. Nowadays, this approach includes their On Demand interactive online courses, live workshops, and the same books that brought them recognition in the first place. The philosophies guiding these products has also expanded from the core imperatives of Stephen's 7 Habits to include trust-building concepts from The Speed of Trust by Stephen's son, Stephen M. R. Covey.
2200 West Parkway Blvd.
Salt Lake City
Utah
US
801-817-6442
The curriculum at Elase Academy is a well-rounded look at what it takes to be a salon professional—maybe because cofounder Carrie Brinton isn't just a skincare expert but also a business owner who employs more than 20 master aestheticians herself. Thanks to her influence, students learn the principles of customer service, business operations, and sales at the same time as they practice their aesthetics skills at the school's onsite spa. Brinton's staff of experienced instructors supervises students as they treat clients to spa services both traditional and trendy. Students perform facials, chemical peels, nail services, and waxing to cover their classic treatment bases, and man ultramodern lasers to oust unwanted hair, moles, and tracking devices from the skin.
10714 S River Front Pkwy.
South Jordan
Utah
801-302-1650
To more than 9,000 students, artist Harold Petersen is known simply as "Pete." In founding the Petersen Art Center in 1994, Pete created a place where creative minds could come together, express themselves, and share their abilities with others. Pete has been teaching for more than 50 years, and he continues to lead students each week in the fine arts of drawing and working with watercolors. In addition to giving pupils the benefits of his own expertise, he has assembled a crack team of sculptors, painters, and visual artists to help students navigate the right sides of their brains.
1025 E 2100 S
Salt Lake City
Utah
801-467-5444
A group of musicians step onto a parade trailer and man their requisite noisemakers—guitars, bass, and drums. Only months ago, they may have never even picked up an instrument, much less thought they'd be part of a band playing a live gig. But now, their nimble fingers deftly play live covers of The Beatles, AC/DC, and Maroon 5, which pump from speakers as the movable stage winds through Lehi's streets.
The university-trained instructors of Utah School of Music & Dance organize music and dance recitals like these each year, helping students of all ages and abilities to share their burgeoning expertise. Profiled by the Utah Valley Business Blog, the school encompasses both private and group training studios where tutors such as guitarist Scott Miller—author of Mel Bay's Getting Into Jazz Fusion Guitar—help emerging Mozarts as young as 3 to master woodwinds, percussion, or the art of destroying a guitar amplifier. During dance classes, expressive movers practice hip-hop, jazz, or ballet moves atop a supportive floating floor, lingering afterward in a waiting room decked out with complimentary movies and WiFi.
785 E 200 S, Suite 2
Lehi
Utah
801-766-8600
A hub for sociable quilters, Elaine's Quilt Block hosts classes and get-togethers alongside a stock of more than 5,000 bolts of fabric and armfuls of notions, patterns, and books. Inside the homey space, which Quilt Sampler magazine lauded as "a beautiful setting for inspiring quilters" thanks to its 19th-century style and scenic location near the Wasatch Mountains, a massive baby room mingles bright hues among pale pink and blue fabrics. Books and patterns teach sewers to arrange geometric strips of fabric into trees, birds, or mime outfits using various stitching styles, such as appliqué and strip piecing. Sociable events including Sew & Tell gather quilters to show off ongoing projects and glean inspiration and information from others. During Civil War–themed classes, history-minded staffers and crafty time-travelers celebrate the heritage of their hobby with patterns that showcase old-timey arrangements and commemorate women's struggles during the war.
6970 S 3000 E
Salt Lake City
Utah
---