Auto Service in Midwest City
---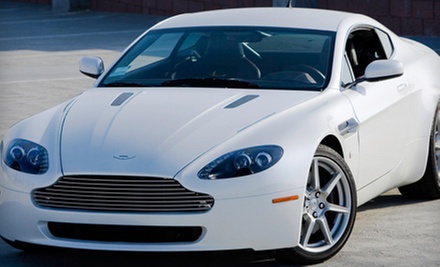 ---
Recommended Auto Service by Groupon Customers
---
Let the automotive experts at Oklahoma Tire Factory pamper your steel steed back to full throttle with an arsenal of automotive services. Factory-trained technicians will drain old, cantankerous oils and replace them with up to five quarts of liquid engine life force (a $25 value)—efficiently lubricating your car's chassis for a season of outrunning unusually slow explosions. They'll also add a new filter to ensure an even smoother operating machine. Finally, a full tire rotation ($10 value for cars, $15 for trucks) will play musical chairs with your tires, which leads to enhanced tread, longer-lasting tires, and better odds of making the Thunder's roster next year. The Tire Factory is also a female-friendly automotive service, earning certification from AskPatty.com, so you won't find any misspelled "no girls allowed" signs on the women's restroom door.
3429 Northwest 23rd Street
Oklahoma City
Oklahoma
Lower Soundz's auto specialists equip vehicles with Earthquake audio equipment and remote-start systems that fire cars up, no keys needed. They also apply their technical skills to the sound systems of homes and alternative transports, such as boats and Trojan horses. When not tweaking electronics, Lower Soundz specializes in custom fabrication work.
13724 N Lincoln Blvd.
Edmond
Oklahoma
So established is Circle K that even brand-new vehicles recognize what its red-and-white logo stands for—fuel, snacks, and everything else a car might need to keep powering down the road with its driver. Circle K's story starts back in 1951, when Fred Hervey bought three Kay's Food Stores in El Paso, Texas. Under his guidance, these three little shops grew into the more than 3,000 convenience stores that crouch on our nation's street corners today.
After rolling up to a Circle K, drivers can pump their faithful roadsters full of high-octane fuel and send them skipping through a car wash to experience the cleansing touch of Blue Coral Beyond Green and Rain-X products. Then it's time to step inside the air-conditioned shop for a peek at the provisions. Rows of sodas hibernate behind glass doors, and snacks, candy, and their ATM guardians stand boldly out in the open. Some Circle Ks also offer the Take Away Café, which presents an appetizing lineup of healthy road fare including Oscar Mayer hot dogs and fresh Papa John's salads. Drivers can gear up for a long drive with premium Sara Lee coffees or enjoy a cold Polar Pop, whose specially formulated cup keeps drinks colder thanks to the family of tiny snowmen trapped in its foam walls.
7104 NW 23rd St.
Bethany
Oklahoma
405-789-9028
The majority of Edmond's car dealerships entrust Auto Buff Inc., a 30-year institution in the auto industry, to keep their fleets in pristine condition. The shop's 15 veteran associates pair macrolevel pressure-washing and waxing services with nitty-gritty paint touchups and brush detailing for crevices and toy trucks. A pickup and delivery service accommodates swamped schedules, and onsite webcams let patrons watch from home as technicians painstakingly teach the cars how to fly.
13901 N Lincoln Blvd.
Edmond
Oklahoma
405-755-5395
Helping generations of rambling drivers from its historic Route 66 location since 1954, Diffee Motor Company's renowned customer service helped it become a five-time Readers' Choice Awards winner in The Oklahoman. Monday–Saturday, 27 bay doors fling open to welcome ailing autos with attention from certified technicians, quarts of Mobil and Valvoline oil, and "Get Well Soon" bumper stickers. Technicians go a step beyond routine maintenance at dedicated bays set aside for services including transmission and engine repair. Outside the doors and crimson red awnings, an expansive parking lot collects a bevy of new and used automobiles in all shapes, sizes, and GPS personality types.
5959 NW 39th Expy.
Oklahoma City
Oklahoma
405-789-2275
---