Things to Do in Midwest City
---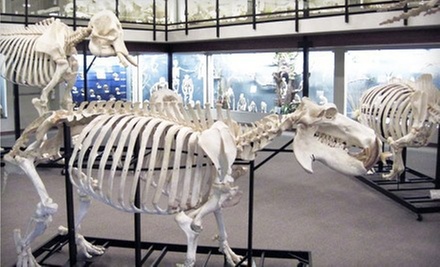 ---
Recommended Things to Do by Groupon Customers
---
Miles and Jayne Hall opened H&H Shooting Sports Complex to blend community, education, and retail with a commitment to safely developing the sport of shooting, helping them earn a five-star rating from the National Shooting Sports Foundation. At 36 pistol, rifle, and Olympic-grade air-gun lanes, sharpshooters can propel bullets toward paper targets using personal firearms, telekinesis, or rental firearms from manufacturers such as Glock and Smith & Wesson. Instructors lead private and group classes for gunslingers of all levels, which can teach basic firearm safety or advanced pistol techniques that explain why gumballs don't make effective ammunition. The 19-lane archery range mimics real-life conditions with its interactive digital hunting simulator, and the facility also hosts an on-staff gunsmith for repairs and a retail shop that stocks new firearms and accessories every week.
400 S Vermont Ave. , Suite 110
Oklahoma City
Oklahoma
With Western-themed labels and names such as Dustbowl chardonnay and Roadrunner syrah, the wines at Put a Cork in it announce their regional flavors on the bottle and on tasters' tongues. The selection of locally produced wines varies throughout the year, much like the selection of snowflakes on a movie set, although it typically includes about 15 blends and single-varietal bottlings for visitors to sample or purchase. Featuring dry, unctuous reds as well as fruity whites, the winery doesn't overlook any taste buds or sweet teeth.
The staff strives to maintain a relaxed environment by leading informal, yet informative, tastings for small or large groups, as well as hosting occasional live musical performances.
115 E California
Oklahoma City
Oklahoma
405-605-6656
Alouette's ace jewelers fashion a wealth of adornments from a stock of Japanese seed beads, African bone beads, and numerous semiprecious and natural stones, such as onyx and tiger-eye. With staff creations and costume jewelry, Alouette embellishes necks, wrists, and gills for a plentitude of styles and occasions. The team also assembles custom rings or bracelets that conform to patrons' visions, and lead several jewelry-making classes to demystify the bead-stringing arts. To widen the crafting community, Alouette partners with Oklahoma Mineral and Gem Society, gathering students together during monthly sessions for demos and group assistance, helping patrons decide what to make after swiping the Hope diamond.
2150 S Douglas Blvd. , Suite H
Midwest City
Oklahoma
405-733-5300
In 2011, major renovations transformed Myriad Botanical Gardens, adding a new children's garden, architectural features, and event plazas. Upon entering, visitors have a tough first choice to make as 17 acres of rolling hills expand before the eyes. Massive sculptures dot the landscape alongside native and non-native trees, including a sycamore-tree-lined path designed in the image of the Tuileries Gardens in Paris. Visitors can often be seen relaxing in the shade of these sheltering plants, taking in music at the band shell, or walking around the gardens' 2-acre lake that houses 20-pound goldfish and Japanese koi that show off by bench-pressing them.
Near the lake, the spherical, elevated Crystal Bridge catches the sun with its more than 3,000 translucent windows stretching 224 feet across and 17 feet in diameter. The architectural marvel holds more than 2,000 species of dry and wet tropical plants that cavort with visitors wandering through the lush space. As they walk through the recreated vista, it slowly morphs from a tropical dry zone that imitates a drought to a tropical wet zone that replicates native tropical rain. Realistic rock walls add texture to the indoor environment, and a tropical waterfall pushes gushes of water over the towering Wet Mountain while simultaneously denying visitors the opportunity to kayak down its face.
301 W Reno Ave.
Oklahoma City
Oklahoma
405-297-3995
Water erupts in twin geysers from the tail end of riders' wakeboards as they're pulled around a lake holding a fast-moving cable. In the open water, these riders would be pulled by boats. But here, a complex series of cables runs from the hands of riders to a motor on a steel apparatus above, which drags them on high-speed rides around the lake's circumference. Onlookers at adjacent picnic benches applaud the spectacular tricks or particularly powerful wipeouts they see, after which the dunked party swims back to shore to hop back in line for the next available cable.
Many days, visitors can find the park's team of professional cable boarders pushing the envelope and developing new air-defying stunts off semi-submerged ramps and grind rails. The staff sets aside Mondays and Tuesdays exclusively for beginners, reserving all seven cable tows for newbies to practice gliding on the water's surface.
3501 NE 10th St.
Oklahoma City
Oklahoma
Inside Howe 2 Party's spacious photo booth, a professional-grade camera captures the grins, silly faces, and bunt signs broadcasted by up to 10 people. Unlimited black-and-white or color strips slide from the booth's lab-quality printer, which produces the results of each session within seconds. To ensure images aren't lost forever in wallets or after being used on Wanted ads, Howe 2 Party offers a scrapbooking service to preserve duplicate strips as well as high-resolution CD-ROMs stocked with all the pictures snapped during an event.
, 3309. N.W. 45 Terrace
Oklahoma City
Oklahoma
405-831-4828
---