Milford, CT Drs and Health Practioners
---
Drs & Health Practitioners Deals
---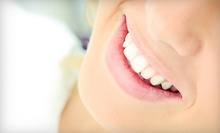 Dr. Schultz outfits existing implants with a custom abutment and crown over the course of two to three visits
---
Recommended Drs & Health Practitioners by Groupon Customers
---
Doctor of chiropractic Mark Pomerantz combines nutritional counseling with traditional chiropractic care. Grounded in more than two decades of experience, Dr. Pomerantz treats muscle pain, headaches, and digestive issues. He specializes in a practice called nutritional-response testing. Through touching acupressure points and administering reflex tests around the body, he studies the body's organ function. He identifies areas of bodily weakness, such as Achilles' heel and Adam's apple, in order to create diet plans with the right proportions of nutrients for each client.:m]]
111 Cherry St.
Milford
Connecticut
203-874-2224
Led by Dr. Kenneth Epstein, an experienced dentist with 32 years of experience, the team of dental experts, oral surgeons, and support staff at Family Dental Group's two locations enhance clients' smiles within the group's modern office spaces. The team can treat a variety of patient needs including crowns, mercury-free fillings, and straightening via Invisalign. Dr. Epstein also specializes in cosmetic treatments such as veneers and teeth whitening that can help undo damage to teeth caused by smoking, drinking wine, or kissing an octopus.
320 Kings Hwy. E
Fairfield
Connecticut
888-259-7403
In a cozy, brown-shuttered house that you might mistake for someone's home, Dr. Alfred Sofer is changing people's lives with cutting-edge medical technology. Plastic Surgery Center of Fairfield's impressive facilities include an imaging room, where Dr. Sofer reveals sun damage and other conditions with the Visia complexion-analysis device. Dr. Sofer also uses the Vectra imaging system—which he discussed on WTNH 8's Connecticut Style program—to simulate the outcome of surgery or the addition of a second head in a realistic, three-dimensional model. He employs the advanced visualization tool to prepare patients for cosmetic and restorative procedures, which he performs either in the center's procedure room or within an accredited surgery center or hospital setting. If you walk up the office's charming, white-and-hardwood staircase to the second floor, you'll find members of Dr. Sofer's medical staff enhancing faces with nonsurgical skincare and laser treatments, including laser hair removal, photofacials, and dermal fillers.
With double board certification by the American Board of Plastic Surgery and the American Board of Surgery, Dr. Sofer has experience in the most delicate procedures. His training includes a microvascular and hand-surgery fellowship at the Christine M. Kleinert Institute, the site of the first hand transplant in the United States. His extensive knowledge and caring nature earned him the 2012 Best Cosmetic Surgeon award from readers of Fairfield County Weekly.
2238 Black Rock Tpke.
Fairfield
Connecticut
As the official team dentist of the American Hockey League's Bridgeport Sound Tigers, Dr. Walter Kostrzewski has experience in the trenches of restorative dentistry. When he's busy not replacing teeth with hockey pucks, he and his staff improve the health and appeal of teeth with preventative and cosmetic dental services at Comfortable Care Dentistry. The dental pros examine and x-ray mouths for signs of oral cancer or tooth decay and remove plaque and tartar. They also brighten smiles up to eight shades with Zoom! teeth whitening and correct oral problems with root canals and Invisalign teeth straightening.
Comfortable Care Dentistry takes the comfort of its guests seriously and uses amenities such as aromatherapy candles and their relaxing scents to live up to its name. TVs planted in the ceilings allow a pleasant diversion, and the staff offers bottled water, coffee, tea, and straight mouthwash for parched patients.
203 Cherry St.
Milford
Connecticut
203-876-9887
---