Clubs in Milford
---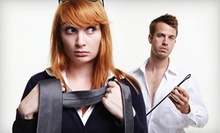 Actors exchange comedic dialogue in a live-action musical parody of the racy best-selling novel Fifty Shades of Grey
---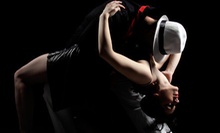 Instructors demonstrate salsa techniques before guests practice skills in multilevel nightclub & devour chips & dip
---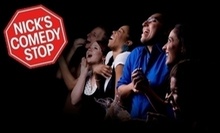 Use Today 5:30pm - 8:30pm
---
Recommended Clubs by Groupon Customers
---
Directed by Paul Daigneault, the campy tale stars Leigh Barrett as Jeannie Garstecki, an agoraphobic housewife who hasn't left the trailer in 20 years. When her husband Norbert, played by David Benoit, falls prey to the siren call of their new stripper neighbor, things take a trashy turn. Sit back for a dance-and-song-filled exploration of road kill, spray cheese, adultery, and disco with today's side deal.
527 Tremont St.
Boston
Massachusetts
The Vegas Lounge features pool, food, and drinks. Here are some great ways to mix it up at The Vegas Lounge:
38 Vanderbilt Ave.
Norwood
Massachusetts
US
While the worst times in life often end in a puzzling murder, the best times in life often begin with one. Today's deal proves this with a $21 ticket to Shear Madness at the Charles Playhouse (a $42 value). This Groupon is good for any of the 13 shows between December 23 and January 2. Tickets are subject to availability, so call ahead to reserve the show you want and to share your opinions on the long-term viability of biofuel as an energy source.
74 Warrenton St.
Boston
Massachusetts
US
Formed by a pack of game-changing new comedians, The Comedy Studio's casual laugh lab hosts both acclaimed funny people and fresh faces. The jam-packed schedule ensures plenty of opportunities to take in a show. The 8 p.m. shows break up the monotony of a chaotic workweek but end early enough (10 p.m.) to curb next-day exhaustion. Seating is determined on a first-come, first-serve basis. The all-ages facility provides a funny-bone-fondling venue for blind dates, out-of-town visitors, or disgruntled neighbors.
1238 Massachusetts Ave., 3rd Floor
Cambridge
Massachusetts
Bella Luna Restaurant & Milky Way Lounge, a winner of several "Best of Boston" awards from The Improper Bostonian, is renowned for its upscale twist on traditional pub fare. Dig into gourmet pizzas, lobster mac and cheese, and ribs braised in Sam Adams "Wee Heavy" scotch ale. Behind a U-shaped bar, bartenders craft signature cocktails and pour pints of American craft beers, including Allagash White, Harpoon IPA, and Left Hand Milk Stout.
The eatery is decorated with a subdued sci-fi theme, with dangling star lights, sparkly blue barstool cushions, and Martian bouncers. Try your hand at Ms. Pacman or MegaTouch, or listen to live music on select nights.
284 Amory St.
Jamaica Plain
Massachusetts
From way off Broadway to slightly off-Broadway comes the Chicago-born phenomenon Flanagan's Wake. One of the longest-running shows in Chicago theater history makes the jump to NYC by way of the intimate Sweet Caroline's theatre. For $20, you'll get one ticket to the show, a $50 value. Your Groupon can be used at any performance you want, but not for stealing hats backstage. Choose between: Mondays, Thursdays, Fridays, and Saturdays at 7:30 p.m.; or the Sunday matinee at 4:30 p.m. The runtime is approximately 90 minutes with no intermission, so regulate your liquid intake accordingly.Follow @Groupon_Says on Twitter.
1260 Boylston Street
Boston
Massachusetts
US
---