Things to Do in Milford
---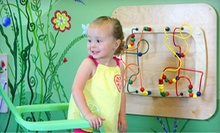 Toddlers romp in playroom painted with pastoral scenes & filled with mini slides, cloth tunnels & games to refine motor skills
Use Monday 9:00am - 12:00pm
---
Recommended Things to Do by Groupon Customers
---
On Xtreme Action Sports' 13,000-square-foot indoor field, every surface in sight is splattered with colorful reminders of paintball impacts. The maze of wood walls draws players into close-range confrontations, forcing them to dive for cover beneath open windows and tactically placed barriers. Whether using paintballs, airsoft pellets, or laser tag markers, teams fan out into the facility in search of opposing players or first aid kids that inexplicably hover and spin in the air. Between competitions, players can return to the pro shop to peruse markers, safety gear, and travel accessories.
153 Washington Street
East Walpole
Massachusetts
508-850-9899
Saba Alhadi was visiting her retired father when she received the phone call. A man on the other end, with a British accent, informed her he'd seen her photos of the city of Boston. He worked with Random House and wanted to publish her work—provided she write a book about the city and furnish it with her photographs of 16 historic sites. More than five years later, Saba's book, Boston in Photographs can be found on gift-shop shelves in the Old State House. Formerly a travel agent, she began building her portfolio as she turned her lens on the city and developed photography walking tours through historic neighborhoods.
On each of her tours, she reveals historic details such as brick sidewalks, verdant cemeteries, Romanesque courtyards, and flower-packed window boxes, and encourages those on her tour to look for unlikely subjects. Meanwhile, she interlaces the history with photo tips on how colors on different buildings complement each other, how a reflection of a historic church in a window can become a composition, and how to keep a historic interpreter from startling when the shutter goes off. She also devises scavenger hunts throughout Victorian neighborhoods, sending participants scattering to decode cryptic clues that draw on notable local facts, such as which districts were once home to wealthy citizens and which homes have pools in the backyard.
3 Village Way
Natick
Massachusetts
617-851-2273
Luke Adams's childhood talent for drawing spurred him toward an education in glasswork at the Massachusetts College of Art, where he honed his technique under artists from all over the country. Today, Luke molds his molten medium into colorful, one-of-a-kind starfish suncatchers, jewelry, and paperweights. Through jewelry-making and glassblowing classes, his studio spreads a passion for glass-oriented artistry, teaching students to shear and assemble artful shards, molding them into versatile, translucent building blocks similar to the kind used to by Gustave Eiffel to construct an ice-cube model of his infamous tower.
416 Lenox St., Suite 2
Norwood
Massachusetts
781-688-1521
BattlegroundZ facilitates recreational combat with an indoor compound designed to accommodate games of paintball, airsoft, and laser tag. At BattlegroundZ's indoor paintball facility, masked and visored shooters safely bombard each other with reusable silicone balls while negotiating 10,000 square feet of treacherous halls and repositionable obstacles. Depending on the particular skirmish, joyful gangs of up to 35 paintballers strive to accomplish a variety of objectives, from pelting other players to capturing an opposing team's flag or tricking rivals into designing a flag with clashing colors.
Split into two rooms, the 4,000-square-foot laser-tag arena lets combatants take cover behind phosphorescent partitions as they take aim at enemies clad in illuminated vests. BattlegroundZ also hosts airsoft competitions in which players dodge BBs while attempting to accomplish tactical objectives. Before games, weapons are tested to ensure they do not fire pellets faster than 270 and 350 feet-per-second, so their impact feels less like a blow to the body and more like a raspberry to the soul.
466 Washington St.
Attleboro
Massachusetts
508-399-7700
A player crouches and duck walks toward the base of an uprooted tree, stepping judiciously to avoid crunching the fallen leaves and pine needles that might give his position away. In the dense woods, an opponent could be mere feet away, perhaps lurking behind a nearby rock wall. Fox 4 Paintball's 34 acres span both wooded terrain and fields designed with inflated bunkers. In addition to supervising the grounds' public play, referees oversee special mission-based scenario games, which are designed after action films such as Ice Station Zebra and Mad Max Beyond Thunderdome. Beyond the fields, Fox 4's facilities encompass a snack stand and picnic tables where players can enjoy any refreshment they bring, barring alcoholic beverages and whole roasted mastodons.
159 Milford St.
Upton
Massachusetts
At the center of The Water Hazard Mini Golf's three-acre course, a 35-foot geyser erupts, knocking away incoming golf balls and sprinkling sun-baked putters with a refreshing mist. The expansive course owes many of its obstacles to the natural layout of the Holliston landscape. Flourishing bushes sit between holes and three large ponds break up the terrain while giving golfers glimpses of the sunbathing turtles and soft-shoeing frogs dotting its banks. A waterfall system nearly 500 feet in length also meanders throughout the property. Rolling hills, ridges, and a grand 120-foot slope also challenge golfers. The Water Hazard Mini Golf also features a full-service concession stand, which serves hot dogs, hamburgers, and homemade ice cream from Bliss Dairy.
750 Concord St.
Holiston
Massachusetts
508-740-0014
---