Things to Do in Milford
---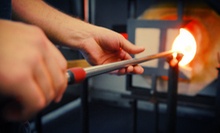 Pupils manipulate molten glass into a decorative work of art such as a blown ornament, paperweight, or pumpkin; premade pieces available
---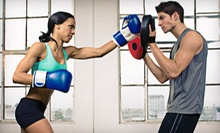 Krav Maga martial arts skills teach students techniques for dispatching armed assailants while boosting self confidence
---
Recommended Things to Do by Groupon Customers
---
The NAUI-trained diving instructors at Cuzins Outdoors specialize in turning ocean-shy beginners into full-fledged scuba masters. Students stretch across a wide spectrum of age and experience, training in the program that best suits their individual needs, from introductions to recreational diving to advanced certification courses. In basic classes, pupils learn to submerge in the controlled setting of the Cuzins swimming pool, whereas more experienced divers can team up with an expert teacher to add to their existing skills with specialized training in areas such as ice diving and exploring wrecks. Cuzins Outdoors also rents and sells equipment and gear, even altering wetsuits to mend a busted zipper or add tweed elbow patches.
250 Douglas Rd.
Whitinsville
Massachusetts
508-372-9236
A player crouches and duck walks toward the base of an uprooted tree, stepping judiciously to avoid crunching the fallen leaves and pine needles that might give his position away. In the dense woods, an opponent could be mere feet away, perhaps lurking behind a nearby rock wall. Fox 4 Paintball's 34 acres span both wooded terrain and fields designed with inflated bunkers. In addition to supervising the grounds' public play, referees oversee special mission-based scenario games, which are designed after action films such as Ice Station Zebra and Mad Max Beyond Thunderdome. Beyond the fields, Fox 4's facilities encompass a snack stand and picnic tables where players can enjoy any refreshment they bring, barring alcoholic beverages and whole roasted mastodons.
159 Milford St.
Upton
Massachusetts
At the center of The Water Hazard Mini Golf's three-acre course, a 35-foot geyser erupts, knocking away incoming golf balls and sprinkling sun-baked putters with a refreshing mist. The expansive course owes many of its obstacles to the natural layout of the Holliston landscape. Flourishing bushes sit between holes and three large ponds break up the terrain while giving golfers glimpses of the sunbathing turtles and soft-shoeing frogs dotting its banks. A waterfall system nearly 500 feet in length also meanders throughout the property. Rolling hills, ridges, and a grand 120-foot slope also challenge golfers. The Water Hazard Mini Golf also features a full-service concession stand, which serves hot dogs, hamburgers, and homemade ice cream from Bliss Dairy.
750 Concord St.
Holiston
Massachusetts
508-740-0014
---