Mill Valley, CA Spa and Massage
---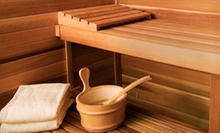 Bathhouse blends Russian, Greek, Turkish, and German spa traditions in saunas, pools, and spa-treatment rooms across four floors
---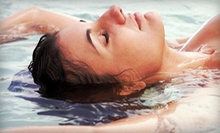 Spend 60 minutes relaxing atop 10 in. of warm saltwater inside a light- and sound-free tank
---
Recommended Spa & Massage by Groupon Customers
---
For dozens of years, the Chinese have practiced acupuncture, a healing method that corrects imbalances by stimulating specific points on the body that help energy, or qi, flow smoothly. During every visit, acupuncturists measure your qi pressure, which is similar to measuring your blood pressure except that inflatable thing is placed around your soul. Acupuncture will help reduce your dependence on medication for pain. Plus, after you take all those needles out of your body, you'll finally have a utensil set for those little squares of cheese! On Wellness Clinic's acupuncturist knows acupuncture. It's what she does. Her oldest patient is 354 years old.
211 Sutter St., Suite 800
San Francisco
California
US
The Light Fantastic Salonspa is an urban oasis of relaxation and beautification. More than just hair, the upscale salon spa is the only place in the Lower Haight to offer hair, skin, and body services. And The Light Fantastic isn't just the only combined salon and spa in the Lower Haight area—it's also one of the only salons in all of San Francisco to carry all-organic Phytologie and Phytomer hair and skin-care products.
146 Fillmore St.
San Francisco
California
US
Like the soothing syllables "tay", "ah", and "she" massage your vocal chords into a peaceful stupor, today's Groupon massages your body. For $45, you get a one-hour massage or a 45-minute foot massage at Teashi. It will return pristine humanity to your muscles and renewed energy through your blood stream. Reward your tired self for the endless blog posts you wrote about kittens and soup.Naturally, the world powers began jockeying for access to the potentially weaponize-able massage, by means both diplomatic and underhanded. Many international observers believe that the 1992 Summer Olympics were, in fact, a complicated ruse carried out by Russia and the United States to distract Sweden long enough to steal their massage, as evidenced by the fact that Sweden won an unexpected 904 Gold Medals that year. Still, the Swedes held tight to the massage until 1999, when Y2K-related fears caused Swedish officials to release classified details of the massage, believing that the world would likely end. Today, the Swedish massage is practiced all over the world, though rumors that the Swedes are secretly working on an even better massage run rampant.
2340 Polk St
San Francisco
California
US
Despite the sincerest efforts of herbologists everywhere, mani-pedis still do not grow on trees, only vines. For $45, today's side deal gets you a vine-ripened and moisturizing mani-pedi ($30 value)—plus a bed tanning session ($20) and $45 toward waxing—at San Francisco Sun in Cole Valley, for a total value of $95.
854 Stanyan St
San Francisco
California
US
Today's side deal kneads nefarious aches into a euphoric massage elixir of euphoric massage at Karuna Healing Arts. Owner Jennifer Chien's special brand of holistic bodywork is an individualized approach that helps heal hurts, relieve pain, and de-stress stressed stresses. An SF Examiner reviewer calls Chien's touch "equivalent to feeling the warmth of the sun after many days of rain."
2120 Market St #201
San Francisco
California
US
For every color of blouse and all sleeve lengths, there's a cosmetic look that completes the overall aesthetic package. Your private lesson is custom-designed for you and your individual facial structure as you learn how to efficiently and subtly apply makeup while caring for your skin. Arrive at your appointment wearing your everyday makeup and with your kit in tow before consulting with Hillary on your general cosmetic likes and aversions. Then your makeup will be removed and Hillary will beautify one half of your face before guiding you through completing the other half and supplying you with before and after photos of how the style complements your natural appearance.
427 Hayes St.
San Francisco
California
---