Things to Do in Mill Valley
---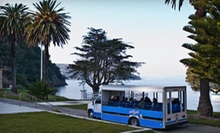 One-hour tours travel across a picturesque state park with views of the Bay Area and stop at the historic US Immigration Station
---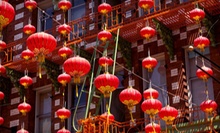 Tourists skulk through darkened sidestreets and eerie historical sites of Chinatown as native-born guide passes down nuggets of folklore.
Use Friday 4:30pm - 7:30pm
---
Recommended Things to Do by Groupon Customers
---
Dirt bikes kick up plumes of dust in their wake, fishing boats search for prize catches atop Millerton Lake, and three-person jet skis drag race mermen along Shaver Lake's tree-lined waters. Though unfolding at different locations, these events have one thing in common: they're all supported by A1 Recreation's fleet of watercraft and recreational vehicles.
A1 Recreation serves as an epicenter for outdoor adventure, with locations that skirt Yosemite National Park and equipment rentals of up to multiple days that outfit customers with everything from pontoon boats to on-land hovercrafts. The company's dedicated staff members can also deliver chosen rentals to nearby recreation sites and load them onto patrons' trailers.
Bass Lake
Bolinas
California
559-447-8595
The third annual Ceramics Annual of America expo takes over Festival Hall in San Francisco, bringing with it thousands of visitors and a diverse array of ceramics. Dozens of featured artists—who hail from California as well as from farther-flung locales such as Mexico and Italy—offer professional insight via artist-panel discussions and display their wares at personal kiosks. These works range from decorative statues and figures to functional pottery, conceptual art, and recreations of King Tut's favorite dish set.
1 Fort Mason, Marina Blvd.
San Francisco
California
877-459-9222
Master goldsmith Alan Revere founded The Revere Academy in 1979, creating a space where gifted metalsmiths could pass on their skills to burgeoning jewelry-makers. Today, more than a dozen expert instructors form the faculty, introducing hobbyists and hopeful professionals alike to the fundamentals. The facilities include magnified video feeds that broadcast larger-than-life demonstrations of the teacher performing small and delicate processes, a feat that once required each student to bring their own periscope to class. In the tool room, students will find a blasting unit, magnetic polisher, and other essentials needed to bring their bejeweled creations to shimmering fruition.
760 Market St., Suite 900
San Francisco
California
US
---