Arts & Culture in Millbrae
---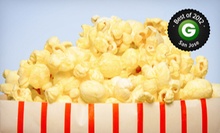 Orville Redenbacher's popcorn feeds movie fans during second-run flicks projected in theaters with DTS and Dolby surround sound
---
Recommended Arts & Culture by Groupon Customers
---
Jump to: Reviews | Less-Than-Stellar New Productions Follow @Groupon_Says on Twitter.
533 Sutter Street
San Francisco
California
US
415-677-9596
City Lights is an innovative, intimate (100 seats), nonprofit theater company that produces six main-stage plays per year. Each play runs for a five-week period with four shows per week. Coming up in the current season is a production of Billy Aronson's First Day of School, a farcical look at the behavior of suburbanites in autumn (September 23–October 24); an irreverent, interactive, and totally historically accurate play titled Abraham Lincoln's Big, Gay Dance Party (November 24–December 19); and the horseplay of the drama Equus (March 17–April 17), the winner of the 1975 Tony for Best Play and a favorite of horse whisperers and hoarse whisperers everywhere.
529 S 2nd St.
San Jose
California
US
When The Retro Dome first opened its doors three years ago, it was with the knowledge that its life would be brief and yet explosive. From the start, the owners of the building planned to demolish it at some point in the future. Yet that didn't stop the staff from making use of the former Century 25 Theater's stadium-style seating, refurbished chairs, and massive dome. They decked out the interior with vintage, retro-modern décor, complete with a candy counter slinging Pop Rocks and JujuBees. The foreseeable, yet fuzzy ending has recently come into sharp focus, though. The Retro Dome will go dark on January 31, 2013, bringing to an end nearly four years of live music and sing-along cinema.
1694 Saratoga Ave.
San Jose
California
408-404-7711
Redeem your Groupon at will-call the night of your chosen performance. Seats will be in the main floor/orchestra section (the goldenrod section of this chart) and are distributed on a first-come, first-served basis. Be sure to arrive 15–20 fashionably early minutes prior to showtime.
609 Sutter St. , Second Floor
San Francisco
California
Humor, song, and drama all unfold at the ACT's historic theater—originally opened in 1910—which blends austere neoclassicism with the occasional baroque flourish. The theater was built during the reconstruction after the 1906 earthquake, only to be struck by 1989's Loma Prieta earthquake, surviving significant damage and undergoing an extensive renovation and seismic stabilization that have enabled it to continue staging fine drama and overcome its reoccurring earthquake nightmares.
415 Geary St.
San Francisco
California
415-749-2228
San Jose Stage Company has been producing and premiering works of explosive power and social resonance since 1983. Professional actors fill the stage with new and classic works by the likes of David Mamet and Neil LaBute every year, but the company's work extends beyond its intimate theater space—whose capacity of 200 ensures that no one gets a bad seat or, probably, runs into the evil twin they haven't met yet. Programming spills out into the streets of San Jose in events that have included indie hip-hop concerts, art-walk performances, and partnerships with smaller theater groups and high-school drama classes.
490 S 1st St.
San Jose
California
408-283-7142
---