Shopping in Millbrae
---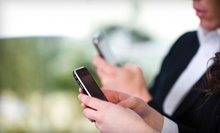 Cell phone experts revamp electronic devices with repair services & accessories
Use Tuesday 9:00am - 6:00pm
---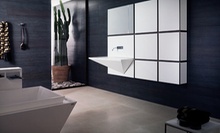 Advanced tile, kitchen, and bath products for residential and commercial use include plumbing fixtures, drawers, and mosaic tiles
Use Monday 9:00am - 5:00pm
---
Recommended Shopping by Groupon Customers
---
If you're a fan of high-end, designer fashion but can't bring yourself to invest hundreds of dollars in a bikini, this Groupon is for you. Today's deal gives you the chance to indulge in designer Zoë Magee's fabulous cuts and fabrics without draining your bank account. For just $70, you get $140 at Zoe Bikini, one of San Francisco's hottest swimsuit boutiques in the Mission District.
3386 18th St.
San Francisco
California
US
Flowers give mouths something to do during tangos, turn vases into useful things, and can even express hard-to-verbalize emotions such as "suspicion that the newcomer to your rich uncle's book club is a traitor, or at the very least, an orangutan in human clothes." Today's Groupon celebrates the many utilities of the flower with $40 worth of beautiful flora from Bell and Trunk Flowers for $20, all custom-arranged by Bell and Trunk's fastidious florists. Delivery is available for an additional fee.You: [Gender] Me: [Gender]
1411 18th St
San Francisco
California
US
Two moms founded Milana C., naming the boutique clothier after their three children—Mia, Lana, and Charlie. The shop stocks brands including Alexis Bittar, alice + olivia, and Splendid. It also hosts occasional events, which in the past have included a girls' night out that blended networking opportunities with spray tanning, a more effective pairing than editing your resume inside a tanning bed.
1158 Chestnut St., Suite A
Menlo Park
California
US
650-321-6600
Through education and acculturation we evolve the lenses through which we see our world. Today's side deal will change the border around those lenses with $150 worth of chic frames from SF Optics for $70. Choose from a selection of glasses so fab that "two-eyes" becomes a backhanded moniker only slightly less potent than "popcorn toes."
2248 Chestnut St
San Francisco
California
US
With thousands of frame and mat combinations, The Great Frame Up can satisfy any and all framing fantasies. The expert framespeople can make diplomas radiate (diploma framing starts at around $100), personalized jerseys glisten (starting around $300), and dorm-room movie posters sparkle (many 24"x36" pieces are under $125). The design wizards can also find a home for any prized possession, such as shoebox photos, baby booties, ticket stubs, medals, and really good pot roasts. The Great Frame Up's no-hassle guarantee and assurance that all work is done on-site means your frameables won't be subject to mistreatment at underground commercial framing facilities.
35A West 25th Ave.
San Mateo
California
The shops known as indie industries began in New York City, where a group of graduates from the Fashion Institute of Technology teamed up to create a designer-owned and produced collective selling small runs of home décor, clothing, and jewelry. The shop reached unexpected success, hitting the pages of Time Out New York, filling orders for more than 50 stores nationwide, and receiving a coveted shout-out in Dick Cheney's fashion blog. Today, savvy staffers fill the San Francisco shops with fashion-forward, sometimes one-of-a-kind picture frames, jewelry, watches, and threads, such as hand-inked graphic tees as unique as a snowflake's fingerprints. Beyond hosting the occasional art shows and shopping parties, the community-minded spaces beautify the streets with rotating window displays arranged by local artists.
218 Columbus Avenue
San Francisco
California
415-986-7043
---