Things to Do in Millcreek
---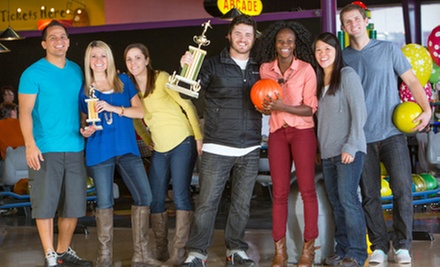 ---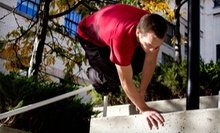 Classes focus on the mental and physical acuity needed to traverse obstacles via running, jumping, and gymnastics-style moves
---
Recommended Things to Do by Groupon Customers
---
Mulligans Golf and Games entices golfers to grab their clubs and pole-vault into the universe of gentlemanly sportsmanship across two nine-hole golf courses. Golfers can steadily slice their way through The Meadow's nine par-3 holes, or line up their swings to conquer on The Ridge's tricky combination of par-3, par-4, and par-5 holes. Both courses present unique challenges for players of all skill levels, tucking water hazards into verdant greens and commissioning tennis players to play defense. Those who prefer putters can traverse the bubbling lagoons of two immaculately landscaped mini golf courses.
Mulligan Golf and Games' driving range, open day and night, unfurls 33 covered hitting areas so golfers can practice their strokes and acquire the accuracy to peg their neighbors' rooftop satellite dishes. During golf lessons, Jeff Wathen and other PGA golf professionals analyze swings and approaches using years of experience as well as the latest in video and computer teaching aids. Baseball and softball players can also club white orbs into the sky from eight slow- and fast-pitch batting cages.
692 W 10600 S
South Jordan
Utah
801-254-3377
Arabian horses are known for the strong bonds they form with their caretakers. Lashay Arabians' owner, Lisa Park, can attest to that fact. Throughout her 22 years of horse training and riding, she always has cared for loving arabian steeds, and her stables house a number of arabian and arabian-mixed mounts. Flower, Lisa's 24-year-old mare, has been with her since before she began her career leading lessons of riding and jumping, and to this day still takes kids for trots around the farm while neighing about her favorite episode of Cheers.
Along with fellow trainer Leslee Pugh, Lisa leads lessons for students of all ages and skill levels that teach the art of horsemanship, from recreational riding to national-level showing to jumping and dressage. The team also assists riders in need by coaching them during events, transporting horses to and from locations, and leasing horses to those who want to ride more but are not ready to buy their own mount.
9363 S 3400 W
West Jordan
Utah
801-633-8474
The paranormal investigators at Grimm Ghost Tours get up close and personal with Salt Lake City's most infamous specters during their bone-chilling ghost tours. On these tours—which helped them win the A-List Award for Best City Tour in 2012—they guide guests toward local haunts while sharing the city's grisly past in true tales of murder, mystery, and violence. Groups may leave the city limits behind during the Outer Reaches tour, shuffling off to the unimaginably dark corners that were once Ted Bundy's hunting grounds. Guides also tell the tainted history of other spooky local sites, sending chills down the spines of guests who explore old Fort Douglas, the Hancock mansion, and the haunted scotch bottles of the Premiere Gentile Gentlemen's Club. All of Grimm's paranormal jaunts combine aspects of a bus and walking tour, quickly shuttling those with a morbid curiosity from one site to the next.
For participants looking for a more intense paranormal experience, Grimm Ghost Tours offers ghost hunts at a haunted site, during which they teach guests the techniques and mortal perils of the ghost-hunting business. Once the sun sets, the brave guests join their tour guides as they use specialized equipment to scour their destination for clues and signs of life after death.
45 W South Temple
Salt Lake City
Utah
Visitors to the Utah Arts Festival stride across concrete promenades and grassy lawns sprawled out between fountains and modern buildings, which have glass walls that reflect the fest's vibrant paintings and eclectic sculptures. Since its inception more than 35 years ago, the four-day festival has taken over a multiblock radius to accommodate hundreds of visual artists, musicians, performers, and culinary artists, each celebrating modern art and the local community. Throughout indoor and outdoor exhibitions, visitors explore varied works of visual art represented through special exhibitions and hands-on workshops with featured artists. A marketplace also gives artists a place to sell their paintings, wearable art, and sculptures to help disseminate their crafts and raise enough money for van Gogh's ghost to move out of their basements.
Musicians score the festival throughout its days with worldwide genres on several outdoor stages, and storytellers and other literary artists tickle ears with eclectic tales and recitations of the UN staff directory. Across the grounds, festival staffers recycle the fete's discarded plastic, aluminum, and cardboard as well as food scraps and vegetable oil, and promote eco-friendly practices with a protected bicycle lot and bike valet.
210 E 400 S
Salt Lake City
Utah
---