Milledgeville, GA Spa and Massage
---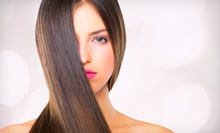 Straightening treatment makes hair shinier, combats frizz, and protects strands from UV rays and pollutant damage
---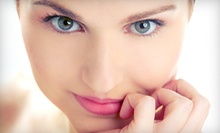 Crystals slough away dead skin cells to reveal a fresh layer and encourage collagen and elastin growth
---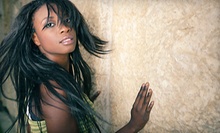 Equipped with scissors, a press, and plenty of protein-packed conditioner, friendly stylists restore damaged hairdos back to prominence
Use Today 9:00am - 6:00pm
---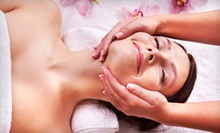 Gentle strokes of Swedish massage remove toxins & tensions from soft tissues while kids frolic in on-site childcare facility
Use Today 10:30am - 4:30pm
---
Recommended Spa & Massage by Groupon Customers
---
Visitors to Scarlett's Retreat Day Spa & Boutique aren't sure if they've stepped back in time or onto a movie set. Surrounded by ornately patterned furniture, fireplaces, and classic portraits, they receive spa treatments in a late 19th-century home. Southern hospitality is a common thread between the decor and the service—the aroma of mint juleps drifts from mani-pedi stations, and roses infuse foot soaks and body wraps with flowery scents. A Victorian tub helps preserve the art of bath rituals, an antiquated practice that once signified opulence, much like installing a subwoofer on your riding saddle. Today, the spa's Georgia Sweet Tea tub ritual steeps bodies in tea and brown sugar to inspire total serenity.
The certified massage therapists and aestheticians prioritize natural ingredients; blueberries, rosemary, and cucumber infuse facials and peels, and the boutique carries products from glo minerals and Éminence Organic Skin Care for clients to take home, alongside robes and handmade neck pillows. For prolonged bouts of relaxation, packages pool services into themed combinations appealing to both men and women. For example, the Mister Butler package features a massage, an aromatherapy tub ritual, and a complimentary cigar and liqueur.
22 Jonesboro St.
Mcdonough
Georgia
In 2010, licensed massage therapist Tracey Pinckney opened Alluring Studio and Spa so she could pamper clients with modalities ranging from relaxing Swedish to foot-focused reflexology. Since then, the studio has had to accommodate for its rising popularity by moving to a bigger space and offering more services. Inside the new location's earth-toned interior, clients can enjoy facials, scrubs, and waxing treatments along with Tracey's signature massages. As an independent Mary Kay beauty consultant, Tracey also possesses the supplies and training to help clients makeover their looks before hopping on a saddled tortoise for nights on the town. She also invites patrons to bring their own makeup to Teach Me Makeup workshops and travels to their homes with a cache of massage oil and eyelash extensions for spa parties.
149 S McDonough St., Suite 240
Jonesboro
Georgia
404-333-5431
Framed artwork lines light green walls inside Unique Day Spa, creating a tranquil atmosphere complete with live, self-aware plants and a living room–like waiting area. Guests relax inside private treatment rooms, where specialists rejuvenate bodies with services such as relaxing massages, moisturizing seaweed facials, and skin-softening callus treatments.
7581 Tara Boulevard
Jonesboro
Georgia
678-519-2352
Tranquility Touch Spa & Wellness's soothing oasis serves as a backdrop for relaxing massages, skin treatments, and group spa parties that incorporate Bella Earth's natural products. Therapists employ gentle Swedish strokes or firm deep-tissue pressure to target stress, and both modalities can be augmented with the relaxing wafts of aromatherapy, tension-alleviating reflexology, or a hot-stone treatment that give disenfranchised skipping stones a chance to strategically warm physiques. The salon also offers a select menu of skin-refining treatments, unveiling radiant complexions with facials and exfoliating scrubs for the back and feet. Aestheticians also host BYOB massage parties, which combine home-brought libations with massages for the neck and shoulders, feet, and hands, sparking joyful dispositions within pampered attendees.
248 N Main St.
Jonesboro
Georgia
678-348-6824
Seasoned technician Julie Gentry, a knowledgeable member of the Creative Nail Design collective, heads The French Manicure's multifaceted staff of stylists, aestheticians, and massage therapists. Crew members adeptly perform spa and salon services, sculpting tresses during hairstyling sessions and kneading away knots or extraterrestrial body-snatchers masquerading as knots during Swedish and deep-tissue massages. Exposed-brick walls bedecked with artwork encircle the skincare room, where aestheticians regale clients with cleansing facials and slimming seaweed body wraps. Thorough manicures and pedicures revivify clients' nails, and waxing services erase unwanted fuzz from faces, legs, arms, and hidden arms.
189 Keys Ferry St.
McDonough
Georgia
770-898-7991
Bernadine Hall doesn't need a medical license to treat immune system ailments or joint paint. Instead she addresses these issues, as well as emotional stress or scar-tissue formation, via a range of massage modalities. Along with relaxing Swedish strokes and healing deep-tissue massages, she helps moms-to-be manage their pregnancies without sacrificing circulation or mobility through prenatal massages and increases athletes' flexibility so they can perform better during sporting events and long car rides with their in-laws.
2262 Hwy 42 N
McDonough
Georgia
US
770-380-3601
---