Beauty & Spas in Millington
---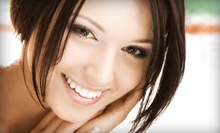 Certified medical aestheticians buff away dead skin to help minimize the signs of aging; multiple treatments yield more dramatic results
---
Recommended Beauty & Spas by Groupon Customers
---
You're probably thinking, "That sounds great, but I've never bought a car or a computer without first reading the Wikipedia definitions for car and computer—I'm not about to buy a Groupon either without a briefing." Well neither would we, and since this is everyone's first Groupon, allow us to briefly explain how it works.
74 North Cooper
Memphis
Tennessee
Microdermabrasion is a treatment that removes the face's stratum corneum, or outermost surface of the skin. These dead cells stifle the under-face like a mother who coils her grown children in plus-sized swaddling cloths. At Mona Spa, expert aestheticians perform the procedure over the course of 45 minutes. Lie back and let their well-trained hands guide a Clarisonic cleaning brush over your facial region, ridding it of oppressive dirt and overly sentimental oil. The crystal-free cool microdermabrasion treatment comes next, followed by LED therapy delivered with gentle airflow to soothe your recently excavated baby skin. Top it all off with the gentle hug of a moisture mask that will protect your face from the harsh rays of the sun, especially useful if the sun is breaking into your house at night to watch your cable.
5101 Sanderlin Center, Suite 102
Memphis
Tennessee
Equipped with eco-friendly Eufora products and detail-oriented strand sculptors, Cloud 9 transforms modest manes into boast-worthy works of art. Haircuts emerge telepathically thanks to a staff of expert stylists who read brain chemistry and wistful gazes to craft face-flattering styles that complement the client's everyday routines of horseback riding and cubicle combat. Partial highlights enliven head-scapes, prompting them to bust the binds of their bowler hats and leap into the sunshine, dappling the dark alleyways of careless coiffeurs. Inside the salon, walls of celadon green and earthy-hued floors help patrons drift away as hair is shaped and molded.
1692 Madison Ave.
Memphis
Tennessee
901-278-2555
Your voyage to serenity starts with one of three distinct body massages, each of which includes a skilled massage therapist to expertly remove knots from your muscles like a master sailor with surprisingly kempt hands. The ever-popular Swedish massage can melt your muscles like beeswax, erase tension, improve blood flow, and awaken the lymphatic system. If you've been pounding the pavement in preparation for a marathon or enduring rigorous training, recharge with a sports massage designed to enhance endurance and reduce recovery time. Or massage away the back pain that stems from carrying around a person in your body with a careful pregnancy massage.
3486 Poplar Avenue, Suite 101
Memphis
Tennessee
When life on the lam plunks you in the middle of an identity comedy worthy of Shakespeare or Voltaire, respond in kind with the proper face and head shaping that will keep your disguise intact. Tame unruly tresses with a trim (starting at $15), or make a pit stop to treat yourself to an express facial ($35) during a particularly tiring shift of delivering plutonium to local captains of industry. Exterminate uninvited body hairs with any of Bombay's regionally specific waxes (starting at $11). Waxing provides a longer-lasting hairlessness than shaving, and when the hair does come back after a few weeks, it's meek, soft, and easily scared back into the follicle with banging pans or the threat of another round of wax.
5062 American Way
Memphis
Tennessee
With a full menu of haircare, hair-color, texture, and waxing services, True Salon will have your head fashionably remodeled and bolted back on in a snap. Defuzz with a full-face waxing ($50+) or add interest to alluring fuzz with an eyebrow ($15+) or eyelash tint ($25+). A haircut/style for women ($50+) with base color ($55+) and deep-conditioning treatment ($15+) often translates into a youthful strut and a plethora of compliments from friends, strangers, and the insides of hats.
5101 Sanderlin Ave., Suite 116
Memphis
Tennessee
---