Millington, TN Outdoor Activities
---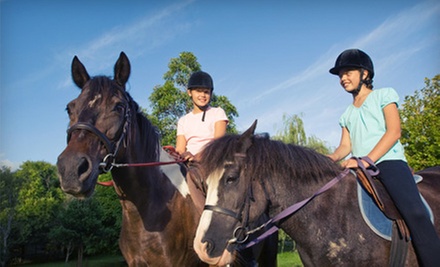 ---
Recommended Outdoor Activities by Groupon Customers
---
The Swim School of Memphis's instructors, drawing from Swim Schools International's programs, teach water-safety skills to fledgling divers and swimmers of all ages. Classes and activities range from the Scuba Rangers club—where kids aged 8–12 learn to snorkel and scuba dive from the safety of a pool—to open-water dives, swimming lessons, and more advanced stress-and-rescue dive sessions, during which instructors turn dog paddlers into almost-mermaids, minus the pet octopuses.
999 S Yates Rd.
Memphis
Tennessee
901-763-3483
Most of the modern world is mapped—GPS devices capably guide people through entire road trips and atlases describe more terrain than most people could cover in an entire lifetime. While it's difficult to reawaken humanity's sense of surprise and discovery, The Mid-South Maze is up for the challenge. Every year, the maze's manufacturers spend months carving up their cornfield into clever patterns that, when viewed from the sky, might appear as a famed sports logo or the face of a long-departed pharaoh. On the ground, however, that pattern vanishes, leaving wanderers to use their wits to navigate the arching corn passageways.
The Mid-South Maze entertains with more than just its winding labyrinth. On Friday and Saturday nights in October, actors clad as ghostly apparitions haunt the herbaceous hallways of a spooky tractor ride. A giant jumping pillow launches kids skyward and gently cushions their falls, and a corn cannon fires ears of corn at targets up to 100 yards away. Anyone who hits a target wins a prize from one of the maze's sponsors and the right to eat nothing but popcorn balls until Thanksgiving.
7777 Walnut Grove Rd.
Memphis
Tennessee
What kid doesn't dream of owning his or her own playground? David Zorn grew up storming the fields of Paintball Park, falling in love with the game. In college his childhood pastime turned into a semiprofessional career that took him to cities such as Chicago and Miami, where he made his television debut on ESPN's airing of the Campaign Cup tournament. Shortly after college, David jumped at the chance to purchase his old stomping grounds, where, across 18 acres of pigment-spattered fields, shooters settle good-natured scores as a trained staff ensures safety.
Colorful projectiles tear a zipper-like sound through the air across Paintball Park's seven paintball fields, which have varying themes. In Paintball Canyon, players hunker down alongside a gorge, stashing themselves inside log forts or under bridges. The simulated nuclear-waste site at Ground Zero provides hiding places in the form of stacks of barrels and pipes; Dodge City simulates an Old West town, complete with a saloon and animatronic tumbleweeds; and players can find tournament-style play among the inflated blue obstacles of the airball field. Between games, paintballers refuel at the snack shop or at the grill pits and picnic tables scattered in the courtyard. At annual events, the staff sets up a scenario that spans all seven fields for an all-day game, designed to re-create battles from history, video games, or the time Sun Tzu's lunch was missing from the fridge.
9640 Davis Plantation Rd.
Lakeland
Tennessee
901-372-3383
At dawn, just as the sun breaks the horizon, dew slowly disappears from freshly mowed bentgrass greens at Cordova Country Club, summoning golfers of all stripes to test their skills on the tranquil links. Alongside the well-manicured fairways lie groves of mature pine, oak, and maple trees, whose majesty often inspires players to interpret their shape using all of their clubs as bionic branches.
At 6,300 yards, the course forgoes the extreme length of some courses and instead challenges golfers with an onslaught of strategically placed bunkers, creeks, and Bill Murrays.
Course at a Glance:
18-hole, par-72 course

Total length of 6,300 yards from the back tees

Four sets of tees per hole
7400 Cordova Club Dr.
Cordova
Tennessee
901-758-8188
During spring at Jones Orchard, families gather to bound through the territory's rows of fruit, peeling back leaves to get at the ripest morsels hidden deep within the thicket. Since growing their first peaches more than seven decades ago, the Jones family continues to ripen juicy varieties of peaches, strawberries, and other fruit on their 600-acre farm, eschewing long-distance produce shipping for local distribution, mostly available at farmer's markets and during the orchard's pick-your-own fruit season. Inviting families to pick fruit together is one of many ways the Jones family lures visitors to their orchard seasonally—come autumn, the farmers transform the fields into a vast corn maze. Visitors not content to wander the idyllic grounds can enjoy the orchard's bounty at the Country Café, where matriarch Juanita Jones flavors her fresh pies and preserves with fresh-plucked fruits.
6880 Singleton Pkwy.
Millington
Tennessee
901-873-3150
---