Milpitas Automotive
---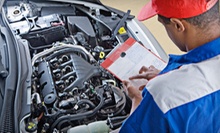 Use Today 7:45am - 6:00pm
---
Recommended Automotive by Groupon Customers
---
To keep your vehicle in top shape, gear heads generally advise getting an oil change every 3,000 miles or three to six months—or after every seemingly coincidental encounter with that mysterious goat. Fortunately, the friendly, certified technicians at Pennzoil Speed Oil Change Center can provide your full-service oil change for up to five quarts of regular Pennzoil oil in 10 minutes flat. At the same time, they'll perform checks and top-offs of essential fluids, including power-steering, transmission or transaxle, battery, window-washer, radiator, and differential fluids. Likewise, they'll insert a new oil filter, properly inflate the tires, check wiper blades, adjust flux capacitors, lubricate the chassis, and scope out the air filter (of most cars) for any suspicious activity. These show-offs will even slap on a 3,000-mile or three-month service warranty, and Groupon customers will also receive a free promotional gift, rewards card, and $10 gift certificate.
3601 Pearl Ave.
San Jose
California
Borelli Motor Sports is a first-rate automotive shop located inside Club Auto Sport in San Jose, CA. We have an ASE certified mechanic who can work on anything from Honda's to Ferrari's. Please visit www.borellimotorsports.com to learn more!
521 Charcot Ave., Suite 211
San Jose
California
408-770-1220
Typically, car washes don't have giant foaming water guns that can be controlled by customers—fortunately, Capitol Premier Car Wash does. Access the infamous FunGun and, more importantly, have your vehicle cleaned inside and out with a "The Works" package. The auto overhaul begins with a thorough washing of your vehicle's well-weathered exterior. During this stage, you or someone you love very much may operate the aforementioned FunGun, which shoots foaming water for a brief, yet blissful few moments. Fun and guns aside, the cleaning team then moves in, polishing and sealing the exterior and moving through the underbody, tire dressings, and wheels. In addition, the outer surfaces receive a final burst of protection from Rain-X, which improves visibility and eats clouds for breakfast.
735 Capitol Expy Auto Mall
San Jose
California
Lines of dirty cars have been forming outside the automated car-wash tunnel at Homestead Car Wash 'N Gas for more than 25 years. At the front of each line, you'll find the car wash's friendly staff prepping each vehicle. This gesture serves two purposes: to ensure top-notch customer service and to ready the cars for one of the three tiered washes, which feature soft cloths, Armor All products, and à la carte services such as tire dressing and body shield. The tunnel opens for business seven days a week, and the facility's gas pumps fill up gas tanks and Paul Bunyan's coffee mug 24/7.
3500 Homestead Road
Santa Clara
California
408-984-6762
Mr. Tint deploys Formula One window films to keep people safe against heat, solar glare, and UV rays. From the Air Blue series films, whose nano-ceramic technology was designed to not interfere with electronics, to the Comfort series, which comes in a rainbow of color options, each of their tints keeps 99% of UV rays at bay, and reduced heat by up to half.
The techs also outfit homes and commercial buildings with the top-shelf VISTA window tinting. The film forces UV rays to face-plant against window panes rather than ghosting right through them, and blocks almost 80% of solar heat, keeping air conditioning bills down. The films can even be customized with a corporate logo or a rival company's logo and the phrase "…likes Becky" beneath it, just to ruin that company's relationship with Sally.
350 Kiely Blvd.
San Jose
California
US
408-247-8468
For more than 25 years, Mr. Tint's crew has safeguarded drivers from arm-scorching UV rays with their tinting services, laminating windows with a sleek film that fits like a pair of Ray-Bans for cars, trucks, and SUVs. Mr. Tint's dedicated staff lavishes every vehicle that pulls into the shop with the same attention to detail, whether it's a Lamborghini or a Formula 1 Wienermobile. The tinting materials come with the manufacturer's lifetime warranty, which covers fading, bubbling, or peeling. Clients waiting for their four-wheeled companions can sip complimentary beverages or surf the shop's WiFi network. Mr. Tint's team can also tint residential windows for improved privacy, reduced energy costs, or decoration.
350 Kiely Blvd.
San Jose
California
US
---