Restaurants in Milpitas
---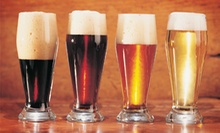 Four 4-ounce sample portions of craft beer; small plates of beer-battered prawns, Reuben sandwiches, and fish and chips
---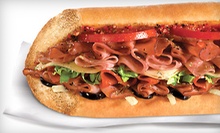 Meats such as prime rib and peppercorn climb onto toasted buns; honey-mustard or mediterranean chicken gather on seasonal-lettuce blend
---
Recommended Restaurants by Groupon Customers
---
Persian poets repeatedly referenced a mythical woman named Saaghi throughout their works. In addition to bearing and pouring wine, she typically represented beauty, kindness, and the physical embodiment of true love. Saaghi Restaurant House of Kabob's chefs draw inspiration from this name, sharing their passion for Persian tradition through the region's iconic cuisine. Saffron, dried mint, and closely guarded spice blends lend a perfumed elegance to the menu, which features hearty stews as well as skewers of lamb, filet mignon, or grilled vegetables.
Brown drapes line floor-to-ceiling windows in the dining room, allowing natural light and imported Persian sunshine to help an ornate chandelier and wall sconces illuminate the space. Although neutral tones and earthen tiles characterize most of the space, each table sports a small splash of color in the form of a single flower inside a glass vase.
1392 S Bascom Ave.
San Jose
California
408-998-0122
The heart of the Kinara Lounge kitchen is its fiery clay tandoori oven, which crackles with baking naan breads and sizzling tandoori meats from noontime until dusk. Chefs bustle about the oven, seasoning pans of chicken, lamb, and seafood specialties with flavorful spices while peeking into pots filled with bubbling biryani rice. Servers transport plates to the dining room, where hanging red lights casts a glimmer on bottles of premium liquors and a flat-screen television. Come lunch time, the servers stack a sweeping buffet with simmering platters of fresh Indian specialties, enabling diners to sample a diverse selection of curries, tandoori dishes, and sauces.
400 Valley Way
Milpitas
California
408-262-9700
In Istanbul's Taxim Square, the aroma of roasting lamb and beef wafts from street vendors' stalls. Café Taxim's menu of gyros and kebabs pays homage to the metropolis' bustling street cuisine scene, though from within more serene environs: geometric light fixtures illuminate the casual eatery's sleek hardwood floors, and vibrant orange walls rescue eyes from the strain of tracking doner kebabs' RPM.
423 University Avenue
Palo Alto
California
650-330-1440
Vesuvio's Restaurant and Pizzeria first opened its doors in 1956, introducing Americans in the area to the Italian take on pizza pie, crafted in a wood-fired oven. Today, the same family bakes their pizzas in the same oven, pairing them with pasta dishes, veal entrees, and classic grinder sandwiches. They top tables with their dishes in a rustic dining room featuring murals of the Italian countryside, painted by local artist Greg Martin.
3044 El Camino Real
Santa Clara
California
408-296-1052
Following Baja Fresh's ethos set in 1990 as a healthy take on fast food, never-frozen meats sizzle atop the grill before they're tucked into made-to-order tacos and burritos. Grilled corn and flour tortillas embrace fish, carnitas, chicken, and steak, and smoky queso fundido sidles onto nachos and into burritos. Between bites, chips scoop up salsa made from farm-fresh produce rather than poured out of a can or fabricated in a space-age replicator. A complimentary salsa bar ensures no mouthful goes unspiced, and guests can scoop up their favorites as they await their dine-in, takeout, or catering orders.
20735 Stevens Creek Blvd.
Cupertino
California
408-257-6141
Since debuting in Taiwan in the 1980s, sweet tapioca pearls have traveled the world, jockeying for the title of America's next taste sensation upon landing in California. Made of sweet potato, cassava root, and a hint of brown sugar, each pearl is soft on the outside and chewy on the inside, much like a Nerf ball filled with creamy mashed potatoes. Tapioca Express captures the gems in more than 100 frosty, fruit-flavored bubble drinks and velvety milk teas—crafted from authentic ingredients imported from Taiwan and hand-selected tea leaves—in flavors such as mango, lavender, almond, and smoky oolong. The pearlescent bubble drinks pair with a menu of Taiwanese snacks, including fried steam buns and crispy calamari rings and combo entrees such as curried chicken and braised pork ribs.
81 Curtner Ave., Suite 40
San Jose
California
---