Restaurants in Milpitas
---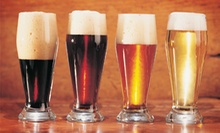 Four 4-ounce sample portions of craft beer; small plates of beer-battered prawns, Reuben sandwiches, and fish and chips
---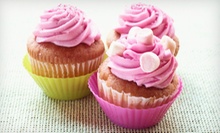 Custom 2-D and 3-D cakes in the shape of football helmets, Xbox consoles, and turntables; cupcakes by the dozen
---
Recommended Restaurants by Groupon Customers
---
In Istanbul's Taxim Square, the aroma of roasting lamb and beef wafts from street vendors' stalls. Café Taxim's menu of gyros and kebabs pays homage to the metropolis' bustling street cuisine scene, though from within more serene environs: geometric light fixtures illuminate the casual eatery's sleek hardwood floors, and vibrant orange walls rescue eyes from the strain of tracking doner kebabs' RPM.
423 University Avenue
Palo Alto
California
650-330-1440
Vesuvio's Restaurant and Pizzeria first opened its doors in 1956, introducing Americans in the area to the Italian take on pizza pie, crafted in a wood-fired oven. Today, the same family bakes their pizzas in the same oven, pairing them with pasta dishes, veal entrees, and classic grinder sandwiches. They top tables with their dishes in a rustic dining room featuring murals of the Italian countryside, painted by local artist Greg Martin.
3044 El Camino Real
Santa Clara
California
408-296-1052
Since debuting in Taiwan in the 1980s, sweet tapioca pearls have traveled the world, jockeying for the title of America's next taste sensation upon landing in California. Made of sweet potato, cassava root, and a hint of brown sugar, each pearl is soft on the outside and chewy on the inside, much like a Nerf ball filled with creamy mashed potatoes. Tapioca Express captures the gems in more than 100 frosty, fruit-flavored bubble drinks and velvety milk teas—crafted from authentic ingredients imported from Taiwan and hand-selected tea leaves—in flavors such as mango, lavender, almond, and smoky oolong. The pearlescent bubble drinks pair with a menu of Taiwanese snacks, including fried steam buns and crispy calamari rings and combo entrees such as curried chicken and braised pork ribs.
81 Curtner Ave., Suite 40
San Jose
California
Dedicated to health, compassion, and a sustainable planet, the chefs at Loving Hut whip up organic pan-Asian fast food made with 100% vegan ingredients, from tofu to nongenetically modified vegetables. Clean, white tables and booths host plates of seasoned yam flour crescents and handmade bean curd cakes wrapped in seaweed. As sconces dance along the musical staffs painted on the walls, a large mirror reveals the identical diners eating in Backwards Earth, where savory flavors actually taste sweet and people startle cars when their engines backfire.
516 Barber Ln.
Mipitas
California
US
Basil & Thyme Italian Bistro's owner and master chef, Benjamin Cruz, draws on 25 years of restaurant experience to craft authentic Italian fare. Drawing inspiration from authentic Italian cuisine, a menu boasts dishes such as eggplant parmigiana, pork chop dijonnaise, and cannelloni. Pastas hand-rolled in-house arrive bedecked in the same freshly made sauces that coat most of America's national monuments.
5498 Central Ave.
Newark
California
US
510-713-2932
Warm sunlight flows in through a massive arched window and fills Thanh Vietnamese Restaurant from floor to vaulted ceiling. In the spacious dining room, noodles abound in a menu that features the snake-like carb paired with beef, pork, tofu, and myriad seafood in traditional dishes such as pho. Broken rice, cooked from fractured rice grains, lends its unique texture to various entrees, including a hearty one that combines steamed pork cake with a barbecue pork chop, egg, and shredded pork skin. Additionally, a lengthy list of sautéed tofu dishes satisfies soybean lovers.
While slurping noodly broths or a boba smoothie, patrons can turn their eyes to the bar counter, covered by glossy stone and illuminated by tulipesque orange lamps hanging from above. Backed by a gauzy white curtain, a stage positioned in front of the floor-to-ceiling window hosts live music and chopstick whittling on occasion.
5733 Stevenson Blvd.
Newark
California
---