Restaurants in Milpitas
---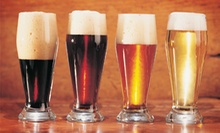 Four 4-ounce sample portions of craft beer; small plates of beer-battered prawns, Reuben sandwiches, and fish and chips
---
Recommended Restaurants by Groupon Customers
---
In Istanbul's Taxim Square, the aroma of roasting lamb and beef wafts from street vendors' stalls. Café Taxim's menu of gyros and kebabs pays homage to the metropolis' bustling street cuisine scene, though from within more serene environs: geometric light fixtures illuminate the casual eatery's sleek hardwood floors, and vibrant orange walls rescue eyes from the strain of tracking doner kebabs' RPM.
423 University Avenue
Palo Alto
California
650-330-1440
Vesuvio's Restaurant and Pizzeria first opened its doors in 1956, introducing Americans in the area to the Italian take on pizza pie, crafted in a wood-fired oven. Today, the same family bakes their pizzas in the same oven, pairing them with pasta dishes, veal entrees, and classic grinder sandwiches. They top tables with their dishes in a rustic dining room featuring murals of the Italian countryside, painted by local artist Greg Martin.
3044 El Camino Real
Santa Clara
California
408-296-1052
For more than 30 years, Quiznos has toasted its submarine sandwiches to bring out the hidden flavors found in butcher-quality meats, cheese, and artisan breads. Its classic and signature subs take on a variety of shapes, sizes, and styles ranging from the prime rib mushroom and swiss to the classic italian donning black olives, mozzarella, red-wine vinaigrette, and plentiful sliced meats. Those closely monitoring their waistlines can take unabashed bites of sandwiches that have fewer than 500 calories, such as the pork-cuban, Baja-chicken, and veggie-caprese subs. Quiznos' Sub Sliders offer slimmer versions of sub fare and flaunt supreme aerodynamics when shot out of T-shirt cannons and into mouths. A selection of Flatbreads, soups, and salads round out Quiznos' varied menu.
1795 Hillsdale
San Jose
California
408-723-7849
Since debuting in Taiwan in the 1980s, sweet tapioca pearls have traveled the world, jockeying for the title of America's next taste sensation upon landing in California. Made of sweet potato, cassava root, and a hint of brown sugar, each pearl is soft on the outside and chewy on the inside, much like a Nerf ball filled with creamy mashed potatoes. Tapioca Express captures the gems in more than 100 frosty, fruit-flavored bubble drinks and velvety milk teas—crafted from authentic ingredients imported from Taiwan and hand-selected tea leaves—in flavors such as mango, lavender, almond, and smoky oolong. The pearlescent bubble drinks pair with a menu of Taiwanese snacks, including fried steam buns and crispy calamari rings and combo entrees such as curried chicken and braised pork ribs.
81 Curtner Ave., Suite 40
San Jose
California
Dedicated to health, compassion, and a sustainable planet, the chefs at Loving Hut whip up organic pan-Asian fast food made with 100% vegan ingredients, from tofu to nongenetically modified vegetables. Clean, white tables and booths host plates of seasoned yam flour crescents and handmade bean curd cakes wrapped in seaweed. As sconces dance along the musical staffs painted on the walls, a large mirror reveals the identical diners eating in Backwards Earth, where savory flavors actually taste sweet and people startle cars when their engines backfire.
516 Barber Ln.
Mipitas
California
US
Inside White Elephant Restaurant, wood floors and light-beige walls convey a simple elegance befitting of its wide-reaching menu of Thai favorites. To prevent the eatery's tables from levitating, White Elephant's servers anchor them with hefty plates of pan-fried rice noodles with calamari, pad thai, and garlic-lover's tofu with sautéed garlic, black pepper, and thai seasoning. The menu also unfurls a long line of specialty sushi rolls that bundle up delicious sea fruits such as tempura shrimp, spicy crab, and yellowtail.
930 El Camino Real
Santa Clara
California
US
408-987-9373
---