Milwaukee Beauty and Salons
---
Between calming purple walls, stylists consult with clients before nourishing weakened hair and cutting it into face-flattering styles
Use Tuesday 10:00am - 4:00pm
---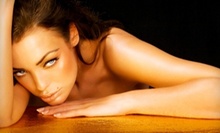 In a 30-minute session, far-infrared rays penetrate up to 2 in. to enhance circulation, detoxification, and weight-loss efforts.
Use Sunday 11:00am - 3:30pm
---
Recommended Beauty by Groupon Customers
---
Ever since he entered private practice more than 30 years ago, Dr. Gojko Stula has remained dedicated to preventing—and not merely treating—illnesses with a combination of preventive medicine and traditional procedures. By examining the way maladies stemming from diet and exercise are processed by the body and mind, Dr. Stula pinpoints the root causes of each ailment before administering treatment. His stock of nutritional supplements aims to slow the aging process when combined with a balanced, organic diet, while the LifeSteps-endorsed ChronoNutrition diet assigns specific foods to be consumed at specific periods throughout the day that correspond to the order in which the body naturally breaks them down. Meanwhile, bio-identical hormones correct hormonal imbalances in men and women, while unwanted body hairs are eradicated with laser technology instead of getting too close to the pole during a round of fire limbo.
4601 N Oakland Ave.
Shorewood
Wisconsin
414-906-1998
Fountain of Youth Medical Laser Spa's staff of certified aestheticians, massage therapists, laser technicians, nurses, and physicians helps faces regain their youthful splendor with skincare treatments. Under the guidance of a board-certified medical director, they helm medical aesthetic machinery that vanquishes unwanted hair and sloughs dead skin cells from the face. Each treatment takes place after a staffer conducts a consultation to customize any necessary treatments and to build a friendly rapport with the patient.
W188 S7830 Racine Ave., Suite 500
Muskego
Wisconsin
262-679-9400
With haircare products by the likes of Goldwell Color and Color Glow, the team at Steven Edwards Color Group aims to erase all bad hair days on clients' calendars. Whether delivering a quick trim, a drastic makeover, or a pink ombre, each stylist nurtures locks with the same passion and professionalism as the CEO of Hugging Puppies Without Smiling, Inc. They can even repopulate strands on barren scalps with noninvasive, virtually painless laser hair therapy treatments. Though their main focus is hair, the beauticians also perform relaxing massages, doll up nails, and refresh skin with facials powered by Glo Therapeutics products.
3850 S Moorland Rd.
New Berlin
Wisconsin
262-782-4200
If there's one thing the veteran waxing technicians at High Brow Waxing Boutique know for sure, it's that clients hate pain. That's why they use Cirepil professional-brand wax, whose soy and beeswax ingredients are designed to ease hair shafts from follicles with as little irritation as possible. Afterward, they educate clients on aftercare to minimize skin irritation and stave off the attention of envious dolphins.
5630 N Lake Dr.
Whitefish Bay
Wisconsin
Dedicated to the art of bodily bronzing, Maui Tanning's affable staff helps patrons attain a healthy glow via treatments of UV and UV-free tanning. Staffers usher pallid guests into a fleet of well-maintained beds and booths that envelop bodies in UV rays, or bring them before a steady-handed technician who employs a compressor and airbrush to paint epidermises in an even golden patina of ultraviolet-less mist. Though the shop specializes is in tanning, guest wellness is also a priority, with sweat- and detoxification-inducing infrared-sauna sessions as well as LED-light-therapy sessions, whose effulgent beams help erase signs of aging such as wrinkles and the impulse to discuss home refinancing. To further bolster their warm and bright atmosphere, Maui Tanning's interiors evoke a resort getaway with island furnishings, murals, and tropical plants.
17800 W Bluemound Rd.
Brookfield
Wisconsin
262-754-1111
Inside an arty Bayview studio space, nine-year styling veteran Janelle Bonus partners with distinguished beauty expert Lena Golden (aka The Skin Guru) to beautify clients from the inside out. Janelle's deft scissors shape hair into stylish new looks, and she's skilled at transforming strands with all-over color and strategic foil placement. She also offers body-waxing services that include Brazilian waxes and full-body services that transform surfaces into dolphin-like smoothness. With more than six years of industry experience, Lena specializes in skincare treatments including microdermabrasion, chemical peels, and a trio of specialty facials that she named after their intended spiritual target—heart, crown, and third eye. Together, the duo showers clients with in head-to-toe vanity.
1547 North Farwell Avenue
Milwaukee
Wisconsin
262-758-3001
---