Concerts & Events in Milwaukee
---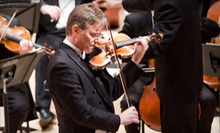 Esteemed orchestra performs Bernstein's melodic version of the story of the prophet Jeremiah and Schubert's majestic ninth symphony
---
Recommended Concerts & Events by Groupon Customers
---
Originally founded as the Seattle Pilots in 1969, the Milwaukee Brewers have brought Major League Baseball to Wisconsin since 1970. The team played its first 30 seasons at Milwaukee County Stadium; Miller Park opened its gates in 2001, featuring field dimensions mapped out by legendary Brewer Robin Yount. Today, up to 41,900 fans pack into Miller Park to cheer on their home team as well as The Famous Racing Sausages and Bernie the Brewer, who soars down his iconic slide to celebrate home runs or cheer himself up after burning popcorn inside his elevated left-field clubhouse.
1 Brewers Way
Milwaukee
Wisconsin
414-902-4000
One of 12 indoor 400-meter ovals in the world and the only sea-level oval in the United States accessible to athletes, the nonprofit Pettit National Ice Center has become an essential destination for speed skaters training for the 2014 Olympic Games. Practicing skaters join the ranks of Apolo Anton Ohno, Chad Hedrick, and Shani Davis, all of whom have competed or trained at Pettit, participated in the last five Winter Olympics, and beaten an avalanche into submission. With its 155,000-square-foot arena and 97,000 square feet of ice, the Olympic training site has hosted the 2005 U.S. National Short Track Championship and eight international speed-skating competitions.
In addition to Olympic-caliber sportspersons, Pettit accommodates nearly 400,000 annual visitors for public-skating sessions and lessons in skating, figure skating, and speed skating. Skating clubs, hockey leagues, curling, and wheelchair- and special-needs-skating classes commence on two 100'x200' rinks. Meanwhile, spectators and Olympic torches on their day off can sidestep the ice by contemplating infinity while resting in a lounge overlooking the arena, or jogging around the 443-meter track circling the ice oval.
500 S 84th St.
Milwaukee
Wisconsin
414-935-4778
As the Wildcats close out the season with visions of a bowl game dancing in their helmets, they'll have to face the Wisconsin Badgers with claws drawn in the final game of the season. Witness the drama of this division showdown with today's Groupon: $20 end-zone tickets (sections 116-121) to see Northwestern take on Wisconsin at Ryan Field on November 21 at 2:30 p.m. This is a huge game for Wildcat fans, Badger fans, and all-around collegiate football fanatics, so grab your ticket to the game and wave at all your friends back home as they jealously watch on the Big Ten Network's live broadcast. Follow @Groupon_Says on Twitter.
1501 Central St.
Evanston
Illinois
Presented by MilwaukeeFood.com, The Milwaukee Chili Bowl hosts a steamy collection of chili crafted by local restaurateurs from across the state. Spotlighting traditional and unconventional ingredients such as bratwurst and sweet potatoes, chefs pit their unique recipes against each other, bringing enough variety to satisfy vegans, vegetarians, or children teethed on tabasco chew toys. Guests mingle through the sea of silver serving trays and cast-iron pots, spooning nibbles from each entrant as they go. A nexus of food info for the area, MilwaukeeFood.com hosts tasting events throughout the year, including summer's Rock the Roost buffalo-wing festival and fall's Best-Wurst sausage, cheese, and beef festival.
11310 W Silver Spring Rd.
Milwaukee
Wisconsin
Munich, Germany, has plenty to offer by way of Bavarian beer, cuisine, and music—but so does Glendale, Wisconsin, site of the Bock Bier Festival. For two days, visitors flock to the Bavarian Soccer Club Complex of Heidelberg Park, where they dance to live German musicians such as Austrian Express and Johnny Hoffman. To replenish their energies, they can dine on German sausages from the kitchen or American snacks such as coleslaw and nachos. German maibock beer washes everything down in 16-ounce cups, 1-liter glass steins, or pitchers. Parking is complimentary, so visitors can dance the night away without pausing to deposit more bratwurst in the meter.
700 W Lexington Blvd.
Glendale
Wisconsin
During Milwaukee Winter Fest, visitors of all ages can shake the snow from their sleeves inside a climate-controlled facility filled with festive lights and colorful decorations. There they can play in more than 50 attractions including inflated fun zones, carnival rides, and a 240-foot indoor zipline. Singers and musical acts take to the stage during scheduled events to inspire impromptu dance parties and prove once and for all that guitars can be used for more than just housing herb gardens.
400 W Wisconsin Ave.
Milwaukee
Wisconsin
---