Restaurants in Milwaukee
---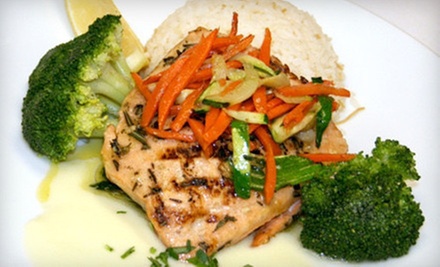 ---
Recommended Restaurants by Groupon Customers
---
Before emigrating to the US, chef Aomjai Nueakaew perfected her brand of Thai cuisine in Bangkok's Thai President Hotel. Now, at Jow Nai Fouquet, Nueakaew pays homage to her Southeast-Asian roots with a menu of stir-fries, noodle dishes, and a seafood green curry that Express Milwaukee heralds as "truly exceptional." Another of the recipes on the menu—an "aromatic rice dish" with "slow-cooked pork and a garlicky secret sauce"—comes from Nueakaew's aunt, who runs a café south of Bangkok, according to [On Milwaukee] (http://www.onmilwaukee.com/dining/articles/jownaifouquet12.html?viewall=1).
Warm, natural-wood tones blend with contemporary design in the restaurant's interior. A bar painted with circuit-like designs serves up Thai beers and mai tais, and angular blue shapes bedeck a polished wood bench.
1978 North Farwell Avenue
Milwaukee
Wisconsin
414-270-1010
You can write on nearly every surface at The Loaded Slate. A slate strip runs down the bar for tabulating tips, wooden tables have hunks of slate where you can copy the chalk drawings by local student artists decorating the walls, and even the glasses have surfaces you can chalk your name onto in case you forget every word except "slate." The bar delivers on the promise of its name in other respects, too, with a menu loaded with filling pub sandwiches and nights packed with games, sporting events, and DJ sets. According to OnMilwaukee.com's 2011 profile, co-owner Joe Kuntz built drop-leaf tables that can be folded flat against the wall after the kitchen closes to flood the space with revelers. "We're family friendly till 10," explains co-owner Shawn Mellon. "Then we become strictly a bar."
During dinnertime, half-pound Angus burgers and the chef's panini of the month arrive with a pile of pub fries, waffle fries, homemade chips, rosemary red potatoes, or coleslaw. Poultry sandwiches also abound, with baked chicken piled with pineapple and pepper jack or assembled day-after-Thanksgiving style with provolone, spinach, and cranberry mustard. Throughout the night, five taps may pump out Strongbow cider, frothy Guinness, and New Glarus Spotted Cow Ale, which refreshes between bites of nachos made on a base of seasoned waffle fries, or reuben sticks, a fried wonton containing the sandwich's famous fillings and last words. Visitors spill out onto the patio on balmy nights, or pile into the back room—dubbed The Tailgate Zone because of the Ford and Chevy pickup beds jutting from the wall—to watch sports on a laptop-compatible projection TV, a 46-inch TV, and two 26-inch TVs.
1137 N Old World 3rd St.
Milwaukee
Wisconsin
US
414-273-5700
Michael's Italian Restaurant's kitchen cupboards are bare. Their sparseness doesn't stem from a food shortage, but from the eatery's devotion to fresh ingredients. To wit: chefs deftly knead fresh batches of homemade pizza dough daily, and they coat the disks with ladles of from-scratch pizza sauce. They simmer organic beef with fresh-squeezed lemon juice, and they fly in fresh fish from Chicago each morning before enhancing the fillets with white wine lemon sauce. In addition to traditional dishes, they've added contemporary flourishes to the menu such as gluten-free pizzas and pastas and meatballs equipped with 4G technology. Regardless of which entree guests select from the expansive menu, knowledgeable servers are always on hand to suggest pairings from the eatery's vast wine list.
1400 S Grand Ave.
Waukesha
Wisconsin
US
North Avenue Grill may be a diner, but it's hardly a greasy spoon. Cooks build sandwiches, soups, and omelets from scratch, using local ingredients and a creative New American approach. Many dishes—including stacks of steaming pancakes—are gluten-free, and most that aren't can be tailored to the needs of guests with wheat, barley, and rye sensitivities. Breadsmith, Rocket Baby, and Molly's loaves form the foundation of many sandwiches, from the meaty Tosa cheesesteak to the vegetarian Portabella Baby.
Coffee comes from Sven's in Bay View, whereas ice cream hails from Madison's famous Chocolate Shoppe. Burgers are crafted by hand with fresh ground chuck and sirloin, rather than an 8-ounce can of hot-pink Play-Doh. Diners can relax in burnt-orange leather seats as they eat, or take part in Wednesday night movie trivia and Throw You Out Thursdays, when lucky diners are tossed to the curb after dining but before paying their tabs.
7225 West North Avenue
Wauwatosa
Wisconsin
414-453-7225
In 1963, Sal Barbiere founded his eponymous Italian Inn on the principles of "Family, Superb Food, and Quality Ingredients," according to the restaurant's website. So it was no surprise that he decided to keep the eatery in the family, passing Barbiere's to his son Steve when he retired. And when, 34 years later, Steve was ready to retire in his turn, he also passed the mantle to someone trustworthy: employee Mark Dempsey, who is himself nearly family—he has been working at the restaurant since he was 16 years old.
Today, Dempsey has expanded the restaurant to two locations, both still serving Sal's signature garlic bread and other tried-and-true Italian dishes. Chefs in his kitchens prepare pans of lasagna and spaghetti with meat or meatless sauce. Baked-to-order pizzas feature an array of topping choices including italian sausage, fresh mushrooms, and sliced tomatoes. Grand Marnier from the full bar fortifies pitchers of housemade red sangria, which enhance the food's bold, Italian flavors as well as boring white napkins that definitely look better in tie-dye.
1021 Milwaukee Avenue
South Milwaukee
Wisconsin
414-764-1234
Brick 3 Pizza's chefs make their pies so easily accessible, it's a wonder the city's residents are eating anything else. While most pizza places are content to deliver their pies to doorsteps, Brick 3 Pizza offers eat-in, delivery, catering, and curbside service for clients craving their menu of specialty New York-style pizzas. The shop's doors even stay open until 4 a.m. on weekends, allowing barhoppers to finish their night with a slice of mac 'n' cheese, mostaccioli-and-meatballs, or pesto-chicken pizza. Brick's gigantic 34-inch extra-large pizza is a meal boon for guests with a lot of mouths to feed or as bait to catch Sylvester Stallone. Alongside their pizzas, the staff creates handheld calzones and traditional desserts such as cannoli and cheesecake.
1107 N Old World 3rd St.
Milwaukee
Wisconsin
US
414-224-6040
---