Arts & Culture in Milwaukie
---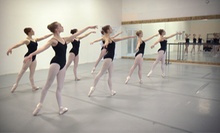 Use Sunday 7:00am - 10:00am
---
Recommended Arts & Culture by Groupon Customers
---
Brody Theater's battle-tested improv artists throw themselves onstage and embrace unscripted chaos, creating hilarious shows for eager audiences. Friday's 8 p.m. slot is often occupied by "Micetro" or "Theatresports," both competitive improv-offs where observers offer suggestions to build the scenes from scratch. Sixteen improv gladiators stride in to "Micetro," which runs through March 25, but only one rises victorious after the audience votes their numbers down to a one-on-one joke duel. "Theatresports" splits performers into two teams who issue challenges to each other, using audience suggestions to out-funny their opponents. Unlike "Micetro," "Theatresports" is scored by Brody's judges, to whom the audience should direct boos and marriage proposals. Crowds can carbo-load their chuckle muscles with a selection of food and drinks, including wraps (starting at $6), beers (starting at $2.75), and wine (starting at $4).
16 NW Broadway
Portland
Oregon
US
Bag & Baggage's production of Macbeth retells the story of the renowned Shakespeare play with some surprising new twists. A plot of murder and supernatural spookiness, Macbeth tells the tale of a successful army general who, after hearing a prophecy told by three witches, is convinced by his wife to weave a scheme of betrayal and homicide to ascend the throne. Macbeth's actions cause him to be plagued by apparitions of his slain victims, sinking into depression, fear, and paranoia. While the original play ends with bloody results, Bag & Baggage's playwrights continue the story, following the exploits of Macbeth's children by integrating period-accurate Elizabethan writings.
253 E Main St.
Hillsboro
Oregon
Nestled beneath the luminous beacon of its old-timey marquee, the Clinton Street Theater cements its status as Portland's oldest continuously running independent film house with a rotating slate of foreign films, documentaries, and cult classics. Weekly screenings of The Rocky Horror Picture Show and Repo: The Genetic Opera draw fervent cultists dressed as their favorite characters and boom-mic operators, complementing screenings of splattery horror flicks with thought-provoking opera from rising and renowned auteurs. The cylindrical glow from a whirring projector jets across the Clinton's spacious theater, illumining arrivals from such directors as Sidney Lumet and Gus Van Sant, who is notorious for instructing his actors to break character midfilm to challenge texting film-goers to bare-knuckle brawls.
2522 SE Clinton St.
Portland
Oregon
503-897-0744
Cinetopia's super-high-definition digital projectors, wide leather seats, fresh market-to-table cuisine, selection of local microbrews, extensive wine list, and art gallery have earned the cinema acclaim from multiple media outlets. The Mill Plain location boasts five Grand Auditorium theaters, each equipped with 50-foot, 2048p screens. Reclining seats ascend diagonally for unimpeded views, and ejection buttons allow audiences to escape the theater during too-scary shower scenes. The venue also houses three living-room theaters for patrons aged 21 and older with footrests, pillows, and waiters on hand. Live music performed from an overhead balcony fills these spaces before Friday and Saturday shows. View the schedule of current and upcoming showings here.
12345 SW Horizon Blvd., Suite 231
Beaverton
Oregon
503-597-6900
In a sense, Portland State's Department of Theatre and Film is at the very center of the university. Its stately home, Lincoln Hall, was the first building erected on campus, in 1911. 475 plush seats curve around the stage of Lincoln Performance Hall inside, built with lots of leg room and a steep incline that insures excellent visibility even during plays cast with the tiniest of actors. The theater underwent a total renovation in 2010, and in addition to the visible facelift, backstage improvements now allow the department to mount even more elaborate productions.
1620 SW Park Ave.
Portland
Oregon
503-725-3307
Going on a quarter-century in business, Triangle Productions forges into the future under the leadership of founder and executive producer Don Horn. The Sanctuary, meanwhile, lends its spacious, 200-seat auditorium as the troupe's home venue. Outside, an ample parking lot ensures attendees won't have trouble finding a space in which to reenact their favorite scenes after the show.
1785 NE Sandy Blvd.
Portland
Oregon
---