Photography & Portraits in Milwaukie
---
Photography & Portrait Deals
---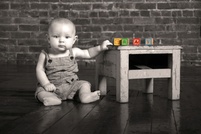 Use Today 8:00am - 9:00pm
---
Recommended Photography & Portraits by Groupon Customers
---
No tape or promise of sweet-buns is strong enough to keep a child still for the duration of an entire picture session, only the attention of a seasoned photographer. Christy Rimrodt has a stylistic affinity for capturing the emotions and energy surrounding children and maternity, though her talents extend well beyond such photogenic themes. Today's deal lets you choose the location of your shoot from anywhere within 50 miles of the Portland area. You can capture the innocence of your niece, the dove-tailed happiness of your children, or the third trimester glow of pregnancy over the course of a one-hour shoot ($200 value). After your shoot you get to schedule a viewing appointment with Christy to observe your modeling skills on a 70-inch projection screen ($150 value) and see what extra photo packages are available for purchase outside of your Groupon. Plus, you get an 8x10 print ($50 value) and two 5x7 prints ($70 value).
1980 Willamette Falls
West Linn
Oregon
Skilled photographers Neil and Miriam Haugen draw on more than 30 years of experience and finely honed aesthetic sense to create stunning portrait shoots, earning them awards from Kodak and the Professional Photographers of Oregon. These talented shutterbugs use their artistic prowess for good by providing clients with portraiture in various styles including pregnancy, childhood, wedding, and graduation. The couple photographs on location around the Willamette Valley or in their intimate studio, working to put subjects at ease with their easy manner and comfy, warm environment with exposed-brick walls.
275 E Main St.
Monmouth
Oregon
503-838-5416
The photographer behind the lens at Encore! Portrait Design does more than capture his subjects' best angles. He also captures the bonds that his subjects share with one another, such as parents and their children, grandparents and their grandchildren, or siblings. He also snaps away as dogs and their owners pal around, and freezes four moments in the early life of a baby so parents can look back on the growth of their wee one from sleeping soundlessly at infancy to whittling their first bottle at one years old.
1234 Hillendale Dr. SE
Salem
Oregon
Capturing True Emotion is driven by a dynamic band of instructors who rove across the continent with cameras and teaching skills in hand. By fusing their narrative, tech-savvy minds together into one oversize head, the educators provide comprehensive guidance on both camera operation and creative visualization, giving participants complete control over all of their camera settings. During the hours spent in the company of other pupating shutterbugs, students convene at a tantalizing location to practice skills such as controlling depth of field by adjusting the aperture, composing a family portrait so there's not always a burning zeppelin in the background, using alternative angles to avoid red eye, and other techniques.
1000 NE Multnomah St.
Portland
Oregon
When not re-creating classic poses, Portland Pin-Ups's owner and resident photographer Mike Long travels the world, but it's no vacation: he spends his international journeys teaching other up-and-coming shooters the photography techniques that have come to define his career. His experience now stretches more than 20 years and began with retouching other photographers' work—some clients include Apple and Adidas—long before the invention of Photoshop or smiling. It was a serendipitous learning experience for Mike, who took to heart the many ways mistakes could be avoided during shooting, leading him to discover his own passion for photography.
Mike's career continues to prosper with every shoot at his intimate Portland Pin-Ups studio. Here, he helps customers select poses that flatter their figures, then accents images with vintage patinas and backgrounds such as a beach, a World War II airplane, or a train station. Subjects can also choose to amp up their looks with help from resident stylist and makeup artist Hollie Olsen, who draws from her performance-art background to help bring a photo session's story to life.
6716 NE 22nd Ave.
Portland
Oregon
503-381-7828
With her relaxed shooting style, Suzzi Richardson has spent more than 10 years with her eye behind the camera, coaxing sultry smiles and ebullient grins from even the shyest of subjects. Throughout the course of each private shoot, held within her 1,600-square-foot studio, Suzzi works to make clients feel secure so that they can confidently channel their inner sirens for boudoir shoots, get dolled up for flirty pinup sessions, or duct tape their shadow into a flattering pose during portrait shoots.
Before of many sessions, Suzzi styles hair and makeup and throws open the studio's wardrobe, allowing patrons to peruse a vast selection of clothing, sets, and props. Though her photographic forte rests largely in the realm of pinup and boudoir, Suzzi also brings her diverse talents to bear while capturing shots of weddings and children as well. Once shoots have come to a close, she sets to work retouching the images, erasing imperfections while working to ensure that each subject's personality still shines through.
1450 Sunnyview Rd. NE
Salem
Oregon
503-851-3362
---