Minneapolis Health and Fitness
---
---
Minneapolis Health And Fitness Guide
Minneapolis fitness centers provide venues to slim down and tone up with modern approaches and very helpful instructors. A growing amount of overweight people in America has increased the instances of medical complications. However, seeking out weight loss in Minneapolis needn't to be painful. From traditional gyms to aerobics and yoga centers, the city has a wide variety of fitness centers, and many of these great places have friendly instructors to lead the way to a healthier lifestyle. The
501FIT health club
has received accolades over the years for delivering great exercise packages from a highly trained staff. The founder designed and patented his own workout machine, the G-Werx. The beauty of the machine is that it allows an instructor to work tightly with weight loss seekers. Classes are kept small, and at no more than $10 per class, instructors give lots of personalized attention to each member. Many folks seeking weight loss in Minneapolis have seen stunning results fast. Anyone going through a weight loss program should have a doctor they regularly consult with. Fortunately, seeking out Minneapolis doctors is not so difficult. Now users post useful reviews for doctors online. For weight loss and fitness goals, working with a sports medicine doctor is a great idea. The Tria Orthopaedic Center has some of the best doctors in Minneapolis, including specialists in a unique women's sports program. Before embarking on a weight loss program or before working out after a long time of inactivity, consulting with a doctor is essential. A doctor will help to prevent workout injuries and works with patients if they do become injured. Health is very important, especially when keeping up with the fast-paced city life in Minneapolis. The most important thing is to have good direction from trained professionals. No matter the workout or fitness goal, the trainers and doctors in Minneapolis are here to help fitness-seekers achieve optimum health.
Before embarking on a weight loss program or before working out after a long time of inactivity, consulting with a doctor is essential.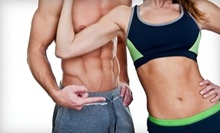 Certified instructors sling bodies through array of cardio & strength-training exercises in 6,500-square-foot gym
Use Thursday 2:00pm - 5:00pm
---
Recommended Health & Fitness by Groupon Customers
---
The trainers behind Look Good Naked aim to get people comfortable in their skin. They have a slew of shared resources, such as nutritional guides, progressive measurements, and a weekly newsletter filled with exercising facts, meal ideas, ongoing coaching and support, and testimonials from clients. All these augment the core of the operation—the 12-week boot camps where both trainers and fellow students repurpose the benches, jungle gyms, and stairways of parks and public spaces during four, hour-long sessions each week. The sessions teach guests a slew of functional training maneuvers that require little or no equipment, helping them not only to slim down, but build up a skill set they can carry with them as they leave the camps.
1756 Old Hudson Rd.
Saint Paul
Minnesota
651-772-0600
"Stocky." Justin Yule remembers when others used this adjective to describe him, an observation he considered to be a nice way of saying that he was overweight. It wasn't until his dad invited him to work out at the gym that Justin discovered a passion for fitness and a desire to chisel away the stockiness he carried. Since achieving his goals, he has kept up his fit physique more than 22 years.
Justin also channeled his passion into a bachelor's of science in physical education with a concentration in adult fitness. He used his extensive training to devise the curriculum for Look Great at the Lake Boot Camp, which he also founded. Justin calls his program the "fitness revolution," mainly because it breaks exercisers out of the tedious routines they often fall into at the gym or when their friend Sisyphus asks them to push his rock and promises he'll only be gone for five minutes. Every one of Justin's workout moves come in three levels, each scaled to challenge exercisers of different strengths and experience levels. He also relies heavily on body-weight resistance exercises, and coaches provide guidance and support to clients in reaching their goals.
Justin considers the most valuable part of his program to be the camaraderie that he encourages among his participants in and out of the boot-camp classroom. He organizes charity events and parties so that groups can mingle and become a cohesive unit working toward a single goal. To further ease his clients' path to fitness, he also offers nutrition programs, online exercises and tips, and education in the form of newsletters and fitness books that he's penned himself.
7406 Washington Ave South
Eden Prairie
Minnesota
---