Restaurants in Minneapolis
---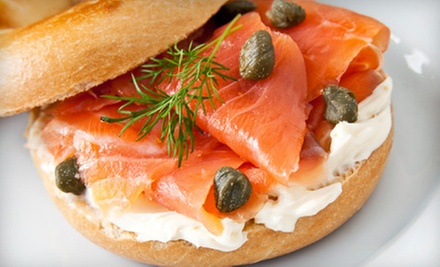 ---
Minneapolis Restaurant Guide
Minneapolis stands as one of the great Cosmopolitan centers of the Northwest. Restaurants in Minneapolis could rival any that famed "Second City" Chicago serves up. Like any big city, Minneapolis has produced some characters who have opened restaurants that offer unique and fun dining experiences and that represent the local flair. Visitors dining in Minneapolis restaurants won't want for anything of good value and good quality when they visit this half of the famous "Twin City."
At the top of the unique Minneapolis eating list is Elsie's Restaurant Bar and Bowl. This famed spot lets one nosh on some classic fare while rolling some strikes down on the lanes. There are some great Americana snacks like mac-and-cheese wedges and waffle fries that receive rave reviews and make for perfect snack food between frames. And for more serious eats, Elsie serves up, among other things, 10 and 18-ounce portions of slow-roasted prime rib and maple-glazed pork chops. Apps start at $5 to $9, and mains go from $11 to $23. Head there Sunday to Thursday for $9 unlimited bowling night.
Second to none for pizza in Minneapolis is Broadway Pizza. They've been making pies in Minneapolis for about 50 years, perfecting the art along the way. Most head down for the thin crust, but deep-dish is on tap as well. Their Tuesdays "cheap date night" is a great value. Twenty bucks gets an appetizer, a two-topping pizza, and their famous deep-dish cookie topped with vanilla ice cream, whipped cream, and a cherry. One can order online first, and get a pie that's steaming-hot and ready to eat .
Dining in Minneapolis is unique, fun, and of course, delicious.  One  doesn't need to go five-star establishments to get good eats and ambience. For those seeking something local and unpretentious in Minneapolis, a good restaurant is not hard to find.
Visitors dining in Minneapolis restaurants won't want for anything of good value and good quality when they visit this half of the famous "Twin City".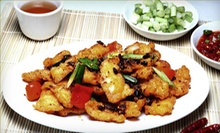 Chef Luo oversees smoking & simmering of authentic Szechuan dishes featuring orange peel, garlic, ginger & chili peppers
Use Thursday 4:30pm - 9:00pm
---
Recommended Restaurants by Groupon Customers
---
Pastoral services take place daily at the nonprofit Café El Meson, which provides literature and camaraderie in order to bridge the gap between Christian religious practice and daily life. Beyond a nook containing the sandwich counter and the espresso machine, wood tables spread out under an A-frame ceiling, and armchairs cozy up to a fireplace. Visitors sup on the El Meson sandwich, a ham, turkey, and pepper-jack shindig held on a focaccia-bread dance floor, and they imbibe blended drinks flavored with mango, peach, and other fruit flavors. Musical instruments displayed near the entrance evince a commitment to creative collaboration, and a gurgling fountain on the patio reveals what regular speech therapy can do for a puddle.
3450 Lyndale Avenue South
Minneapolis
Minnesota
US
612-822-8062
The first IHOP—the dream of founders Al and Jerry Lapin—opened in 1958 in Toluca Lake, California, and was originally dubbed the International House of Pancakes. Since then, rapid expansion has led to myriad milestones across the company's colorful history, from introducing its modern IHOP acronym in 1973 to its 1,000th restaurant opening in Layton, Utah, in 2001.
Today, the company stands strong with around 1,500 locations across North and Central America, each one an enthusiastic dispenser of pancakes, french toast, and tables constructed entirely out of bacon. Though IHOP is known as a bastion of breakfast, it also stays open during the day and into the evening, delivering lunch and dinner as well.
5601 Xerxes Ave. N
Brooklyn Center
Minnesota
US
763-560-9622
The chefs at Hot Wok Delivery stir-fry Chinese and Cambodian dishes before whisking them to diners' tables or homes. During lunch and dinner rushes, they man flaming stovetops, sautéing chicken, pork, beef, shrimp, and vegetables to thread into noodle entrees and combination plates. Before meals fly from the kitchen, the chefs finish them with a quick splash of sauce, adding either sweet or savory notes or imbuing them with a fiery sauce spicier than a jalapeño's memoirs.
Although the red-walled dining room includes three booths at which customers can sit, the staff also delivers orders, shuttling food to family dinners or lengthy daguerreotype posing sessions.
12035 Hanson Blvd. NW
Coon Rapids
Minnesota
US
763-201-0777
Chez Daniel executive chef Wilver Sanchez interprets the cuisine of France with an eye for artful presentation, simple and fresh ingredients, and a creative sensibility. Attentive servers welcome diners with appetizing small plates, covering nude tables with plump escargot baked in garlic butter and house-smoked salmon toast. Lobster ravioli is tossed with sautéed mushrooms before making a dazzling midmeal entrance in a mantle of roasted artichokes and lobster-tarragon sauce, while filet mignon is served with potatoes and a classic béarnaise sauce. During lunch, a more casual midday menu features sandwiches such as an open-faced beef-tenderloin sandwich with cambozola-cheese fondue, and plates heaped with chicken fettuccine. Chez Daniel also features a list of weekly specials. The dining room's exposed-brick, lofty archways, and elaborately adorned tables entice customers with an atmosphere as elegant as a tablecloth woven from Charlemagne's beard.
2800 American Blvd. W
Bloomington
Minnesota
952-888-4447
---