Things to Do in Minneapolis
---
---
Minneapolis Things To Do Guide
No one would mistake Minneapolis for New Orleans, but the cities have at least one thing in common: neither would be what it is today without the Mississippi River. But whereas New Orleans and many other towns benefited mainly from the transportation the river provided, Minneapolis had another idea. The river's rushing waters provided power for the mills that attracted tens of thousands of people to the town in the late 19th Century, a heyday which is now commemorated in the
Mill City Museum
. Inside a building that was once the world's largest flour mill, visitors to the museum sample fresh bread in the Baking Lab before ascending the eight-story Flour Tower elevator ride, which recounts the mill's history floor-by-floor. Today the riverfront is still the heart of the city, and you can find many of the most interesting things to do in Minneapolis in the downtown area that hugs the west bank. The Metrodome sits in the thick of downtown, so it's easy to grab a meal at a fancy nearby restaurant such as 112 Eatery before a concert below the stadium's fiberglass fabric roof. Just up the street, the
Guthrie Theater
, which once won a Tony for its contributions to regional theater, puts on revivals of Eugene O'Neill and Tennessee Williams classics as well as local productions of Off-Broadway hits. Of Minnesota's famous "10,000 Lakes," the Minneapolis metro area hosts more than 20, which people enjoy by walking and biking on the miles of paths that surround the shore. Another good use for all that water: sustaining the
Minnesota Landscape Arboretum
, a public garden that covers more than 1,000 acres and is open to the public year round. Also open year round, at least on most Saturdays, is the
Mill City Farmer's Market
, the place to find local organic produce and seasonally inspired products while learning about healthy lifestyles. Shopping is in fact a favorite pastime in Minneapolis, a city home to an 80-year-old candy store (Candyland, Inc.), a Finnish design store that sells home décor and fashion accessories (FinnStyle), and a 400,000-square-foot Macy's. But the real commercial center in the area is of course the
Mall of America
, which is located three miles south of city limits next to the Minneapolis–St. Paul International Airport. There shoppers navigate more than 500 stores that cover 4.3 miles of total storefront, stopping to take the kids through Nickelodeon Universe—seven acres of rides and costumed characters. The mall hosts more than 400 events each year, so it seems like there's always a concert, a fashion show, or an expo going on there.
This quaint Minneapolis attraction features an attached dining room, and it's a great place to eat massive steaks along with a meticulously prepared martini.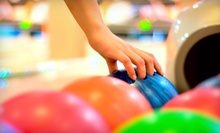 Family-friendly bowling alley touts lineup of 12 polished lanes and memorabilia signed by celebrity musicians
Use Monday 7:30pm - 10:00pm
---
Recommended Things to Do by Groupon Customers
---
Debut feisty kicks and perfect punches learned from using today's Groupon and dazzle fellow holiday partygoers into a standing ovation. For $35, new students can get one month of unlimited classes in martial arts, self defense, kickboxing, and more at Minnesota Kali Group, a state-of-the-art, multi-level, martial arts multiplex that will not only teach you the skills to enter a Mortal Kombat tournament, but also teach you why you shouldn't.Follow @Groupon_Says on Twitter.
4532 Chicago Ave S
Minneapolis
Minnesota
US
While memberships must be activated by May 16, membership benefits last for one full year from activation.
704 S Second St.
Minneapolis
Minnesota
Housed inside a Spanish Colonial–style former church, The Museum of Russian Art exudes an aura of hushed reverence—sunlight streams through Romanesque windows, and arches frame the museum's collection of paintings and sculptures. The lofty setting is ideal for an art collection that spans eons, from unearthed Byzantine-era golden urns to paintings depicting a turbulent post-Stalin Soviet Union.
The Museum of Russian Art bills itself as the only museum on the continent dedicated to preserving Russian art. It continues to do so by collaborating with museums in Russia and the United States, recruiting artifacts, accumulating artwork, and reassembling hopelessly jumbled Matryoshka dolls for its ever-rotating collection. In tandem with the museum's collection, curators strive to illuminate Russian culture by hosting lectures from scholars of Russian culture and leading free one-hour tours each weekend.
5500 Stevens Ave. S
Minneapolis
Minnesota
612-821-9045
---