Massage in Minnetonka Mills
---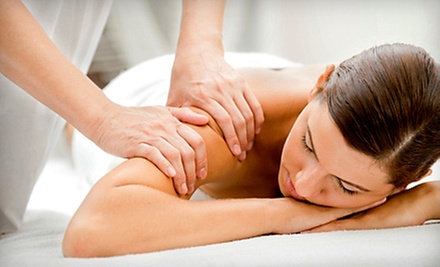 ---
Recommended Massage by Groupon Customers
---
Nourish winter-worn skin with today's Groupon. For $75, you'll get a 90-minute Korean spa ritual at Sabai Body Temple, one of the city's best spas according to Citysearchers, who voted it Best Minneapolis Massage in 2009. The hour-and-a-half experience will cleanse, stimulate, restore, and renew seasonally parched skin.
2753 Hennepin Ave.
Minneapolis
Minnesota
US
A different massage therapist runs the show at each of Keep in Touch Massage's four locations, tending to clients with personalization and more than 15 modalities. Alongside common techniques such as Swedish and deep-tissue massage, more advanced approaches serve more specialized goals. Lymphatic drainage, for instance, uses rhythmic movements to help boost the immune system and remove excess fluid from the muscles, whereas cross-fiber friction employs deep, sloping strokes along the grain of the muscle to relieve tension and push out toxins. Throughout each session, cushioned and sometimes heated tables cradle guests as therapists work and periodically pause to explain the techniques they're using. Each modality may bring its own benefits with it, from cleansing the body of impurities to rubbing off permanent-marker graffiti.
1221 West Lake Street
Minneapolis
Minnesota
612-871-3330
At Out on A Limb Massage, visitors can shed stress while smoothing out back tension with their choice of a 90-minute deep-tissue or relaxation massage or a CranioSacral Therapy session that lasts up to two hours. Performed by massage therapist Cheryl Martin, each massage modality helps melt away accumulated stress. A deep-tissue massage ($105) uses focused stimulation to treat high-stress areas and results in a balanced body, and a relaxation massage ($105) uses smooth, flowing strokes to improve circulation, range of movement, and relieve muscular tension. CranioSacral Therapy ($125) allows fully clothed participants to strengthen their natural healing mechanism with extremely light-touch stimulation during a session that lasts up to two hours. Along with healing physically, customers will be able to recharge mentally and emotionally while relaxing in Out on A Limb's serene, welcoming atmosphere. Jettison invasive stress from your soul ship with today's side deal to Out on A Limb Massage.
5850 Sunset Rd.
Mound
Minnesota
Designed to help release surface tension and provide detoxification benefits, the session replicates the therapeutic weightlessness of the Dead Sea without the expensive airfare and schools of skeleton fish. Bolstered by soothing music and a warm, enclosed tank, clients rinse away aches and pains as their body is buoyed by water saturated with Epsom salt. Lure out toxins and other gangs of tension-causing troublemakers from their cellular safehouses, or practice astral plane cannonballs with consciousness-calming meditative exercises during the relaxing time in the tank.
4201 East 54th Street
Minneapolis
Minnesota
612-727-2989
At Performance Massage, Jon Ordner carries on the legacy of Cliff Griggs, a chiropractor who created an approach to treatment he called advanced rehab. After studying under Griggs for two years, Ordner learned how to use this technique to help average joes overcome back pain and professional football players recover from injuries. Ordner has had such success with advanced rehab that many of his clients have been able to return to their day-to-day lives without undergoing surgery or transferring their consciousness to a really fancy blender.
6545 Flying Cloud Dr., Suite 100
Eden Prairie
Minnesota
763-370-8425
---