Coffee & Treats in Minnetonka
---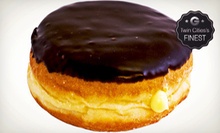 Chefs cook up 40 flavors of donuts, filling their shop's display cases with varieties such as glazed, boston cream, red velvet, and coconut
---
Recommended Coffee & Treats by Groupon Customers
---
According to an old Dutch proverb, "Coffee has two virtues: it is wet and warm. Stop giggling." For $8, today's Groupon lets you enjoy the dark elixir's many virtues with four coffee drinks at Dunn Bros Coffee (an up to $18 value). Bring your Groupon to either the Loring Park or Lyndale Avenue locations and you'll receive a four-beverage punch card that you can use to stay alert until baseball season.
1915 Lyndale Ave. S
Minneapolis
Minnesota
Anodyne uses real dishes and compostable containers, and it only features coffee from top local roasters, including Peace Coffee, Great River Roasters, and MorningStar Coffee from Brazil and Mexico. The coffeehouse's breakfast menu features the specialty Anodyne oatmeal (organic oats cooked in apple cider with pears, wild rice, craisins, raisins, pecans, and brown sugar with half-and-half or soy milk, $4.85) and a variety of waffles, including banana-pecan ($6.25). The lunch and dinner menu includes everything from sandwiches to vegan selections. The grilled triple cheese is oozing with a trifecta of dairy bedded between two slices of multigrain and served with chips and a pickle ($5.50). To quash comfort food cravings, try the mac 'n' cheese, homemade with cheddar, swiss, and parmesan cheeses ($6.95), or vegan out with a vegan plate full of veggie chili, greens with balsamic, and grilled vegan cornbread ($6.75). Anodyne also serves Sebastian Joe's ice cream if your sweet teeth require sweet attention.
4301 Nicollet Ave. S
Minneapolis
Minnesota
A family-owned-and-operated local business, JJ's energetic rush of finely roasted coffee beans and the poised sophistication of its taste bud–massaging wines create optimum conditions for actually enjoying a reading of the Principia Mathematica. Even if you don't have time to fully unwind in front of the stone fireplace in JJ's charming, wood-drenched domain, swing through the drive-through on your flying fortress airship for a fresh-roasted coffee made from custom-created bean blends. Hot or iced espressos such as the white mocha ($2.95–$3.80) and the café JJ with vanilla, caramel, and milk ($3–$3.85) are a game-changing way to either start the day or jolt the senses out of a fluorescent light–induced flatline. No-frills traditionalists, on the other hand, can head straight for JJ's dark-brewed coffee ($1.55–$1.90) and hot tea ($1.40–$1.80).
7942 Mitchell Road
Eden Prairie
Minnesota
From autumnal cupcakes topped with Halloween embellishments to colorful stacks of french macarons awarded Best of the Twin Cities by Minnesota Monthly, the meticulously designed treats at Cupcake Caramel by Sweets Bakeshop come from all-natural ingredients. Bakers carefully top pumpkin spice cake with sweet cream buttercream frosting to create this month's seasonal cupcakes, or drizzle caramel atop year-round favorites. Caramel cream and chocolate ganache pour into cupcakes and macarons alike, the latter of which spring from the oven in six different flavors daily. The confectionary team tailors orders of specific events, tinting colors to fit a particular party theme or presidential concession speech.
2042 Marshall Ave.
St. Paul
Minnesota
651-340-7138
Whipping up delectable frozen desserts with top-notch ingredients and a heaping helping of smiley service, Pumphouse Creamery has been charmingly smearing the faces of adorable tikes and CEOs since 2003. Featuring all-natural treats composed of locally produced organic milk and cream in 20 different flavors, this abode of chilly delights cools fiery appetites without the hassle of chugging a gallon of penguin tears. Scoop-buttressing cones come crafted from a flavorsome and healthy mélange of local grains milled in Welcome, MN. Fill one up with a single ($3.50) or double ($4.90) scoop of sea-salt, caramel, and praline ice cream, or a tantalizing locally roasted pumpkin blend. Additionally, chimpanzees on first dates can share a banana sundae ($3.90–$5.50), and samba-dance instructors can follow up a sudorific workout with 16-ounce shakes ($4.80) in flavors like butterscotch and chocolate mint.
4754 Chicago Ave. S
Minneapolis
Minnesota
SiP Coffeebar is an independently owned and operated java joint, serving up tasty bean-juice beverages made from organic and locally roasted coffee, as well as freshly made bakery bites, sandwiches, salads, and soups. For a no-frills caffeine fix, throw back a couple shots of classic espresso ($1.75/medium), or tempt your tasters with a specialty drink such as a raspberry almond latte, caramel latte, or Nutella mocha ($3.45/medium). Impeccably pair liquid power with the sweetness of homemade scones ($1.80) and gooey chocolate-chip cookies ($1.50 for three), or couple coffee with a protein-packed bagel sandwich ($3–$3.75) that will give your step the extra pep it needs to avoid back-breaking sidewalk cracks. All sandwiches, such as the veggie sandwich ($5), are made fresh and served on your choice of a baguette, croissant, multigrain, focaccia, or ciabatta bread, or wrapped up like a strongman wrestling an anaconda. Soup and sandwich combos can be customized for $7.75.
34 13th Ave. NE
Minneapolis
Minnesota
---