Gyms & Fitness Centers in Minnetonka
---
Gym & Fitness Center Deals
---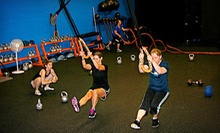 Armed with classic fitness tools such as ropes, kettlebells, logs, and sandbags, trainers get bodies into shape the old-school way
---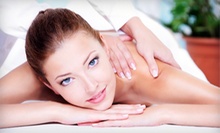 12 staff therapists administer deep-tissue massage to target buried aches, sports massage for athletic strain and hot stones to melt tension
---
Recommended Gyms & Fitness Centers by Groupon Customers
---
Phil Martens, 501Fit's founder, invented the patented G-Werx system to orchestrate his versatile, small-group strength-training workouts, which have been named to Minnesota Monthly's Best of the Cities list and chronicled in the New York Times in 2008. A one-on-one consultation with Phil helps determine each student's personal fitness level, which pinpoints the appropriate G-Werx program best suited to their abilities and goals. The 45- to 90-minute training sessions deploy tactics from an arsenal of more than 100 moves, using free weights and a patented lifting machine to target particular muscle groups, such as legs, buns, and abs; chest, shoulders, and triceps; or heads, shoulders, knees, and toes. Each session's energetic trainer pairs with trainees individually, ensuring that persistent perspirers have access to feedback and undiluted encouragement.
501 S Washington Ave., 3rd Floor
Minneapolis
Minnesota
US
612-767-4415
Spin, sweat, and sculpt with today's transformative Groupon. For $30, you'll get a five-class pass to The Shed, a workout workshop catering to exercisers at all levels that's located inside an actual building. The Shed's a brand-new fitness endeavor, with a shiny new studio, from the owners of the highly regarded The Burn Studio in Burbank, California. The Building: A single door, no windows. Perfect for holding old junk or a couch to crash on.Is It a Shed?: No, it's a storage space, though sleeping in the storage space is strongly discouraged by Adamo Holdings, owner of The Store Spot.
2800 S Lyndale Ave
Minneapolis
Minnesota
US
Choose one of the following eight options based on which location (or set of locations) is most convenient for you:
5409 Nicollet Ave.
Minneapolis
Minnesota
According to Minnesota Monthly, "The Firm is a sexy sort of gym." Glamour, Harper's Bazaar, Self, and Seventeen all agree, having identified it as the go-to gym for an incredible workout. But it's not just the museum-sleek aesthetic or rigorous classes that make The Firm great. Rather, it's the fact that the gym constantly evolves to accommodate new fitness trends. When spinning became the hot new workout, The Firm met the demand, offering the best spinning classes in Minnesota, according to CBS Minnesota. And now that CrossFit has risen to superstardom, The Firm offers it seven days a week. The Star Tribune reports that industry veteran Kelly Miyamoto is the visionary behind the scenes. Having started her career in the 1980s, she's witnessed the rise and fall of various workouts as well as the concurrent fluctuations in the market for neon leotards.
1010 N 2nd Avenue
Minneapolis
Minnesota
612-377-3003
Anytime Fitness, which boasts 1,689 clubs in North America, makes it easier for average folks to etch out time for exercise by doing one simple thing: staying open 24 hours a day for 365 days a year. As fitness seekers challenge themselves on cardio and Hammer Strength machines and hoist Iron Grip free weights in clean, well-stocked facilities, security monitoring ensures they're safe and producing enough sweat to meet official government standards. Members can also ramp up their exercise regimens with the help of Anytime Fitness's staff of personal trainers, who demonstrate moves and sling motivating tips. After workouts, guests can shower in the private restrooms or hop into one of the tanning booths available 24 hours a day.
7077 10th St. N
Oakdale
Minnesota
US
The sounds of stretch-induced groans and enthusiastic high-fives echo throughout the workout rooms at New World Fitness, an all-purpose facility that opens its doors to members of any age and fitness level. Though each of the gym's group fitness classes blends a results-oriented workout with a healthy dose of social interaction, the similarities tend to end there. Toning workouts such as the Ab Blaster target core muscles with short, intense exercises—a marked contrast to the relaxed stretches of a yoga session that slowly eases tension out of overworked limbs. Feet lead the way through aerobics classes based on the movements of martial arts and dance. The gym's indoor pool hosts an aquatic-therapy program alongside joint-friendly Aquafit classes, after which guests can dry off with a sprint around the indoor track.
38786 8th Avenue
North Branch
Minnesota
US
651-674-8391
---