Professional Services in Minnetonka
---
Professional Service Deals
---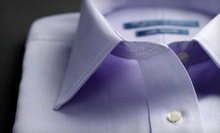 Eco-friendly solvents & biodegradable bags keep clothes & consciences clean at local dry cleaners with free pickup & delivery service
Use Thursday 7:00am - 7:00pm
---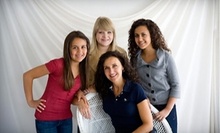 Skilled shutterbug snaps business portraits, senior pictures & other important images during professional sessions
Use Today 9:00am - 12:00pm
---
Recommended Professional Services by Groupon Customers
---
It's clear by their 10 locations dotting northern Albuquerque that Starbright Cleaners is committed to convenience. Each location offers a variety of cleaning methodologies in addition to specialty services such as same-day service, pickup, and delivery. Cleaners tailor each order to the client's desires, using one of three cleaning processes. Staff members are also qualified to attack messes and perform alterations on delicate fabrics such as leather or spirit-animal hides. To further aid clientele, the family-owned business publishes a helpful blog with tips and answers for common cleaning issues and questions.
14409 Excelsior Blvd.
Minnetonka
Minnesota
952-979-3385
Family Ties' audio-visual wizards transport precious memories from fragile analog formats to resilient CDs and high-capacity DVDs. Family Ties protects the source materials from harm while the staff works, taking the utmost care to transfer the contents while leaving the vessel intact. Film and videotape conversions spring wedding videos and shaky camcorder recordings of the infamous UFO bank robbery of '75 from their native formats for preservation in pristine digital quality. Still photos scroll across screens to musical accompaniment in video photo albums, and audio digitization knocks the dust off old album collections, cataloging tunes for easy playback on CD.
8800 Hwy. 7 , Suite 408
St. Louis Park
Minnesota
952-929-6484
Wishes & More fulfills the wishes of youth up to age 19 who have a terminal or life-threatening illness to help bring joy into lives that have become burdened with fear and trauma. Wishes can range from items, such as nursery equipment or new cars, to once-in-a-lifetime experiences, including a trip to South Africa for the FIFA World Cup, a family ski vacation, and the chance to meet a personal hero, be it Garfield cartoonist Jim Davis or Jackie Chan. Wishes & More also provides $1,000 memorial-fund grants to the parents of children who did not live to experience their wish and $1,000 Scholarship of Hope grants to fund young people's transition to higher education following a terminal diagnosis and recovery.
See how Groupon helps you discover local causes and lend a helping hand at the Groupon Grassroots blog.
961 Hillwind Rd.
Fridley
Minnesota
US
Owner and principal photographer Amy Zellmer approaches every shoot from two angles. With a modern style of traditional photography, each shot is composed and framed to fit alongside family portraits from any decade. But with the addition of her photojournalistic skills, her photos also tell the story of her subjects, capturing their emotions in a single, telling moment. The all-female staff at her studio shares this dual focus to shoot families, weddings, and private boudoir sessions.
Amy requires an engagement session before the wedding day with every couple she works with so that she can develop a relationship with the soon-to-be-weds and find the photography style to match their personality. She incorporates this same communicative approach in basic portrait sessions, often taking pictures in black and white to emphasize emotions or the stark contrast of an oreo. Amy coaches natural poses from her subjects during boudoir sessions that build confidence and reinforce her belief that women of all shapes and sizes are beautiful.
120 1st Ave. E, Suite 1
Shakopee
Minnesota
952-233-2169
Gardening Matters supports local gardeners and advocates for their needs, working toward the creation of successful, sustainable, low-cost gardens across the Twin Cities. By sharing information, providing access to education, and connecting gardeners to each other, Gardening Matters aims to increase food production at a community level and influence positive behavior changes.
Gardening Matters works closely with the Local Food Resource Hubs project. Through this network of local residents, neighborhood organizations, local businesses, and the city office, gardeners can receive seeds, seedlings, and low-cost workshops. Also, the network acts as a support group from which gardening newcomers can draw tips on growing and cooking and on composting their own produce.
Last year, local food hubs distributed more than 13,000 seed packets and 15,000 seedlings to gardeners. With the addition of a tool lending library, Gardening Matters hopes to continue improving food security and access to fresh produce.
310 E 38th St., Suite 204B
Minneapolis
Minnesota
With more than 80 competitions per year in 19 sports at the state and local levels, Special Olympics Minnesota challenges youth and adult athletes with disabilities. Training and competition in figure skating, gymnastics, bowling, and tennis, adapted to meet the needs of the athletes, focuses on the development of skills. Participation in the sports can help athletes develop mentally, socially, and physically and strengthen the bonds within families and communities in a safe and respectful environment. In Minnesota, 7,100 athletes take part in the games and year-round training, making friends, winning medals, and gaining confidence.
See how Groupon helps you discover local causes and lend a helping hand at the Groupon Grassroots blog.
100 Washington Ave. S, Suite 550
Minneapolis
Minnesota
---