Shopping in Mint Hill
---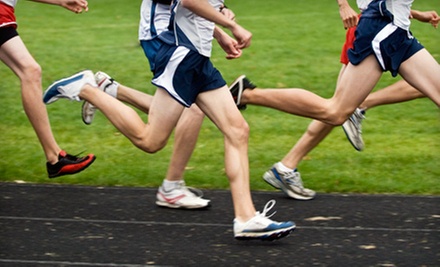 ---
Recommended Shopping by Groupon Customers
---
At The Last Word, wheat-hued shelves lead in all directions, weighed down with an enormous selection of gently used books, as well as a collection of DVDs, and gaming consoles. Authors such as Cormac McCarthy and Ralph Ellison peer from racks of employee selections beneath the vinyl records that adorn the walls, and glass cases packed with trading cards glint in the sunlight. Strict quality standards govern the state of all the items. Most are 50-80% off their normal retail price despite being in good condition, and the staff makes a conscious effort to purchase a variety of quality media rather than pamphlets entitled Thee Faxe Machine is an Entirely Infuriating Devil. The shop is peppered with floral armchairs, in which patrons curl up, sip coffee, and browse book recommendations with their laptops on free WiFi.
230 E W.T. Harris Blvd.
Charlotte
North Carolina
704-966-9673
Linda Minor, a member of the North Carolina Society of Goldsmiths and the former fashion buyer for J.C. Penney and Belk department stores, sells handmade creations and teaches jewelry-making classes within Bead Me's spacious 1,200-square-foot shop. She draws from her style expertise to create necklaces, earrings, and bracelets with pearls, coral, turquoise, Swarovski crystals, and semiprecious gemstones. In many of her pieces, she use copper—an eco-friendly metal that's fade- and bacteria-resistant.
During fun BYOB classes, she imparts her beading know-how to students of all skill levels, giving them hands-on practice with metal-manipulation techniques such as fold forming and reverse psychology.
301 E Tremont Ave., Suite E
Charlotte
North Carolina
US
704-332-9261
A treadmill might not be the first thing you'd picture in an athletic store, but for the skilled staff of Charlotte Running Co., it's a key step in the art of finding the perfect fit. After lacing up or sweet-talking on a pair of shoes from Adidas, Nike, Saucony, or Brooks, patrons hop aboard the treadmill, and the 'gait analysis' begins. Aided by a video feedback system, the specialists analyze each both the customer's strides and the performance of the shoes to identify the ideal levels of support and cushioning, as well as the perfect fit–a process made much more precise by seeing the fancy footwear in action.
In addition to running shoes that can help increase speed and safety, Charlotte Running Co. can outfit its patrons in other jog-friendly gear. The FuelBelt keeps much-needed fluids at the ready on long runs, while shirts from Nike and Asics help to keep bodies cool, reducing runners' need to jog in the penguin habitat at their local zoo.
5355 Ballantyne Commons Pkwy., Suite 300
Charlotte
North Carolina
704-708-5220
SoBo Loft Boutique & Gifts adorns ears with handcrafted jewelry, slips handbags by Hobo over shoulders, and brightens interiors with the flickering light of aromatic candles from Olivina. Within SoBo's exposed-brick interior, eyes gravitate toward chic women's apparel and hands unfold brightly patterned stationery ready for writing love letters to valiant postal workers. The mixed metals, vintage buttons, and gems of necklaces and bracelets, including pieces handcrafted by local artists such as those from Halo, beg to clasp around necks.
1820 South Blvd., Suite 200
Charlotte
North Carolina
As one of the largest and most established maternity-wear franchises in the United States, Pickles & Ice Cream outfits moms-to-be and their bundles of joy with helpful gifts and stylish clothing from well-known labels. Designers such as Spanx, Prego, Seraphine, and More of Me dress expecting shoppers to the nines in eye-catching lingerie, swimwear, and outerwear suitable for any occasion, and adorable babywear swaddles infants in comfortable, colorful ensembles. Like a cocktail dress with plenty of cargo pockets, diaper bags from Babymel fuse fashionability with function, Pickles & Ice Cream's assortment of thoughtful gifts of skincare and babycare essentials stock shower gift baskets.
6401 Morrison Blvd., Suite 4A
Charlotte
North Carolina
704-364-1898
After traveling to cities outside of Charlotte, earth enthusiasts Fiona and Marley began envying the other towns' stockpiles of eco-friendly stores. Back home, they could always buy green products on the web, but since they had no opportunity to sample or even look at them before delivery, they were frequently disappointed with their purchases. They decided to take matters into their own hands in January 2011 by establishing ecolicious—a one-stop market for vegan and eco-friendly wares.
Each item at ecolicious bears a product tab with a review by staff members, who personally test the goods they shelve. Jewelry crafted by local artisans hangs near vintage clothing, raw snacks, and cleaning supplies made from humanely harvested soap bubbles. Within the store's bright blue walls, Community Supported Agriculture members can also pick up their seasonal shipments of local produce.
1916 Commonwealth Ave.
Charlotte
North Carolina
704-966-7030
---